Gold gained Tuesday as the U.S. dollar weakened further following the Federal Reserve's extra surprise in delivering its key interest rate cut. New York gold and platinum futures rose 0.7 percent and 1.2 percent, respectively. Silver dropped 0.8 percent.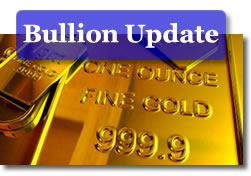 January crude-oil lost 91 cents, or 2 percent, to close at $43.60 a barrel. The average price for unleaded gasoline rose one-tenth of a penny to $1.661 a gallon, according to AAA.
March silver fell 8.5 cents to settle at $10.705 an ounce.
January platinum jumped $10.30 to end at $849.50 an ounce.
Gold for February rose $6.20 to close to $842.70 an ounce.
"If the Fed has to keep rates very low for a long time, that's going to be awful for the dollar and very good for gold," said Matt Zeman, a metals trader at LaSalle Futures Group in Chicago.
The Fed slashed its key overnight lending rate to a range of zero to 0.25 percent Tuesday afternoon, saying "inflationary pressures have diminished appreciably" and it would "employ all available tools to promote the resumption of sustainable economic growth."
Little could highlight inflation's fall better than the Labor Department's report Tuesday morning reflecting a 1.7 percent record drop in consumer prices, or Friday's report showing a 2.2 percent drop in producer prices.
Most were expected a specific point cut of 0.50 percent from the Fed's prior 1 percent fund rate. The rate is now at its lowest level since the government started keeping records in 1954.
Gold, considered a hedge during times of high inflation and economic uncertainty, tends to follow oil and move opposite to the U.S. dollar. A rising greenback makes dollar-denominated commodities, like bullion, more expensive for holders of other world currencies. When prices are falling and economic activities are shrinking, gold prices tend to move lower.
Check out CoinNews market resources at Live Silver, Gold & Platinum Spots, the Silver Coin Calculator, U.S. Mint Collector Bullion Coin Prices, and the Inflation Calculator.