New York gold and silver fell Tuesday following a decline in oil prices and strength from the U.S. dollar. Platinum recovered some of its Monday losses.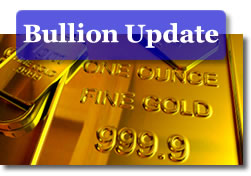 Oil lost more than $2 to close to $118 a barrel. Reuters' Jan Harvey wrote that traders "focused on rising OPEC supply and easing demand in the United States and Europe."
Silver plunged 57 cents to close to $16.57 an ounce.
Platinum bucked the general commodities sell off and finally posted positive ground, gaining $21.50 to end at $1,584.50 an ounce.
Gold lost $21.80 to end the day at $886.10 an ounce. Its intraday high was $903.90.
"Today's Fed meeting did not directly add any additional fuel to the dollar's recent vigor (now nearing 73.95 on the index)," said senior analyst Jon Nadler at Kitco Bullion Dealers.

"If nothing else- gold showed once again that it is feeling the impact of an oil price that has shed some $30 from its recent record price and continues to aim lower."
The U.S. Federal Reserve met today and kept interest rates unchanged at 2%, as it tries to wage the battle against low economic growth and rising inflation. After the announcement, gold briefly rose before declining again.
A rising dollar makes commodities like silver, gold and platinum, more expensive for overseas investors.
Gold typically follows oil and moves opposite to the dollar, as a weakened dollar encourages investors to buy gold, also considered a hedge during times of high inflation and economic uncertainty.
Bullion spots are available on the CoinNews page, Silver, Gold & Platinum Spots.
To check how inflation changes the buying power of the dollar over time, try the CoinNews page, Inflation Calculator.