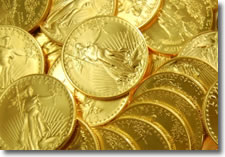 A Cleveland landlord can demand payments in gold coins, according to a federal appeals court ruling Wednesday.
The U.S. Court of Appeals for the Sixth Circuit ruled a "gold clause" contained in a 1912 lease agreement was enforceable, reversing a lower courts decision and requiring it to determine an equivalent rent.
The breach of contract lawsuit was filed by building owner 216 Jamaica Avenue, LCC against renter S&R Playhouse Realty Co., who had been paying an annual rent of $35,000 since their obligated assumption of the lease in 1982.
The term of the 1912 lease is 99 years, with the option of renewing for another 25, 50 or 99 years. Annual rent was $10,000 for the first two years, then increased in intervals until it reached $35,000 in the eleventh year and through to the end of the lease.
216 Jamaica purchased the building in 2006, uncovered the gold clause, and wanted the better payment from S&R. S&R refused, and the lawsuit followed.
216 Jamaica's assertion was that the rented space was worth "more than 75 times what S&R currently pays for it." And that — along with the lease capped at $35,000 potentially until 2110 — highlights the importance of the "gold clause." It states:
"[a]ll of said rents shall be paid in gold coin of the United States of the present standard of weight and fineness."
With the clause enforcement, S&R will now have to pay more for their space. Attorney David Thompson of Cooper & Kirk in Washington, D.C., who represented 216 Jamaica, was quoted in ABA Journal as saying:
"We are delighted that the windfall that the tenants have been enjoying is going to be eliminated and this will get back to a market-based rent."
According to Thompson, the old rent of about 17 cents per square foot will likely be increased to about $8 per square foot.
Read the entire federal appeals written opinion in PDF.