The "In God We Trust" motto seen on U.S. coins and currency survived another legal challenge brought about by those seeking its removal.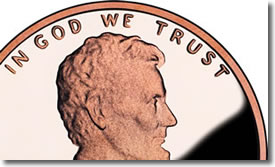 On Monday, March 7, the United States Supreme Court denied a petition to hear the matter on the inclusion of "In God We Trust" on American money, leaving a lower court's ruling in place stating it could remain.
While there have been previous suits brought on the matter, this most recent was instituted by Michael A. Newdow, an attorney and doctor who is no stranger to similar legal challenges. He previously questioned the use of "Under God" in the Pledge of Allegiance which had worked its way up to the Supreme Court in 2004, but the preceding Appeals Court decision that its use was, in essence, an endorsement of religion was overturned by the Supreme Court for procedural reasons.
On this more recent issue, Newdow claimed that the use of "In God We Trust" on coins and currency violated the United States Constitution's First Amendment prohibiting the Congressional "establishment of religion." A decision on the matter was offered last year by the 9th U.S. Circuit Court of Appeals (Newdow vs. Lefevre, 10-893). In part, it affirmed an earlier court ruling on a similar matter from 1970, with the majority in the Appeals Court adding:
"It is quite obvious that the national motto and the slogan on coinage and currency 'In God We Trust' has nothing whatsoever to do with the establishment of religion.

Its use is of a patriotic or ceremonial character and bears no true resemblance to a governmental sponsorship of a religious exercise."
It is likely that this matter will be challenged again in the future as indicated by comments made by Newdow following the Supreme Courts refusal to hear the case.
"I plan on bringing the lawsuit again on behalf of other Americans who believe they are injured when the government lends its power to one side of the controversy over whether or not God exists," stated Newdow according to Religion News Service (RNS).
The use of "In God We Trust" on American coins dates back to 1864 when it was added to the two-cent piece at the direction of then Treasury Secretary Salmon P. Chase. It was added to additional denominations in the following years with Congress backing those inclusions several times, but not requiring it on all coins. The last coin to not contain the motto was the 1913-1938 circulating nickel which many refer to as either the "Indian Head Nickel" or the "Buffalo Nickel." In 1955, Congress demanded that the motto be included on all United States coins.