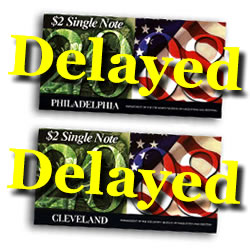 The Bureau of Engraving and Printing (BEP) announced the release of the 2008 Cleveland $2 Single Notes for collectors only to later announce its delay. Today, the BEP notified its customers that the Philadelphia $2 Single Note would be delayed as well.
The announcement said,
The BEP will postpone the release of the 2008 $2 Single Philadelphia Note previously scheduled for Monday, June 23.

No date has been determined for rescheduling the release of this product. This postponement is due to system maintenance improvements.
Five of the scheduled twelve 2008 $2 singles notes from each Federal Reserve bank have already been released — Atlanta, New York, San Francisco, Chicago and Dallas. The highly popular product offerings have each sold out within hours of their availability.
The popularity for the notes are due, in part, to their limited 10,000 quantity, their series 2003A crisp uncirculated condition and beginning serial numbers of "2008xxxxD."