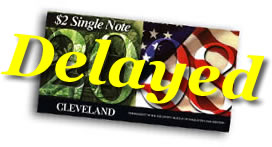 The Bureau of Engraving and Printing (BEP) had announced Monday's release of the 2008 Cleveland $2 Single Notes for collectors. However, a follow-up message sent to customers on Tuesday, May 27, indicates there will be an unspecified delay in their sale.
The BEP message said in part,
"Due to system maintenance the Bureau of Engraving and Printing will postpone the release of the 2008 $2 Single Cleveland Note. Please check our website"
After two days, there is no indication of a new date for release, and the original sale date for the note was changed to: "to be determined".
The always sellout $2 bills offer collectors crisp, uncirculated notes with early serial numbers and from each of the Federal Reserve Banks throughout the year.
The Cleveland notes are the sixth $2 collector set for release in 2008. The Atlanta $2 single notes were first off printing presses in January followed by the New York $2 notes in February, the San Francisco $2 notes in March, the Chicago $2 notes in April and the Dallas $2 notes in May.
The BEP's proactive announcement is greatly appreciated and a vast improvement compared to earlier in the month when their online system was taken down during the initial day of the Dallas $2 offering. Notices went out only after the fact, resulting in many frustrated collectors.