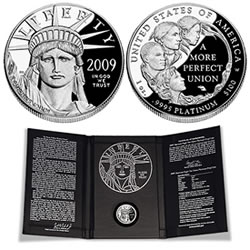 It took just over a week for it to happen. The US Mint has sold out of the 2009 American Eagle Platinum Proof Coins, exactly as had been predicted by many numismatic resources.
Released at Noon Eastern on Thursday, December 3, 2009, the Platinum Eagles were limited to a mintage of only 8,000. Over 7,200 of those sold in the first few days, even with a household order limit of 5 pieces in place. The US Mint sold just 4,769 of the one ounce proof coins during all of last year.
Collectors interested in obtaining an Eagle still have the opportunity to sign up for a waiting list, according to a statement on the order page at the US Mint's website:
Waiting List Notice: The number of orders we have taken meets the maximum limit for the 2009 American Eagle One Ounce Platinum Proof Coin. You may still place an order for this product, which will go on a waiting list. If a product becomes available due to an order cancellation, we will fulfill orders from the waiting list on a first-in, first-served basis. We cannot provide information about your position on the waiting list.
Read the rest of this numismatic news article »
{ 1 comment }