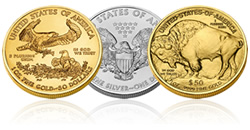 October was explosive for US bullion coins. Unprecedented demand for gold and silver coins elevated the month with US Mint recorded sales levels that are either at or near the top of the all-time high charts.
Bullion American Gold Buffalo and American Silver Eagle coins enjoyed their best October ever.
For the Silver Eagles, more than double the amount were sold last month at 2,939,000, than in any previous October. The month also stands out as the time when 2009 became the best selling year ever for eagles — dating all the way back to their launch in 1986. The latest numbers pad the tally further with 23,406,500 delivered in the first 10 months of this year.
American Silver Eagle Bullion Coin Sales, Oct. 1986-2009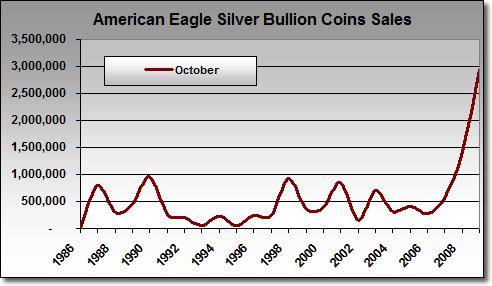 The 24 karat, one-ounce bullion Gold Buffalo coins were released on Oct. 15. By the 31st, 116,500 were ordered. No other two weeks sales of the coins approaches comparison. The following table displays the annual sales figures since the series began in 2006, placing a perspective on how strong demand was during those two October weeks.
Read the rest of this numismatic news article »
{ 0 comments }