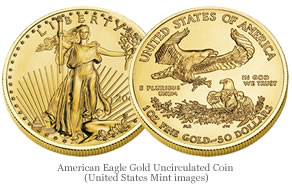 The Gold Anti-Trust Action Committee (GATA) reported Friday that the United States Mint has suspended sales of American Eagle gold coins to their network of Authorized Purchasers.
The suspended coins are bullion coins (non collector versions) the Mint will not sell directly to the public, but instead to Authorized Purchasers who can then sell to the public.
At the time of this writing, fractional collector proof and uncirculated American Eagle gold coins are still available through the Mint's website, although the sharp drop in gold prices without a similar reduction in coin prices has resulted in much higher premiums for collectors to assume.
Read the rest of this numismatic news article »
{ 2 comments }