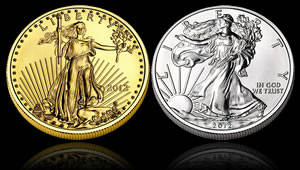 Demand tumbled last month for American Eagle silver and gold bullion coins, according to April sales figures reported by the United States Mint.
The pace was down from the previous month and a year ago, with 22-karat American Eagle Gold coin sales in April notably the weakest for a month since June 2008.
By the numbers, U.S. Mint distributors ordered 20,000 ounces of Gold Eagles, off 68.0% from the prior month's 62,500 ounces and down 81.5% from the 108,000 ounces sold in April 2011.
In the 24-karat gold realm, 9,000 ounces of American Buffalo Gold coins were claimed last month, representing a drop of 65.4% from March and 56.1% from the same time last year.
99.9% fine Silver Eagle coin sales reached 1.52 million. Thanks to a 200,000 pop on the final day, last month avoided a ranking of the slowest of the year and the worst since July 2008. As it stands, silver coin sales were still down 40.2% from the previous month and off 46.1% from April 2011.
Wrapping up bullion, America the Beautiful Five Ounce Silver Bullion Coins had their total advance by 200, which is the smallest monthly amount this year.
For reference, the following table provides U.S. Mint bullion coin sales figures by month and year-to-date.
January-April and YTD 2012 U.S. Mint Bullion Coin Sales
Jan 2012
Feb 2012
Mar 2012
Apr 2012
YTD 2012
American Eagle Gold (1 oz)
84,500
20,000
57,500
19,000
181,000
American Eagle Gold (1/2 oz)
49,000
0
2,000
0
51,000
American Eagle Gold (1/4 oz)
38,000
2,000
0
2,000
42,000
American Eagle Gold (1/10 oz)
85,000
5,000
40,000
5,000
135,000
American Buffalo Gold (1 oz)
13,500
7,000
26,000
9,000
55,500
America the Beautiful Silver 5 oz Coins
5,700
300
1,800
200
8,000
American Eagle Silver
6,107,000
1,490,000
2,542,000
1,520,000
11,659,000
All coin sales in the above table are in number of coins sold, not the amount of ounces. For always updated figures, visit this site's page of American Eagle sales figures.