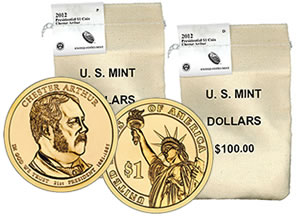 Bags filled with Chester Arthur Presidential $1 Coins are now available from the United States Mint. The bureau released 100-coin bags containing circulating quality Arthur dollars on Monday, April 30, at a price of $111.95 per bag.
The bag products actually fall behind earlier releases of Arthur dollar rolls and boxes. Those went on sale April 5 with prices of $32.95 for 25-coin rolls, $275.95 for 250-coin boxes and $550.95 for 500-coin boxes.
While the quantity of $1 coins and prices obviously vary for each product, the types of coins are all circulating quality — the same as used by the U.S. Mint for American coinage that is produced in everyday change. But since the end of 2011, new $1 coins are no longer released into circulation but produced exclusively for coin collectors — exactly like Kennedy half dollars have been for years.
Buyers have the option of ordering coin bags (or rolls and boxes) from either of the U.S. Mint facilities in Denver or Philadelphia. Orders may be placed from the Mint's Chester Arthur Presidential $1 Coin product page, located here, or by calling 1-800-USA-MINT (872-6468).
Each $1 coin obverse bears a portrait of Arthur, designed and sculpted by Don Everhart. Inscriptions include "CHESTER ARTHUR," "IN GOD WE TRUST," "21st PRESIDENT" and "1881-1885." The reverse of every Presidential $1 coin is Don Everhart's design of the Statue of Liberty with the included inscriptions of "$1" and "UNITED STATES OF AMERICA." The dollars have edge-incused lettering of "2012," "E PLURIBUS UNUM," and a mint mark of "P" or "D," depending on the mint or origin.
On Friday, the United States Mint announced that it would offer bags of 2012 Native American $1 Coins on May 14 at noon ET for the same $111.95 price. Rolls and boxes of the dollars went on sale this past Thursday.