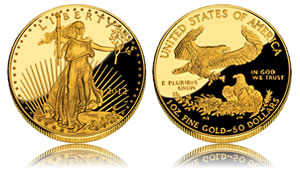 Debuting sales figures are in for the five 2012 Proof American Gold Eagle products. Between the Gold Eagles' release on Thursday, April 19, and through to Monday, April 23, the United States Mint registered total sales of $8,245,152.00.
The tally is a bit underwhelming when contrasted against last week's reported proof Silver Eagle sales debut of nearly $18 million or, for that matter, when compared against the opening sales of last year's 2011 Proof American Gold Eagle coins which hit more than $27.7 million or the 2010-dated issues which topped $43.3 million in their start.
But then gold coin prices are significantly higher and there is generally less appeal in the air right now for precious metals and coins minted from them — companion bullion American Eagles are also presenting a bearish nature this month. Also, gold has been meandering lower for several days and some collectors may have waited on the sidelines in anticipation of American Gold Eagle price cuts. Those that did proved to be wise. The U.S. Mint did trim prices today with reductions ranging from $5 for the smallest Eagle to $92.50 for the four-coin set.
As has been the tradition, proof American Gold Eagle products include coins in four sizes — one ounce, half ounce, quarter ounce and tenth ounce with respective face values of $50, $25, $10 and $5. The Mint also offers a four-coin set. The opening performances for each of the products follow:
2012 Proof American Gold Eagle Coin Sales Debut
PRODUCT
LIMIT
MINTAGE
LIMIT
OPENING
PRICES
COINS
SOLD
4-DAY
SALES
1 oz
30,000
60,000
$1,935.00
1,757
$3,399,795
1/2 oz
10,000
40,000
$981.00
449
$440,469
1/4 oz
12,000
42,000
$503.00
433
$217,799
1/10 oz
25,000
55,000
$215.50
1,394
$300,407
4-Coin Set
30,000
N/A
$3,585.50
1,084
$3,886,682
Total Coins Sold
8,369
$8,245,152
Proof American Gold Eagle coins may be ordered online through their product page on the United States Mint website which is located here.
Orders may also be placed using the Mint's toll free number 1-800-USA-MINT (872-6468).