"It's not an anniversary set," U.S. Mint spokesman Michael White reveals of the 2012 American Eagle San Francisco Two-Coin Silver Proof Set which was released on June 7, 2012. While it may not mark an anniversary, the proof set caught collectors' attention as if it was. 85,341 were sold within the first 27 hours of sale.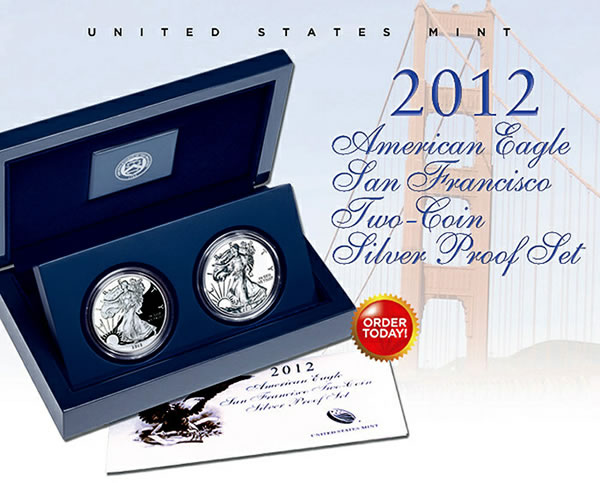 Taking a fresh approach to mitigate customer concerns and release issues, the American Silver Eagle San Francisco Two-Coin Proof Set will be minted to demand but available for only four weeks. That means collectors did not have to fear the race to buy it, or worry about a sellout before getting one. But as a coin's scarcity helps dictate its extended value, collectors will now brace for the possibility that too many get sold. In that sense, a mintage fit to fill demand can be a significant drag even for a unique product.
The two-coin proof set will have a sales period from June 7, 2012 to July 5, 2012, providing one month to place orders. Its price is $149.95 and there is no household ordering limits. Within the set is a:
2012-S American Silver Eagle Reverse Proof Coin, and a
2012-S American Silver Eagle Proof Coin
Aside from it carrying the San Francisco "S" mint mark, the regular proof will appear exactly like the yearly and individually sold issues from West Point, with the most recent one released on April 12, 2012.
With the exception of cancellation year 2009, the annual proof Silver Eagle has been offered along with the bullion counterpart since the American Silver Eagle series debuted in 1986. In fact, between 1986 and 1992, the San Francisco Mint actually produced each year's strike before responsibility shifted to Philadelphia and then finally to West Point in 2001.
Most collectors are now familiar with the reverse proof Silver Eagle after the Pennsylvania Mint produced them in 2006 for the American Silver Eagle 20th Anniversary Set and then again last year for the American Silver Eagle 25th Anniversary Set. A standard proof coin features frosted raised designs that contrast against a mirror-like background. A reverse proof is the exact opposite, with raised designs that are mirror-like and contrast against a background of frosted fields.
"A special feature of this elegant two-coin set is the coin featuring a 'reverse proof' finish. Reversing the mirror-like background finish of a traditional proof coin and applying it to the design elements of the coin achieves a magnificent contrast," the set's product page on the U.S. Mint website promotes.
Initial speculation explained this new two-coin proof set as a means to celebrate the 75th anniversary of the San Francisco Mint at its current location. That premise seemed a bit weak, and the perception was perhaps crafted from a series of U.S. Mint surveys sent out to certain customers earlier in the year which first discussed the possibility of special Silver Eagle sets.
An advantage of not binding this year's set to an anniversary event is that it provides an easier transition in offering similar sets every year, should this one prove popular. No special occasions are needed, and the focus remains on the coins and the Mint's ability to create them, as currently highlighted in the marketing language offered for them:
"The 2012 American Eagle San Francisco Two-Coin Silver Proof Set is an exquisite collection that captures the essence and timeless beauty of the American Eagle Silver Coins. This set — one American Eagle Silver Proof Coin and one American Eagle Silver Reverse Proof Coin minted at the United States Mint at San Francisco — is a testament to the fine, exacting craftsmanship that has been a United States Mint hallmark since 1792."
Until the week of May 21, set pricing had yet to be established or at least published. It turned out higher than most watchers were expecting.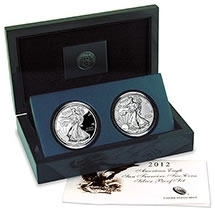 The individual proof Silver Eagle that went on sale earlier in the year was and is currently listed for a price of $59.95, which suggested that the San Francisco Two-Coin Proof Set would be at least double that. A good "guessing area" many had anticipated was within the $125-$135 range since specialized and costlier packing had to be considered. But that, obviously, did not happen as the price came to be the aforementioned $149.95.
Counting the two new coins, the United States Mint will produce at least five and possibly six types of American Silver Eagles this year. They include the:
2012 Silver Eagle bullion coin — released on January 3
2012-W Silver Eagle proof coin — released on April 12
2012-S Silver Eagle proof coin — released on June 7
2012-S Silver Eagle reverse proof coin — released June 7
2012-W Silver Eagle uncirculated — with a scheduled release date of August 2, 2012, U.S. Mint continues to sell 2011-dated coin
Another possible addition is the 2012-S American Silver Eagle Uncirculated Coin. In its 2011 Annual Report, the United States Mint stated a desire to offer one this year as it did within the anniversary set last year.
Currently available information on all the American Eagles on sale may be found on the United States Mint page located here.