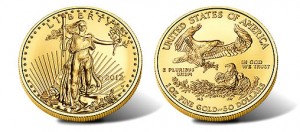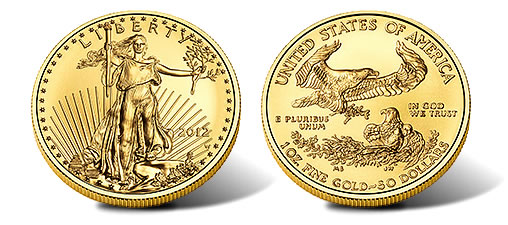 In a reversal of recent trends for U.S. Mint products, the 2012-W Uncirculated American Gold Eagle Coin raced quicker in its sales start than last year's issue.
Collectors ordered 1,949 of the uncirculated Gold Eagles between their launch on June 28, 2012 and July 2, 2012. In contrast, last year's Gold Eagle debuted with four-day unit sales totaling 1,098. Quick napkin math shows this year's starting pace was 77.5% faster.
The latest four-day sales total rings up to $3,562,772 at the coin's $1,828 price. Last year's issue opened at a price $50 cheaper, or $1,778. It achieved a reported final unit sales total of 8,810 before selling out.
A major difference between the two releases was the direction and market price of gold. The 2011 Gold Eagle launched in the midst of sliding gold, which made its price seem high. This year's issue launched with its price set as gold hit a low, and then gold prices soared by more than $50 the next day.
There are three types of American Gold Eagles. Each is composed of 22-karat gold. There is a bullion version intended for investors, and there are two collector versions — a proof and the uncirculated. The latter is only available in the one ounce size while the proof and bullion versions come in sizes of one-tenth ounce, one-quarter ounce, one-half ounce and one ounce.
Anyone may buy the 2012-W Uncirculated American Gold Eagle Coin from the United States Mint at http://catalog.usmint.gov/ or by calling the toll-free number 1-800-USA-MINT (872-6468).