Today at noon ET, the Ulysses S. Grant Presidential Silver Medal debuts as the fourth and final release of the year from the U.S. Mint's Presidential Silver Medal Program.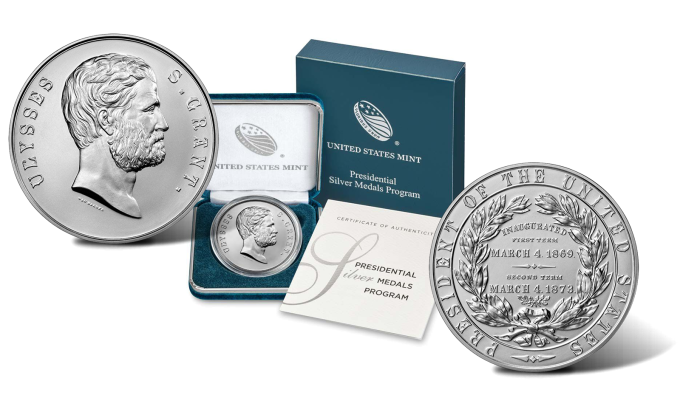 This newest collectible bears a right-facing portrait of Ulysses S. Grant, the 18th President of the United States. It is composed of 1 troy ounce of 99.9 percent fine silver.
Grant became President on March 4, 1869, and served two terms as the chief executive, leaving office in March 1877. For many, he is better known as the Commanding General of the U.S. Army, leading it to victory during the American Civil War. It was the fame he received from his time in the Army that ultimately led to his election as President.
His time as President continued the work of reconstruction from the Civil War, although his administration was marred by many scandals, even though Grant himself was considered incredibly honest.
U.S. Mint Presidential Medal Programs
Presidential Medals were originally struck in bronze bearing the likeness of the current President. These pieces became known as "Peace Medals" and were frequently distributed to Native American tribes as a symbol of peace during treaty ceremonies.
U.S. Mint Presidential Silver Medals pay homage to the original Peace Medals and were first issued in 2018. The program has seen the following releases and sales:
George Washington – 34,825
John Adams – 23,499
Thomas Jefferson – 23,981
James Madison – 16,762
James Monroe – 15,171
John Quincy Adams – 14,656
Andrew Jackson – 16,527
Martin Van Buren – 13,626
William Henry Harrison – 13,487
John Tyler – 13,544
James K. Polk – 13,133
Zachary Taylor – 12,891
Millard Fillmore – 12,521
Franklin Pierce – 12,374
James Buchanan – 12,025
Abraham Lincoln – 17,824
Andrew Johnson – 11,909
The Buchanan, Lincoln and Johnson silver medals were released earlier this year.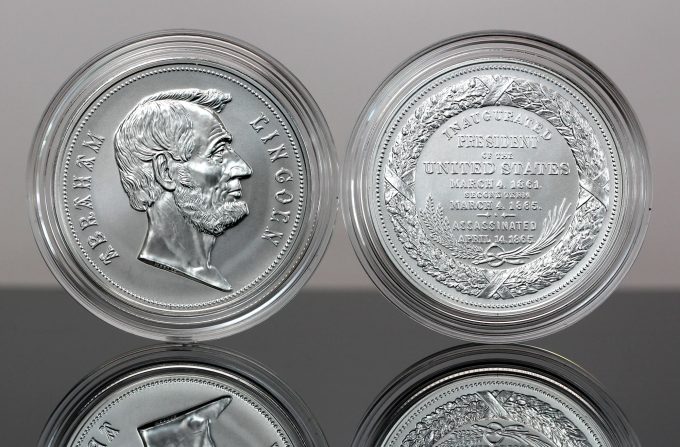 Medal Designs
The portrait of President Ulysses S. Grant appearing on the obverse of the newest medal was originally created by U.S. Mint chief engraver William Barber and assistant engraver Charles E. Barber in the late 1800's. This is indicated by the artist inscription of W & C BARBER below the portrait.
To the left, ULYSSES is inscribed with S. GRANT on the right.
On the reverse, also designed by William and Charles Barber, we find a laurel wreath and the inscriptions "PRESIDENT OF THE UNITED STATES," "INAUGURATED FIRST TERM MARCH 4, 1869," and "SECOND TERM MARCH 4, 1873."
Presidential Silver Medal Specifications
Presidential silver medals have a matte finish, which gives them an appearance similar to that of an uncirculated coin. Additional medal specifications are as follows:
| | |
| --- | --- |
| Denomination: | N/A |
| Finish: | Matte |
| Composition: | 99.9% Silver |
| Silver Weight: | 1.000 troy oz. |
| Diameter: | 1.598 in. |
| Edge: | Plain |
| Mint and Mint Mark: | N/A |
| Privy Mark: | None |
| Design: | Designer: William and Charles Barber |
| Struck Under Authority of: | 31 U.S.C. § 5111(a)(2) |
Price and Ordering
Priced at $75, the Ulysses S. Grant Presidential Silver Medal is available for purchase directly from the U.S. Mint's catalog for silver medals.
Each is encapsulated and ships with a Certificate of Authenticity.