The United States Mint today at noon ET released $25 dollar rolls of Ulysses S. Grant Presidential $1 coins honoring the 18th President of the U.S. and a Civil War Hero.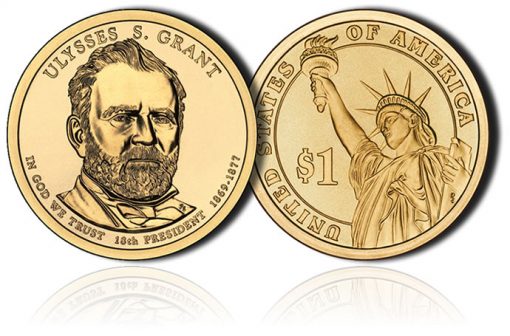 The Mint and National Park Service officially introduced the Grant dollar during a coin launch ceremony held at the Ulysses S. Grant National Historic Site in St. Louis, Missouri. A coin exchange followed the event, and $1 coins were released into the banking system for circulation.
"Beginning today, Federal Reserve Banks are releasing millions of Ulysses S. Grant Presidential $1 Coins into circulation to be used by Americans everywhere in the nation," United States Mint Acting Deputy Director Al Runnels said in his remarks at the ceremony. "Americans know Grant best as the victorious general in the Civil War, and these new coins can't help but remind us of that defining period in our history, but they will also connect America to Grant's two terms as our 18th President."
Under the United States Mint Presidential $1 Coin Program, four former Presidents are celebrated annually with a new coin release bearing a portrait of the individual on its obverse. The Presidential dollars are issued in the order upon which the individual served.
Grant's rolls are the second of four issues this year following the February release of Andrew Johnson's dollar. Coins to honor former Presidents Rutherford B. Hayes (1877-1881) and James A. Garfield (1881) will follow in August and November. (See their release dates and coin images.)
Ordering Grant Presidential $25 Rolls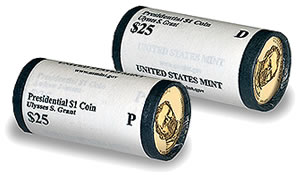 The 2011 Ulysses S. Grant Presidential Dollar Rolls are available from the Mint for $39.95, plus $4.95 for shipping and handling on all domestic orders. Orders may be placed at the U.S. Mint Product Page or by calling 1-800-USA-MINT (872-6468). Hearing and speech-impaired customers may call 1-888-321-MINT (6468). There are no order limits in place, and it will begin shipping the rolls in approximately 1-2 weeks.
Buyers may select specially Mint-wrapped $25 rolls containing either Denver or Philadelphia struck circulation quality dollars.
Coin Design
United States Mint Sculptor-Engraver Don Everhart designed the portrait of Grant that is featured on the obverse (heads side) of the coin. Inscriptions include "ULYSSES S. GRANT," "IN GOD WE TRUST," "18TH PRESIDENT" and "1869-1877."
Everhart is also responsible for the image of the Statue of Liberty that is featured on the reverse of the Ulysses S. Grant $1 Coin as well as all of the other Presidential Dollars.
Ulysses S. Grant Bio Brief
The following includes a brief biography of the former president as published on the United States Mint website:
Ulysses S. Grant was born in 1822. In 1843, he graduated from West Point and later he fought in the Mexican War under General Zachary Taylor.
As a brigadier general and then major general during the Civil War, he won important battles at Vicksburg, Mississippi, and Chattanooga, Tennessee. President Lincoln promoted him to general-in-chief by March 1864. Following the Confederate's surrender in 1865, General Grant became the symbol of Union victory. So in 1868, Grant was the Republican Party's logical choice for a Presidential candidate. After winning in 1869, he served two terms.
Following his presidency he wrote his memoirs, which today is considered one of the finest military autobiographies ever written. He died shortly after completing the last page, on July 23, 1885.