Today, the U.S. Mint released the Abraham Lincoln Presidential Silver Medal, which honors the remarkable achievements of the 16th President of the United States and commemorates the lasting legacy of one of the most significant figures in American history.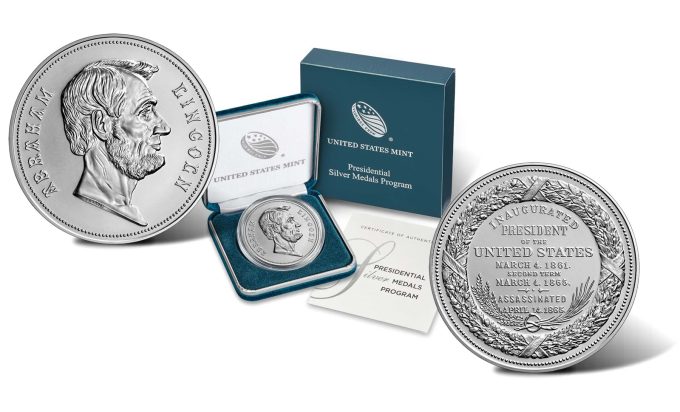 Before he became President of the United States in 1861, Abraham Lincoln held various roles, including that of a self-taught lawyer, a captain in the Illinois Militia, a state legislator, and a U.S. Congressman. His presidency coincided with what is widely regarded as the most challenging era in American history — the Civil War. Tragically, Lincoln was assassinated shortly after the war's conclusion by a sympathizer to the Southern cause.
U.S. Mint Presidential Medal Programs
Struck from 1 troy ounce of 99.9 percent fine silver and measuring 1.598 inches in diameter, the new medal is priced at $75.
Presidential medals have a rich history that dates back to the early days of the United States. Initially coined in bronze and referred to as "Peace Medals," these medals bore a portrait of the current President and were typically presented to Native American tribes as a symbol of peace during treaty ceremonies and other related events.
In 2018, the U.S. Mint started their current lineup of Presidential Silver Medals, which share the same designs as the first bronze medals and honor the former chief executives in the order in which they served in office. To date, the program has seen the release and associated sales of the following medals:
George Washington – 33,939
John Adams – 23,189
Thomas Jefferson – 23,447
James Madison – 16,465
James Monroe – 14,995
John Quincy Adams – 14,485
Andrew Jackson – 16,334
Martin Van Buren – 13,499
William Henry Harrison – 13,339
John Tyler – 13,406
James K. Polk – 12,977
Zachary Taylor – 12,752
Millard Fillmore – 12,331
Franklin Pierce – 12,122
James Buchanan – 11,372
The first medal issued this year from the series, honoring Buchanan, was launched on Feb. 13. Today's Lincoln medal will be followed by one honoring Andrew Johnson in the summer, and an Ulysses S. Grant medal in the fall.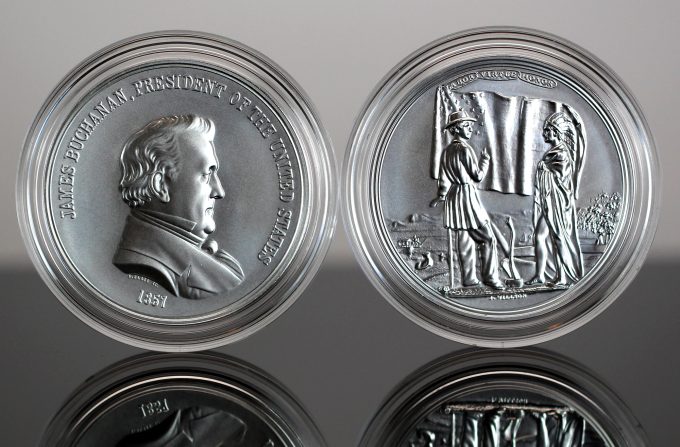 This series has no mintage limits with past medals still available for purchase directly from the U.S. Mint.
Abraham Lincoln Silver Medal Designs
George T. Morgan, the 7th Chief Engraver of the U.S. Mint, designed both the obverse (heads side) and reverse (tails side) of the medal. He is perhaps best known for designing the "Morgan Dollar," a U.S. circulating $1 coin that debuted in 1878 and was in circulation until 1904, with a brief reappearance in 1921.
For this Presidential Silver Medal, Morgan's depiction of Lincoln is featured on the obverse, with the inscription ABRAHAM LINCOLN around the portrait.
The ornate reverse of the medal features a wreath of oak and laurel encircled by a pearled ring. Within the wreath is a spray of pine and cedar, and at their base is a serpent with its tail in its mouth, symbolizing eternity and immortality in Egyptian culture.
On the reverse, an inscription reads "INAUGURATED PRESIDENT OF THE UNITED STATES MARCH 4, 1861. SECOND TERM MARCH 4, 1865. ASSASSINATED APRIL 14, 1865.""
Presidential Silver Medal Specifications
Each medal has a matte finish, which gives them an appearance similar to that of an uncirculated coin. Here are some additional medal specifications:
| | |
| --- | --- |
| Denomination: | N/A |
| Finish: | Matte |
| Composition: | 99.9% Silver |
| Silver Weight: | 1.000 troy oz. |
| Diameter: | 1.598 in. |
| Edge: | Plain |
| Mint and Mint Mark: | N/A |
| Privy Mark: | None |
| Design: | Designer: George T. Morgan |
| Struck Under Authority of: | 31 U.S.C. § 5111(a)(2) |
Ordering
The Abraham Lincoln Presidential Silver Medal can be purchased from the U.S. Mint's catalog for silver medals. Each medal comes encapsulated and with a Certificate of Authenticity.