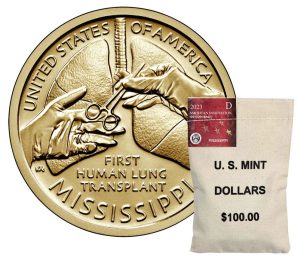 The leading products in this week's United States Mint sales figures were the newly released Innovation dollars for Mississippi. They launched on August 28 with a design celebrating the first human lung transplant.
This dollar is the last of four in 2023 from the U.S. Mint's American Innovation® $1 Coin Program, which runs from 2018 to 2032.
Offered in options of 25-coin rolls and 100-coin bags at $34.50 and $117.50, respectively, the Mississippi Innovation dollar logged opening sales of a combined 780,375 coins.
The previous strike in the series, promoting the automobile industry in Indiana, experienced a better opening at 841,600 coins when it hit the market in June. The second dollar debuted in April, recognized innovation in Louisiana, started with early sales of 785,825 coins, and the first Innovation dollar which kicked off in January 2023 celebrated innovation in Ohio and recorded sales of 689,700 coins in the first days of its release.
U.S. Mint Top Sellers
Taking into account non-bulk sales, here is the roster of the U.S. Mint's most sought-after numismatic products for the week concluding on Sept. 3:
2023-P Mississippi American Innovation 25-Coin Rolls (+7,576)
2023-D Mississippi American Innovation 25-Coin Rolls (+6,759)
2023 Proof Set (+4,388 to 259,517)
2023-P Mississippi American Innovation 100-Coin Bags (+2,142)
2023-D Mississippi American Innovation 100-Coin Bags (+2,078)
2023-W Proof Silver Eagle (+1,497 to 426,408)
2023-S Proof Morgan Silver Dollar (+1,256 to 308,358)
2023-P American Liberty Silver Medal (+784 to 24,541)
2023 American Women Quarters Proof Set (+705 to 48,045)
2023-W Uncirculated Silver Eagle (+536 to 127,953)
In its latest report, the U.S. Mint published sales data for 354 numismatic products.
Among these products, 75 outperformed their sales from the previous week, compared to 63 in the prior report. Not counting the new products, 3 products experienced an increase of more than 1,000 units, against 2 in the previous report.
Meanwhile, there were 9 products that saw negative weekly sales, as opposed to only 3 previously. Most notably among those were last week's shining stars. The 2023 Andrew Johnson Presidential Silver Medal fell by 1,117, and the 2023 Silver Proof Set declined by 12,835.
US Mint Sales: Numismatic Products
Below are tables showing the latest available sales for U.S. Mint numismatic products. The sales period covers from Aug. 28 to Sept. 3. Products with an asterisk (*) are no longer available or had no reported sales.
Morgan & Peace Silver Dollars

Old
Sales
Latest
Sales
Gain/
Loss
%
Increase
2023-S Proof Morgan Silver Dollar
307,102
308,358
1,256
0.41%
2023-S Proof Morgan Silver Dollar (Bulk – 40 Coins)
360
443
83
23.06%
2023-S Proof Peace Silver Dollar
285,405
285,587
182
0.06%
2023-S Proof Peace Silver Dollar (Bulk – 40 Coins)
377
438
61
16.18%
2023-P Uncirculated Morgan Silver Dollar
260,709
260,709
–
–
2023-P Uncirculated Morgan Silver Dollar (40 – Bulk)
330
330
–
–
2023-P Uncirculated Peace Silver Dollar
258,888
258,872
-16
-0.01%
2023-P Uncirculated Peace Silver Dollar (40 – Bulk)
338
338
–
–

Armed Forces Silver Medals

Old
Sales
Latest
Sales
Gain/
Loss
%
Increase
U.S. Army 2.5 Ounce Silver Medal
9,988
9,988
–
–
U.S. Marine Corps 2.5 Ounce Silver Medal
9,576
9,576
–
–
U.S. Navy 2.5 Ounce Silver Medal
9,987
9,987
–
–
U.S. Coast Guard 2.5 Ounce Silver Medal
9,955
9,955
–
–
U.S. Air Force 2.5 Ounce Silver Medal
9,953
9,953
–
–
U.S. Navy 1 Ounce Silver Medal
16,962
17,116
154
0.91%
U.S. Coast Guard 1 Ounce Silver Medal
16,631
16,677
46
0.28%
U.S. Air Force 1 Ounce Silver Medal
18,240
18,299
59
0.32%

American Liberty Products

Old
Sales
Latest
Sales
Gain/
Loss
%
Increase
2023-W $100 American Liberty Gold Coin
10,580
10,797
217
2.05%
2023-P American Liberty Silver Medal
23,757
24,541
784
3.30%
2022-P American Liberty Silver Medal
72,808
73,081
273
0.37%
2021-W $100 American Liberty Gold Coin
12,471
12,471
–
–
2019-W $100 American Liberty Gold Coin
24,609
24,609
–
–
2019-P American Liberty Silver Medal
44,928
44,928
–
–
2018-W $10 American Liberty Gold Coin
56,552
56,632
80
0.14%
2017 American Liberty Silver Four-Medal Set*
32,647
32,647
–
–
2017-S Enhanced Uncirculated Coin Set*
210,419
210,419
–
–
2017-W $100 American Liberty Gold Coin
38,841
38,857
16
0.04%
2017-P Proof American Liberty Silver Medal*
55,187
55,187
–
–

Clad Proof Sets

Old
Sales
Latest
Sales
Gain/
Loss
%
Increase
2023 Proof Set
255,129
259,517
4,388
1.72%
2022 Proof Set
399,950
399,950
–
–
2021 Proof Set
512,605
512,608
3
0.00%
2020 Proof Set*
464,658
464,658
–
–
2019 Proof Set*
601,327
601,327
–
–
2018 Proof Set*
517,081
517,081
–
–
2017 Proof Set*
568,678
568,678
–
–
2022 American Innovation Dollars Proof Set
76,321
76,408
87
0.11%
2021 American Innovation Dollars Proof Set
84,491
84,492
1
0.00%
2020 American Innovation Dollars Proof Set
107,052
107,052
–
–
2019 American Innovation Dollars Proof Set
146,467
146,534
67
0.05%
2023 American Women Quarters Proof Set
47,340
48,045
705
1.49%
2022 American Women Quarters Proof Set*
42,821
42,821
–
–
2020 America the Beautiful Quarters Proof Set*
64,242
64,242
–
–
2019 America the Beautiful Quarters Proof Set
83,550
83,589
39
0.05%
2018 America the Beautiful Quarters Proof Set*
86,697
86,697
–
–

Silver Proof Sets

Old
Sales
Latest
Sales
Gain/
Loss
%
Increase
2023 Silver Proof Set
158,077
145,242
-12,835
-8.12%
2022 Silver Proof Set
244,501
244,688
187
0.08%
2021 Silver Proof Set
300,954
301,007
53
0.02%
2020 Silver Proof Set*
313,183
313,183
–
–
2019 Silver Proof Set*
412,708
412,708
–
–
2018 Silver Proof Set*
332,274
332,274
–
–
2018 Silver Reverse Proof Set*
199,116
199,116
–
–
2023 American Women Quarters Silver Proof Set
41,680
41,778
98
0.24%
2022 American Women Quarters Silver Proof Set
57,674
57,674
–
–
2020 America the Beautiful Quarters Silver Proof Set*
64,012
64,012
–
–
2019 America the Beautiful Quarters Silver Proof Set*
78,585
78,585
–
–
2018 America the Beautiful Quarters Silver Proof Set*
79,301
79,301
–
–
2023 Congratulations Gift Set
37,895
38,072
177
0.47%
2022 Congratulations Gift Set
29,710
29,710
–
–
2021 Congratulations Gift Set*
39,997
39,997
–
–
2020 Congratulations Gift Set*
24,468
24,468
–
–
2019 Congratulations Gift Set*
31,638
31,638
–
–
2022 Limited Edition Silver Proof Set
47,364
47,499
135
0.29%
2021 Limited Edition Silver Proof Set
48,712
48,712
–
–
2020 Limited Edition Silver Proof Set*
50,061
50,061
–
–

US Mint Uncirculated Sets

Old
Sales
Latest
Sales
Gain/
Loss
%
Increase
2022 Uncirculated Mint Set
238,879
239,334
455
0.19%
2021 Uncirculated Mint Set
224,338
224,488
150
0.07%
2020 Uncirculated Mint Set*
211,787
211,787
–
–
2019 Uncirculated Mint Set*
346,117
346,117
–
–
2018 Uncirculated Mint Set*
257,536
257,536
–
–
2017 Uncirculated Mint Set*
286,813
286,813
–
–

Kids Coin Sets

Old
Sales
Latest
Sales
Gain/
Loss
%
Increase
2019 Youth Coin and Currency Set
24,882
24,882
–
–
2019 Explore and Discover Coin Set
41,886
41,904
18
0.04%
2019 Rocketship*
49,921
49,921
–
–
2014 Coin Discovery Set*
13,151
13,151
–
–

Ornaments

Old
Sales
Latest
Sales
Gain/
Loss
%
Increase
2022 U.S. Mint Ornament
5,392
5,402
10
0.19%
2022 Mighty Minters Ornament
3,926
3,930
4
0.10%
2023 Bessie Coleman Ornament
1,342
1,346
4
0.30%
2023 Edith Kanakaʻole Ornament;
1,360
1,419
59
4.34%
2023 Eleanor Roosevelt Ornament
1,534
1,570
36
2.35%
2023 Jovita Idar Ornament
1,316
1,340
24
1.82%
2023 Maria Tallchief Ornament
1,319
1,341
22
1.67%
2022 Maya Angelou Ornament
2,994
3,013
19
0.63%
2022 Dr. Sally Ride Ornament
3,079
3,099
20
0.65%
2022 Wilma Mankiller Ornament
2,137
2,153
16
0.75%
2022 Nina Otero-Warren Ornament
1,748
1,754
6
0.34%
2022 Anna May Wong Ornament
3,103
3,110
7
0.23%
2021 Mighty Minters Ornament
4,821
4,821
–
–
2021 U.S. Mint Ornament
7,780
7,783
3
0.04%
2020 Mighty Minters Ornament
4,468
4,471
3
0.07%
2020 U.S. Mint Ornament
6,500
6,503
3
0.05%
2019 Mighty Minters Ornament
6,998
7,001
3
0.04%
2019 U.S. Mint Ornament
11,699
11,705
6
0.05%

Proof & Reverse Proof Silver Eagles

Old
Sales
Latest
Sales
Gain/
Loss
%
Increase
2022-S Proof Silver Eagle
199,666
199,665
-1
0.00%
2022-S Proof Silver Eagle (Bulk – 40 Coins)
2,925
2,925
–
–
2023-W Proof Silver Eagle
424,911
426,408
1,497
0.35%
2023-W Proof Silver Eagle (Bulk – 40 Coins)
2,119
2,119
–
–
2022-W Proof Silver Eagle
496,992
496,992
–
–
2022-W Proof Silver Eagle (Bulk – 40 Coins)
4,107
4,107
–
–
2021 Reverse Proof American Silver Eagle Two-Coin Set*
124,881
124,881
–
–
2021-S Proof Silver Eagle, Type 2*
199,580
199,580
–
–
2021-S Proof Silver Eagle, Type 2 (Bulk – 40 Coins)*
652
652
–
–
2021-W Proof Silver Eagle, Type 2*
300,096
300,096
–
–
2021-W Proof Silver Eagle, Type 2 (Bulk – 40 Coins)*
2,142
2,142
–
–
2021-W Proof Silver Eagle, Type 1*
299,895
299,895
–
–
2021-W Proof Silver Eagle, Type 1 (Bulk – 40 Coins)*
686
686
–
–

Uncirculated Silver Eagles

Old
Sales
Latest
Sales
Gain/
Loss
%
Increase
2023
127,417
127,953
536
0.42%
2022
159,998
159,998
–
–
2022 Bulk 40
987
987
–
–
2021*
174,470
174,470
–
–
2021 Bulk 40*
324
324
–
–

2023 Proof American Eagle Gold Coins

Old
Sales
Latest
Sales
Gain/
Loss
%
Increase
1 oz
6,442
6,441
-1
-0.02%
1/2 oz
1,997
1,997
–
–
1/4 oz
4,474
4,474
–
–
1/10 oz
12,977
13,154
177
1.36%
4-Coin Set
8,939
8,940
1
0.01%

2022 Proof American Eagle Gold Coins

Old
Sales
Latest
Sales
Gain/
Loss
%
Increase
1 oz
5,913
5,913
–
–
1/2 oz
1,970
1,970
–
–
1/4 oz
4,464
4,464
–
–
1/10 oz
13,803
13,803
–
–
4-Coin Set
9,905
9,905
–
–

Uncirculated American Eagle Gold Coins

Old
Sales
Latest
Sales
Gain/
Loss
%
Increase
2023
4,922
4,946
24
0.49%
2022
8,845
8,845
–
–
2021*
8,914
8,914
–
–
2020*
6,284
6,284
–
–
2019*
5,851
5,851
–
–
2018*
8,518
8,518
–
–
2017*
5,800
5,800
–
–

Proof American Buffalo Gold Coins

Old
Sales
Latest
Sales
Gain/
Loss
%
Increase
2023 Proof Gold Buffalo
12,412
12,499
87
0.70%
2022 Proof Gold Buffalo
15,938
15,938
–
–
2021 Proof Gold Buffalo*
16,958
16,958
–
–
2020 Proof Gold Buffalo*
11,887
11,887
–
–
2019 Proof Gold Buffalo*
14,844
14,844
–
–
2018 Proof Gold Buffalo*
15,756
15,756
–
–
2017 Proof Gold Buffalo*
15,810
15,810
–
–

Proof American Platinum Eagle

Old
Sales
Latest
Sales
Gain/
Loss
%
Increase
2023
7,759
7,792
33
0.43%
2022
9,920
9,920
–
–
2021
9,884
9,884
–
–
2020
9,825
9,825
–
–
2019
11,268
11,268
–
–
2018
16,034
16,042
8
0.05%
2017*
8,890
8,890
–
–

American Palladium Eagle

Old
Sales
Latest
Sales
Gain/
Loss
%
Increase
2022-W Reverse Proof
7,360
7,360
–
–
2021-W Proof
5,170
5,170
–
–
2020-W Uncirculated
9,742
9,742
–
–
2019-W Reverse Proof
18,775
18,775
–
–
2018-W Proof*
14,986
14,986
–
–

Presidential Silver Medals

Old
Sales
Latest
Sales
Gain/
Loss
%
Increase
2023 Andrew Johnson Presidential Silver Medal
12,958
11,841
-1,117
-8.62%
2023 Abraham Lincoln Presidential Silver Medal
17,652
17,704
52
0.29%
2023 James Buchanan Presidential Silver Medal
11,966
11,983
17
0.14%
2021 Franklin Pierce Presidential Silver Medal
12,350
12,361
11
0.09%
2022 Millard Fillmore Presidential Silver Medal
12,501
12,511
10
0.08%
2022 Zachary Taylor Presidential Silver Medal
12,886
12,886
–
–
2022 James Knox Polk Presidential Silver Medal
13,115
13,122
7
0.05%
2021 John Tyler Presidential Silver Medal
13,522
13,533
11
0.08%
2021 William Henry Harrison Presidential Silver Medal
13,457
13,470
13
0.10%
2021 Martin Van Buren Presidential Silver Medal
13,610
13,619
9
0.07%
2020 Andrew Jackson Presidential Silver Medal
16,506
16,516
10
0.06%
2019 John Quincy Adams Presidential Silver Medal
14,638
14,644
6
0.04%
2019 James Monroe Presidential Silver Medal
15,146
15,157
11
0.07%
2019 James Madison Presidential Silver Medal
16,727
16,736
9
0.05%
2019 Thomas Jefferson Presidential Silver Medal
23,930
23,944
14
0.06%
2018 George Washington Presidential Silver Medal
34,766
34,782
16
0.05%
2018 John Adams Presidential Silver Medal
23,476
23,487
11
0.05%

American Innovation Reverse Proof Sets

Old
Sales
Latest
Sales
Gain/
Loss
%
Increase
2022
48,614
48,709
95
0.20%
2021
49,538
49,538
–
–

2023 American Innovation Dollars – Mississippi

Old
Sales
Latest
Sales
Gain/
Loss
%
Increase
25-coin roll set (P)
–
7,576
–
–
25-coin roll set (D)
–
6,759
–
–
100-coin bag (P)
–
2,142
–
–
100-coin bag (D)
–
2,078
–
–

2023 American Innovation Dollars – Indiana

Old
Sales
Latest
Sales
Gain/
Loss
%
Increase
25-coin roll set (P)
8,004
8,005
1
0.01%
25-coin roll set (D)
6,981
6,982
1
0.01%
100-coin bag (P)
2,374
2,434
60
2.53%
100-coin bag (D)
2,385
2,443
58
2.43%

2023 American Innovation Dollars – Louisiana

Old
Sales
Latest
Sales
Gain/
Loss
%
Increase
25-coin roll set (P)
7,983
7,983
–
–
25-coin roll set (D)
6,953
6,953
–
–
100-coin bag (P)
2,318
2,333
15
0.65%
100-coin bag (D)
2,250
2,267
17
0.76%

2023 American Innovation Dollars – Ohio

Old
Sales
Latest
Sales
Gain/
Loss
%
Increase
25-coin roll set (P)
7,999
7,999
–
–
25-coin roll set (D)
6,939
6,939
–
–
100-coin bag (P)
2,797
2,829
32
1.14%
100-coin bag (D)
2,583
2,607
24
0.93%

2022 American Innovation Dollars – Tennessee

Old
Sales
Latest
Sales
Gain/
Loss
%
Increase
25-coin roll set (P)
7,011
7,011
–
–
25-coin roll set (D)
7,007
7,007
–
–
100-coin bag (P)
2,770
2,770
–
–
100-coin bag (D)
2,771
2,771
–
–

2022 American Innovation Dollars – Kentucky

Old
Sales
Latest
Sales
Gain/
Loss
%
Increase
25-coin roll set (P)
7,004
7,004
–
–
25-coin roll set (D)
6,988
6,988
–
–
100-coin bag (P)
2,768
2,768
–
–
100-coin bag (D)
2,778
2,778
–
–

2022 American Innovation Dollars – Vermont

Old
Sales
Latest
Sales
Gain/
Loss
%
Increase
25-coin roll set (P)
7,023
7,023
–
–
25-coin roll set (D)
7,011
7,011
–
–
100-coin bag (P)
2,787
2,787
–
–
100-coin bag (D)
2,775
2,775
–
–

2022 American Innovation Dollars – Rhode Island

Old
Sales
Latest
Sales
Gain/
Loss
%
Increase
25-coin roll set (P)
7,010
7,010
–
–
25-coin roll set (D)
7,007
7,007
–
–
100-coin bag (P)
2,788
2,788
–
–
100-coin bag (D)
2,786
2,786
–
–

2021 American Innovation Dollars – North Carolina

Old
Sales
Latest
Sales
Gain/
Loss
%
Increase
25-coin roll set (P)
7,010
7,010
–
–
25-coin roll set (D)
7,018
7,018
–
–
100-coin bag (P)
2,789
2,789
–
–
100-coin bag (D)
2,790
2,790
–
–

2021 American Innovation Dollars – New York

Old
Sales
Latest
Sales
Gain/
Loss
%
Increase
25-coin roll set (P)
7,006
7,006
–
–
25-coin roll set (D)
7,013
7,013
–
–
100-coin bag (P)
2,786
2,786
–
–
100-coin bag (D)
2,784
2,785
1
0.04%

2021 American Innovation Dollars – Virginia

Old
Sales
Latest
Sales
Gain/
Loss
%
Increase
25-coin roll set (P)
7,015
7,015
–
–
25-coin roll set (D)
7,010
7,010
–
–
100-coin bag (P)
2,796
2,796
–
–
100-coin bag (D)
2,786
2,786
–
–

2021 American Innovation Dollars – New Hampshire

Old
Sales
Latest
Sales
Gain/
Loss
%
Increase
25-coin roll set (P)
7,017
7,017
–
–
25-coin roll set (D)
7,018
7,018
–
–
100-coin bag (P)
2,789
2,789
–
–
100-coin bag (D)
2,790
2,790
–
–

2020 American Innovation Dollars – South Carolina

Old
Sales
Latest
Sales
Gain/
Loss
%
Increase
Reverse Proof (S)
40,832
40,852
20
0.05%
25-coin roll set (P)
6,378
6,378
–
–
25-coin roll set (D)
6,399
6,399
–
–
100-coin bag (P)
2,734
2,734
–
–
100-coin bag (D)
2,378
2,378
–
–

2020 American Innovation Dollars – Maryland

Old
Sales
Latest
Sales
Gain/
Loss
%
Increase
Reverse Proof (S)
49,722
49,722
–
–
25-coin roll set (P)
6,493
6,493
–
–
25-coin roll set (D)
6,471
6,471
–
–
100-coin bag (P)
2,725
2,725
–
–
100-coin bag (D)
2,737
2,737
–
–

2020 American Innovation Dollars – Massachusetts

Old
Sales
Latest
Sales
Gain/
Loss
%
Increase
Reverse Proof (S)
47,862
47,915
53
0.11%
25-coin roll set (P)
6,486
6,486
–
–
25-coin roll set (D)
6,481
6,481
–
–
100-coin bag (P)
2,746
2,746
–
–
100-coin bag (D)
2,744
2,744
–
–

2020 American Innovation Dollars – Connecticut

Old
Sales
Latest
Sales
Gain/
Loss
%
Increase
Reverse Proof (S)
46,347
46,369
22
0.05%
25-coin roll set (P)
6,496
6,496
–
–
25-coin roll set (D)
6,425
6,425
–
–
100-coin bag (P)
2,736
2,736
–
–
100-coin bag (D)
2,747
2,747
–
–

2019 American Innovation Dollars – Georgia

Old
Sales
Latest
Sales
Gain/
Loss
%
Increase
Reverse Proof (S)
46,619
46,643
24
0.05%
25-coin roll set (P)
7,847
7,865
18
0.23%
25-coin roll set (D)
7,326
7,352
26
0.35%
100-coin bag (P)
3,352
3,366
14
0.42%
100-coin bag (D)
3,220
3,223
3
0.09%

2019 American Innovation Dollars – New Jersey

Old
Sales
Latest
Sales
Gain/
Loss
%
Increase
Reverse Proof (S)
50,056
50,076
20
0.04%
25-coin roll set (P)
8,766
8,785
19
0.22%
25-coin roll set (D)
7,826
7,841
15
0.19%
100-coin bag (P)
3,824
3,826
2
0.05%
100-coin bag (D)
3,448
3,449
1
0.03%

2019 American Innovation Dollars – Pennsylvania

Old
Sales
Latest
Sales
Gain/
Loss
%
Increase
Reverse Proof (S)
54,534
54,559
25
0.05%
25-coin roll set (P)
10,012
10,037
25
0.25%
25-coin roll set (D)
8,287
8,306
19
0.23%
100-coin bag (P)
3,467
3,472
5
0.14%
100-coin bag (D)
2,940
2,943
3
0.10%

2019 American Innovation Dollars – Delaware

Old
Sales
Latest
Sales
Gain/
Loss
%
Increase
Reverse Proof (S)
69,809
69,834
25
0.04%
25-coin roll set (P)
8,875
8,895
20
0.23%
25-coin roll set (D)
8,197
8,208
11
0.13%
100-coin bag (P)
3,137
3,138
1
0.03%
100-coin bag (D)
3,303
3,305
2
0.06%

2018 American Innovation Dollars

Old
Sales
Latest
Sales
Gain/
Loss
%
Increase
Reverse Proof (S)*
74,720
74,720
–
–
Proof Coin (S)
251,926
251,983
57
0.02%
25-coin roll set (P)
22,171
22,230
59
0.27%
25-coin roll set (D)
25,075
25,110
35
0.14%
100-coin bag (P)*
2,935
2,935
–
–
100-coin bag (D)*
2,954
2,954
–
–

George H.W. Bush Coin & Chronicles Set

Old
Sales
Latest
Sales
Gain/
Loss
%
Increase
$1 Coin & Set
11,164
11,176
12
0.11%

2020 Bush Presidential $1 Coin & First Spouse Medal Set

Old
Sales
Latest
Sales
Gain/
Loss
%
Increase
$1 Coin & Set
9,876
9,876
–
–

2020 George H.W. Bush Presidential $1 Coins

Old
Sales
Latest
Sales
Gain/
Loss
%
Increase
25-coin roll (P)
24,891
24,898
7
0.03%
25-coin roll (D)
21,711
21,783
72
0.33%
100-coin bag (P)
2,695
2,695
–
–
100-coin bag (D)
2,098
2,098
–
–
250-coin bag (P)
2,715
2,720
5
0.18%
250-coin bag (D)
4,219
4,224
5
0.12%

Native American Dollar Rolls

Old
Sales
Latest
Sales
Gain/
Loss
%
Increase
2023-P Native American $1 25 Coin Roll
13,387
13,390
3
0.02%
2023-D Native American $1 25 Coin Roll
12,705
12,712
7
0.06%
2023-P Native American $1 100-Coin Bag
1,684
1,685
1
0.06%
2023-D Native American $1 100-Coin Bag
1,686
1,687
1
0.06%
2023-P Native American $1 250-Coin Box
1,079
1,079
–
–
2023-D Native American $1 250-Coin Box
1,259
1,259
–
–
2022-P Native American $1 25 Coin Roll
13,995
13,995
–
–
2022-D Native American $1 25 Coin Roll
13,918
13,918
–
–
2022-P Native American $1 100-Coin Bag
1,699
1,699
–
–
2022-D Native American $1 100-Coin Bag
1,614
1,614
–
–
2022-P Native American $1 250-Coin Box
1,698
1,698
–
–
2022-D Native American $1 250-Coin Box
1,699
1,699
–
–

Kennedy Half Dollar Rolls

Old
Sales
Latest
Sales
Gain/
Loss
%
Increase
2023-dated 200-coin bag (P&D)
8,820
8,914
94
1.07%
2023-dated 2-roll set (P&D)
24,967
24,967
–
–
2022-dated 200-coin bag (P&D)
10,999
10,999
–
–
2022-dated 2-roll set (P&D)
21,926
21,926
–
–
2021-dated 200-coin bag (P&D)*
9,968
9,968
–
–
2021-dated 2-roll set (P&D)*
21,989
21,989
–
–
2020-dated 200-coin bag (P&D)*
11,776
11,776
–
–
2020-dated 2-roll set (P&D)*
24,312
24,312
–
–
2019-dated 200-coin bag (P&D)*
11,534
11,534
–
–
2019-dated 2-roll set (P&D)*
24,132
24,132
–
–

2023 Jovita Idar Quarters

Old
Sales
Latest
Sales
Gain/
Loss
%
Increase
Three-Roll Set
12,598
12,338
-260
-2.06%
100-Coin Bag (P)
3,870
3,434
-436
-11.27%
100-Coin Bag (D)
3,656
3,303
-353
-9.66%
Two-Roll Set
3,537
3,181
-356
-10.07%

2023 Eleanor Roosevelt Quarters

Old
Sales
Latest
Sales
Gain/
Loss
%
Increase
Three-Roll Set
12,683
12,683
–
–
100-Coin Bag (P)
4,059
4,063
4
0.10%
100-Coin Bag (D)
3,801
3,813
12
0.32%
Two-Roll Set
4,020
4,043
23
0.57%

2023 Edith Kanakaʻole Quarters

Old
Sales
Latest
Sales
Gain/
Loss
%
Increase
Three-Roll Set
12,577
12,577
–
–
100-Coin Bag (P)
6,813
6,836
23
0.34%
100-Coin Bag (D)
4,311
4,330
19
0.44%
Two-Roll Set
5,235
5,258
23
0.44%

2023 Bessie Coleman Quarters

Old
Sales
Latest
Sales
Gain/
Loss
%
Increase
Three-Roll Set
12,533
12,533
–
–
100-Coin Bag (P)
5,266
5,279
13
0.25%
100-Coin Bag (D)
4,724
4,734
10
0.21%
Two-Roll Set
5,459
5,470
11
0.20%

2022 Anna May Wong Quarters

Old
Sales
Latest
Sales
Gain/
Loss
%
Increase
Three-Roll Set
7,617
7,617
–
–
100-Coin Bag (P)
1,860
1,860
–
–
100-Coin Bag (D)
1,858
1,858
–
–
Two-Roll Set
5,936
5,936
–
–

2022 Nina Otero-Warren Quarters

Old
Sales
Latest
Sales
Gain/
Loss
%
Increase
Three-Roll Set
7,639
7,639
–
–
100-Coin Bag (P)
1,853
1,853
–
–
100-Coin Bag (D)
1,855
1,855
–
–
Two-Roll Set
5,882
5,882
–
–

2022 Wilma Mankiller Quarters

Old
Sales
Latest
Sales
Gain/
Loss
%
Increase
Three-Roll Set
7,616
7,616
–
–
100-Coin Bag (P)
1,850
1,850
–
–
100-Coin Bag (D)
1,822
1,822
–
–
Two-Roll Set
5,911
5,911
–
–

2022 Dr. Sally Ride Quarters

Old
Sales
Latest
Sales
Gain/
Loss
%
Increase
Three-Roll Set
7,603
7,603
–
–
100-Coin Bag (P)
1,854
1,854
–
–
100-Coin Bag (D)
1,852
1,852
–
–
Two-Roll Set
5,926
5,926
–
–

2022 Maya Angelou Quarters

Old
Sales
Latest
Sales
Gain/
Loss
%
Increase
Three-Roll Set
7,588
7,588
–
–
100-Coin Bag (P)
1,858
1,858
–
–
100-Coin Bag (D)
1,861
1,861
–
–
Two-Roll Set
5,940
5,940
–
–