The newest product from the United States Mint, released today for $75, is the Andrew Johnson Presidential Silver Medal.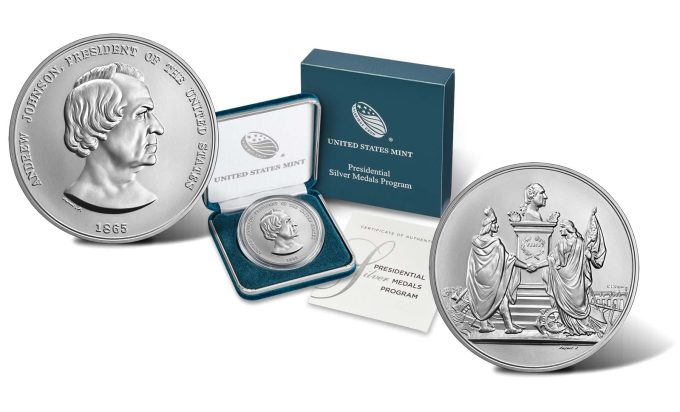 Containing 1 troy ounce of 99.9 percent fine silver, this collectible is a part of the U.S. Mint's ongoing series of presidential medals. It features imagery borrowed from the original peace medal that was issued while Johnson served as the President of the United States from 1865 to 1869.
Johnson became the 17th President following the assassination of Abraham Lincoln. His rise to the position was the culmination of decades of political service, during which he held many controversial positions.
Notably, he was the sole sitting U.S. Senator from a Confederate state who did not resign from his elected post after his state seceded from the Union. His unwavering loyalty to the Union resulted in his selection as Lincoln's running mate in the 1864 election, despite their initial differences in political party affiliation.
Johnson served out the remainder of Lincoln's term while facing strong political opposition, which even led to his impeachment by the House of Representatives. However, he was acquitted in the Senate, winning by only one vote.
U.S. Mint Presidential Medal Programs
A long history is associated with Presidential medals in the United States. Originally struck in bronze, these medals bore the likeness of the incumbent President. They became known as "Peace Medals" since they were frequently distributed to Native American tribes as a symbol of peace during treaty ceremonies.
This latest series of U.S. Mint Presidential Silver Medals traces its origins back to 2018 and is dedicated to honoring former U.S. Presidents in the sequential order of their terms in office. Earlier issued medals, along with their latest sales figures, include those depicting:
George Washington – 34,682
John Adams – 23,419
Thomas Jefferson – 23,877
James Madison – 16,690
James Monroe – 15,120
John Quincy Adams – 14,595
Andrew Jackson – 16,482
Martin Van Buren – 13,589
William Henry Harrison – 13,439
John Tyler – 13,507
James K. Polk – 13,096
Zachary Taylor – 12,867
Millard Fillmore – 12,481
Franklin Pierce – 12,327
James Buchanan – 11,907
Abraham Lincoln – 17,418
Of these, the Buchanan and Lincoln medals were released earlier this year with Buchanan's medal debuting on February 13th followed by Lincoln's on May 1st.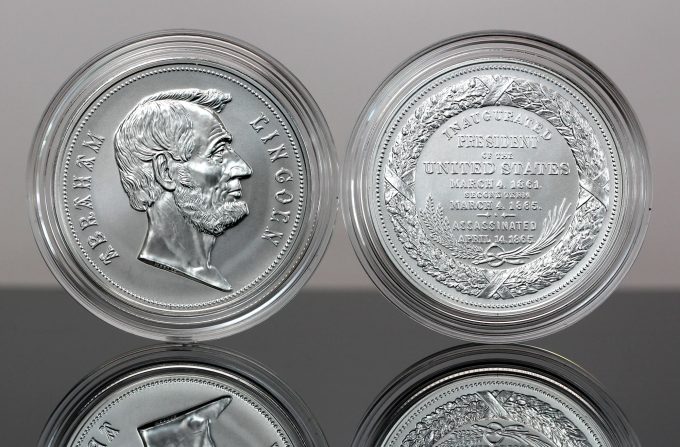 Medal Designs
Designed by former U.S. Mint Assistant Engraver Anthony Paquet, the obverse (heads side) of the medal features a portrait of Johnson facing to the right.
Inscribed around the portrait is "ANDREW JOHNSON," "PRESIDENT OF THE UNITED STATES," and "1865."
The medal's reverse side (tails) portrays an American Indian clasping the hand of Columbia, while a bust of Washington and the word "PEACE" are positioned between them.
Surrounding this central design are symbols representing various aspects of American life, encompassing both indigenous and industrial elements.
Presidential Silver Medal Specifications
Presidential silver medals have a matte finish, which gives them an appearance similar to that of an uncirculated coin. Additional medal specifications are as follows:
| | |
| --- | --- |
| Denomination: | N/A |
| Finish: | Matte |
| Composition: | 99.9% Silver |
| Silver Weight: | 1.000 troy oz. |
| Diameter: | 1.598 in. |
| Edge: | Plain |
| Mint and Mint Mark: | N/A |
| Privy Mark: | None |
| Design: | Designer: Anthony Paquet |
| Struck Under Authority of: | 31 U.S.C. § 5111(a)(2) |
Ordering
The Andrew Johnson Presidential Silver Medal is available for purchase directly from the U.S. Mint's catalog for silver medals.
Each medal is encapsulated and comes with a Certificate of Authenticity.