Quarter products honoring Edith Kanakaʻole practitioner, hula master, and champion of preserving and revitalizing traditional Hawaiian language, arts, and customs, saw sizable sales increases, according to the latest figures from the United States Mint.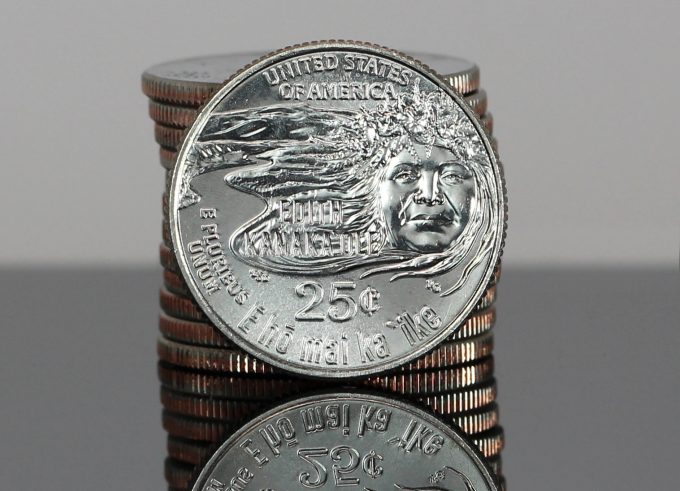 Denver and Philadelphia bags of the quarters ranked second and third highest, respectively, in U.S. Mint weekly sales, with each experiencing a rise of over 2,000 units, totaling more than 415,000 quarters. The gains were bolstered by events held in Hawaii last week to commemorate the release of the Edith Kanakaʻole quarter, capitalizing on the already strong sales made early following the quarter's debut.
Overall, roll and bag products containing the coin now account for 2,918,140 quarters.
As the seventh and most recent release in the Mint's four-year series honoring the achievements of American women, the Edith Kanakaʻole quarter has become the highest-selling quarter in the series, propelled by these latest gains. The rankings and corresponding sales totals are as follows:
Edith Kanakaʻole quarters at 2,918,140
Bessie Coleman quarters at 2,867,160
Anna May Wong quarters at 1,760,720
Nina Otero-Warren quarters at 1,757,500
Maya Angelou quarters at 1,757,660
Dr. Sally Ride quarters at 1,756,780
Wilma Mankiller quarters at 1,753,640
U.S. Mint Top Sellers
Here's the listing of the U.S. Mint's most popular numismatic products for the week ending May 14:
2023-W Proof Silver Eagle (+13,246 to 413,398)
2023-D Edith Kanakaʻole Quarters in 100-Coin Bags (+2,116 to 4,224)
2023-P Edith Kanakaʻole Quarters in 100-Coin Bags (+2,036 to 6,211)
2023 Congratulations Set (+805 to 31,552)
202-W Proof Gold Eagle Four-Coin Set (+515 to 8,680)
2023 American Women Quarters Proof Set (+325 to 41,694)
2023-W $5 Proof Gold Eagle (+291 to 9,190)
2022 Mint Set (+268 to 230,078)
2023 American Women Quarters Silver Proof Set (+253 to 37,949)
2023-W $25 Proof Gold Eagle (+250 to 1,982)
In its latest report, the U.S. Mint published sales data for 315 numismatic products. Among these products, 30 outperformed their sales from the previous week, compared to 76 in the prior report. Three products saw an increase of more than 1,000 units against 1 in the previous report.
Elsewhere, the report revealed that 5 products had negative weekly sales, compared to 3 in the prior report. The sales reductions varied from 2 to 917 units, with the largest decrease attributed to the recently released Lincoln silver medal.
US Mint Sales: Numismatic Products
Below are tables showing the latest available sales for U.S. Mint numismatic products. The sales period covers from May 8 to 14. Products with an asterisk (*) are no longer available or had no reported sales.
Armed Forces Silver Medals

Old
Sales
Latest
Sales
Gain/
Loss
%
Increase
U.S. Army 2.5 Ounce Silver Medal
10,004
10,004
–
–
U.S. Marine Corps 2.5 Ounce Silver Medal
9,576
9,576
–
–
U.S. Navy 2.5 Ounce Silver Medal
9,985
9,985
–
–
U.S. Coast Guard 2.5 Ounce Silver Medal
9,955
9,955
–
–
U.S. Air Force 2.5 Ounce Silver Medal
9,953
9,953
–
–
U.S. Coast Guard 1 Ounce Silver Medal
15,499
15,563
64
0.41%
U.S. Air Force 1 Ounce Silver Medal
16,613
16,666
53
0.32%

American Liberty Products

Old
Sales
Latest
Sales
Gain/
Loss
%
Increase
2022-P American Liberty Silver Medal
67,919
68,043
124
0.18%
2021-W $100 American Liberty Gold Coin
12,471
12,471
–
–
2019-W $100 American Liberty Gold Coin
24,609
24,609
–
–
2019-P American Liberty Silver Medal
44,928
44,928
–
–
2018-W $10 American Liberty Gold Coin
55,531
55,592
61
0.11%
2017 American Liberty Silver Four-Medal Set*
32,647
32,647
–
–
2017-S Enhanced Uncirculated Coin Set*
210,419
210,419
–
–
2017-W $100 American Liberty Gold Coin
38,609
38,629
20
0.05%
2017-P Proof American Liberty Silver Medal*
55,187
55,187
–
–

Clad Proof Sets

Old
Sales
Latest
Sales
Gain/
Loss
%
Increase
2022 Proof Set
399,743
399,765
22
0.01%
2021 Proof Set
511,748
511,756
8
0.00%
2020 Proof Set*
464,658
464,658
–
–
2019 Proof Set*
601,327
601,327
–
–
2018 Proof Set*
517,081
517,081
–
–
2017 Proof Set*
568,678
568,678
–
–
2022 American Innovation Dollars Proof Set
74,787
74,840
53
0.07%
2021 American Innovation Dollars Proof Set
83,582
83,621
39
0.05%
2020 American Innovation Dollars Proof Set
107,052
107,052
–
–
2019 American Innovation Dollars Proof Set
145,508
145,544
36
0.02%
2023 American Women Quarters Proof Set
41,369
41,694
325
0.79%
2022 American Women Quarters Proof Set*
42,619
42,619
–
–
2020 America the Beautiful Quarters Proof Set*
64,242
64,242
–
–
2019 America the Beautiful Quarters Proof Set
82,572
82,707
135
0.16%
2018 America the Beautiful Quarters Proof Set*
86,697
86,697
–
–

Silver Proof Sets

Old
Sales
Latest
Sales
Gain/
Loss
%
Increase
2022 Silver Proof Set
240,856
240,984
128
0.05%
2021 Silver Proof Set
299,870
299,920
50
0.02%
2020 Silver Proof Set*
313,183
313,183
–
–
2019 Silver Proof Set*
412,708
412,708
–
–
2018 Silver Proof Set*
332,274
332,274
–
–
2018 Silver Reverse Proof Set*
199,116
199,116
–
–
2023 American Women Quarters Silver Proof Set
37,696
37,949
253
0.67%
2022 American Women Quarters Silver Proof Set
57,646
57,649
3
0.01%
2020 America the Beautiful Quarters Silver Proof Set*
64,012
64,012
–
–
2019 America the Beautiful Quarters Silver Proof Set*
78,585
78,585
–
–
2018 America the Beautiful Quarters Silver Proof Set*
79,301
79,301
–
–
2023 Congratulations Gift Set
30,747
31,552
805
2.62%
2022 Congratulations Gift Set
29,710
29,710
–
–
2021 Congratulations Gift Set*
39,997
39,997
–
–
2020 Congratulations Gift Set*
24,468
24,468
–
–
2019 Congratulations Gift Set*
31,638
31,638
–
–
2022 Limited Edition Silver Proof Set
44,587
44,712
125
0.28%
2021 Limited Edition Silver Proof Set
48,712
48,712
–
–
2020 Limited Edition Silver Proof Set*
50,061
50,061
–
–

US Mint Uncirculated Sets

Old
Sales
Latest
Sales
Gain/
Loss
%
Increase
2022 Uncirculated Mint Set
229,810
230,078
268
0.12%
2021 Uncirculated Mint Set
221,855
221,951
96
0.04%
2020 Uncirculated Mint Set*
211,787
211,787
–
–
2019 Uncirculated Mint Set*
346,117
346,117
–
–
2018 Uncirculated Mint Set*
257,536
257,536
–
–
2017 Uncirculated Mint Set*
286,813
286,813
–
–

Kids Coin Sets

Old
Sales
Latest
Sales
Gain/
Loss
%
Increase
2019 Youth Coin and Currency Set
24,517
24,521
4
0.02%
2019 Explore and Discover Coin Set
41,369
41,393
24
0.06%
2019 Rocketship*
49,921
49,921
–
–
2014 Coin Discovery Set*
13,151
13,151
–
–

Ornaments

Old
Sales
Latest
Sales
Gain/
Loss
%
Increase
2022 U.S. Mint Ornament
5,342
5,342
–
–
2022 Mighty Minters Ornament
3,882
3,882
–
–
2022 Maya Angelou Ornament
2,873
2,877
4
0.14%
2022 Dr. Sally Ride Ornament
2,986
2,990
4
0.13%
2022 Wilma Mankiller Ornament
2,088
2,089
1
0.05%
2022 Nina Otero-Warren Ornament
1,713
1,713
–
–
2022 Anna May Wong Ornament
3,022
3,028
6
0.20%
2021 Mighty Minters Ornament
4,821
4,821
–
–
2021 U.S. Mint Ornament
7,757
7,757
–
–
2020 Mighty Minters Ornament
4,456
4,456
–
–
2020 U.S. Mint Ornament
6,479
6,479
–
–
2019 Mighty Minters Ornament
6,985
6,985
–
–
2019 U.S. Mint Ornament
11,664
11,664
–
–

Proof & Reverse Proof Silver Eagles

Old
Sales
Latest
Sales
Gain/
Loss
%
Increase
2022-S Proof Silver Eagle
199,663
199,665
2
0.00%
2022-S Proof Silver Eagle (Bulk – 40 Coins)
2,925
2,925
–
–
2023-W Proof Silver Eagle
400,152
413,398
13,246
3.31%
2023-W Proof Silver Eagle (Bulk – 40 Coins)
1,833
1,848
15
0.82%
2022-W Proof Silver Eagle
496,990
496,990
–
–
2022-W Proof Silver Eagle (Bulk – 40 Coins)
4,107
4,107
–
–
2021 Reverse Proof American Silver Eagle Two-Coin Set*
124,822
124,822
–
–
2021-S Proof Silver Eagle, Type 2*
199,566
199,566
–
–
2021-S Proof Silver Eagle, Type 2 (Bulk – 40 Coins)*
652
652
–
–
2021-W Proof Silver Eagle, Type 2*
300,096
300,096
–
–
2021-W Proof Silver Eagle, Type 2 (Bulk – 40 Coins)*
2,142
2,142
–
–
2021-W Proof Silver Eagle, Type 1*
299,830
299,830
–
–
2021-W Proof Silver Eagle, Type 1 (Bulk – 40 Coins)*
686
686
–
–

Uncirculated Silver Eagles

Old
Sales
Latest
Sales
Gain/
Loss
%
Increase
2022
159,713
159,712
-1
0.00%
2022 Bulk 40
987
987
–
–
2021*
174,470
174,470
–
–
2021 Bulk 40*
324
324
–
–

2023 Proof American Eagle Gold Coins

Old
Sales
Latest
Sales
Gain/
Loss
%
Increase
1 oz
6,433
6,431
-2
-0.03%
1/2 oz
1,732
1,982
250
14.43%
1/4 oz
4,448
4,447
-1
-0.02%
1/10 oz
8,899
9,190
291
3.27%
4-Coin Set
8,165
8,680
515
6.31%

2022 Proof American Eagle Gold Coins

Old
Sales
Latest
Sales
Gain/
Loss
%
Increase
1 oz
5,912
5,912
–
–
1/2 oz
1,970
1,970
–
–
1/4 oz
4,464
4,464
–
–
1/10 oz
13,804
13,804
–
–
4-Coin Set
9,904
9,904
–
–

2021 Proof American Eagle Gold Coins

Old
Sales
Latest
Sales
Gain/
Loss
%
Increase
1/10 oz Two-Coin Proof Set*
4,985
4,985
–
–
1 oz (Type 2)*
5,583
5,583
–
–
1/2 oz (Type 2)*
1,989
1,989
–
–
1/4 oz (Type 2)*
3,340
3,340
–
–
1/10 oz (Type 2)
9,871
9,871
–
–
4-Coin Set (Type 2)*
10,191
10,191
–
–
1 oz (Type 1)*
4,448
4,448
–
–
1/2 oz (Type 1)*
1,589
1,589
–
–
1/4 oz (Type 1)*
2,689
2,689
–
–
1/10 oz (Type 1)*
7,975
7,975
–
–
4-Coin Set (Type 1)*
8,176
8,176
–
–

Uncirculated American Eagle Gold Coins

Old
Sales
Latest
Sales
Gain/
Loss
%
Increase
2022
8,821
8,821
–
–
2021*
8,914
8,914
–
–
2020*
6,284
6,284
–
–
2019*
5,851
5,851
–
–
2018*
8,518
8,518
–
–
2017*
5,800
5,800
–
–

Proof American Buffalo Gold Coins

Old
Sales
Latest
Sales
Gain/
Loss
%
Increase
2023 Proof Gold Buffalo
9,605
9,783
178
1.85%
2022 Proof Gold Buffalo
15,936
15,936
–
–
2021 Proof Gold Buffalo
16,958
16,958
–
–
2020 Proof Gold Buffalo*
11,887
11,887
–
–
2019 Proof Gold Buffalo*
14,844
14,844
–
–
2018 Proof Gold Buffalo*
15,756
15,756
–
–
2017 Proof Gold Buffalo*
15,810
15,810
–
–

Proof American Platinum Eagle

Old
Sales
Latest
Sales
Gain/
Loss
%
Increase
2023
7,102
7,123
21
0.30%
2022
9,873
9,873
–
–
2021
9,880
9,880
–
–
2020
9,823
9,825
2
0.02%
2019
11,268
11,268
–
–
2018
15,955
15,956
1
0.01%
2017*
8,890
8,890
–
–

American Palladium Eagle

Old
Sales
Latest
Sales
Gain/
Loss
%
Increase
2022-W Reverse Proof
7,342
7,342
–
–
2021-W Proof
5,169
5,169
–
–
2020-W Uncirculated
9,742
9,742
–
–
2019-W Reverse Proof
18,772
18,772
–
–
2018-W Proof*
14,986
14,986
–
–

Presidential Silver Medals

Old
Sales
Latest
Sales
Gain/
Loss
%
Increase
2023 Abraham Lincoln Presidential Silver Medal
16,631
15,714
-917
-5.51%
2023 James Buchanan Presidential Silver Medal
11,568
11,604
36
0.31%
2021 Franklin Pierce Presidential Silver Medal
12,192
12,212
20
0.16%
2022 Millard Fillmore Presidential Silver Medal
12,382
12,393
11
0.09%
2022 Zachary Taylor Presidential Silver Medal
12,786
12,792
6
0.05%
2022 James Knox Polk Presidential Silver Medal
13,010
13,020
10
0.08%
2021 John Tyler Presidential Silver Medal
13,437
13,443
6
0.04%
2021 William Henry Harrison Presidential Silver Medal
13,368
13,375
7
0.05%
2021 Martin Van Buren Presidential Silver Medal
13,523
13,528
5
0.04%
2020 Andrew Jackson Presidential Silver Medal
16,386
16,390
4
0.02%
2019 John Quincy Adams Presidential Silver Medal
14,522
14,525
3
0.02%
2019 James Monroe Presidential Silver Medal
15,028
15,032
4
0.03%
2019 James Madison Presidential Silver Medal
16,539
16,547
8
0.05%
2019 Thomas Jefferson Presidential Silver Medal
23,600
23,623
23
0.10%
2018 George Washington Presidential Silver Medal
34,229
34,278
49
0.14%
2018 John Adams Presidential Silver Medal
23,256
23,265
9
0.04%

American Innovation Reverse Proof Sets

Old
Sales
Latest
Sales
Gain/
Loss
%
Increase
2022
47,598
47,659
61
0.13%
2021
49,528
49,528
–
–

2023 American Innovation Dollars – Louisiana

Old
Sales
Latest
Sales
Gain/
Loss
%
Increase
25-coin roll set (P)
7,341
7,381
40
0.54%
25-coin roll set (D)
6,688
6,733
45
0.67%
100-coin bag (P)
2,022
2,046
24
1.19%
100-coin bag (D)
1,969
1,985
16
0.81%

2023 American Innovation Dollars – Ohio

Old
Sales
Latest
Sales
Gain/
Loss
%
Increase
25-coin roll set (P)
7,943
7,943
–
–
25-coin roll set (D)
6,910
6,910
–
–
100-coin bag (P)
2,525
2,539
14
0.55%
100-coin bag (D)
2,343
2,359
16
0.68%

2022 American Innovation Dollars – Tennessee

Old
Sales
Latest
Sales
Gain/
Loss
%
Increase
25-coin roll set (P)
7,009
7,009
–
–
25-coin roll set (D)
7,005
7,006
1
0.01%
100-coin bag (P)
2,770
2,770
–
–
100-coin bag (D)
2,771
2,771
–
–

2022 American Innovation Dollars – Kentucky

Old
Sales
Latest
Sales
Gain/
Loss
%
Increase
25-coin roll set (P)
7,004
7,004
–
–
25-coin roll set (D)
6,975
6,975
–
–
100-coin bag (P)
2,768
2,768
–
–
100-coin bag (D)
2,778
2,778
–
–

2022 American Innovation Dollars – Vermont

Old
Sales
Latest
Sales
Gain/
Loss
%
Increase
25-coin roll set (P)
7,023
7,023
–
–
25-coin roll set (D)
7,011
7,011
–
–
100-coin bag (P)
2,787
2,787
–
–
100-coin bag (D)
2,775
2,775
–
–

2022 American Innovation Dollars – Rhode Island

Old
Sales
Latest
Sales
Gain/
Loss
%
Increase
25-coin roll set (P)
7,010
7,010
–
–
25-coin roll set (D)
7,007
7,007
–
–
100-coin bag (P)
2,788
2,788
–
–
100-coin bag (D)
2,786
2,786
–
–

2021 American Innovation Dollars – North Carolina

Old
Sales
Latest
Sales
Gain/
Loss
%
Increase
25-coin roll set (P)
6,985
6,985
–
–
25-coin roll set (D)
6,999
6,999
–
–
100-coin bag (P)
2,785
2,785
–
–
100-coin bag (D)
2,787
2,787
–
–

2021 American Innovation Dollars – New York

Old
Sales
Latest
Sales
Gain/
Loss
%
Increase
25-coin roll set (P)
6,986
6,986
–
–
25-coin roll set (D)
6,989
6,989
–
–
100-coin bag (P)
2,766
2,766
–
–
100-coin bag (D)
2,764
2,764
–
–

2021 American Innovation Dollars – Virginia

Old
Sales
Latest
Sales
Gain/
Loss
%
Increase
25-coin roll set (P)
6,984
6,984
–
–
25-coin roll set (D)
6,969
6,969
–
–
100-coin bag (P)
2,795
2,795
–
–
100-coin bag (D)
2,778
2,778
–
–

2021 American Innovation Dollars – New Hampshire

Old
Sales
Latest
Sales
Gain/
Loss
%
Increase
25-coin roll set (P)
6,997
6,997
–
–
25-coin roll set (D)
7,004
7,004
–
–
100-coin bag (P)
2,789
2,789
–
–
100-coin bag (D)
2,787
2,787
–
–

2020 American Innovation Dollars – South Carolina

Old
Sales
Latest
Sales
Gain/
Loss
%
Increase
Reverse Proof (S)
40,509
40,522
13
0.03%
25-coin roll set (P)
6,378
6,378
–
–
25-coin roll set (D)
6,399
6,399
–
–
100-coin bag (P)
2,734
2,734
–
–
100-coin bag (D)
2,378
2,378
–
–

2020 American Innovation Dollars – Maryland

Old
Sales
Latest
Sales
Gain/
Loss
%
Increase
Reverse Proof (S)
49,678
49,678
–
–
25-coin roll set (P)
6,493
6,493
–
–
25-coin roll set (D)
6,471
6,471
–
–
100-coin bag (P)
2,725
2,725
–
–
100-coin bag (D)
2,737
2,737
–
–

2020 American Innovation Dollars – Massachusetts

Old
Sales
Latest
Sales
Gain/
Loss
%
Increase
Reverse Proof (S)
47,380
47,399
19
0.04%
25-coin roll set (P)
6,486
6,486
–
–
25-coin roll set (D)
6,481
6,481
–
–
100-coin bag (P)
2,746
2,746
–
–
100-coin bag (D)
2,744
2,744
–
–

2020 American Innovation Dollars – Connecticut

Old
Sales
Latest
Sales
Gain/
Loss
%
Increase
Reverse Proof (S)
46,139
46,149
10
0.02%
25-coin roll set (P)
6,496
6,496
–
–
25-coin roll set (D)
6,425
6,425
–
–
100-coin bag (P)
2,736
2,736
–
–
100-coin bag (D)
2,747
2,747
–
–

2019 American Innovation Dollars – Georgia

Old
Sales
Latest
Sales
Gain/
Loss
%
Increase
Reverse Proof (S)
46,325
46,332
7
0.02%
25-coin roll set (P)
7,749
7,752
3
0.04%
25-coin roll set (D)
7,234
7,235
1
0.01%
100-coin bag (P)
3,284
3,289
5
0.15%
100-coin bag (D)
3,180
3,180
–
–

2019 American Innovation Dollars – New Jersey

Old
Sales
Latest
Sales
Gain/
Loss
%
Increase
Reverse Proof (S)
49,737
49,763
26
0.05%
25-coin roll set (P)
8,629
8,641
12
0.14%
25-coin roll set (D)
7,711
7,718
7
0.09%
100-coin bag (P)
3,744
3,747
3
0.08%
100-coin bag (D)
3,384
3,387
3
0.09%

2019 American Innovation Dollars – Pennsylvania

Old
Sales
Latest
Sales
Gain/
Loss
%
Increase
Reverse Proof (S)
54,179
54,189
10
0.02%
25-coin roll set (P)
9,835
9,840
5
0.05%
25-coin roll set (D)
8,164
8,170
6
0.07%
100-coin bag (P)
3,363
3,365
2
0.06%
100-coin bag (D)
2,890
2,894
4
0.14%

2019 American Innovation Dollars – Delaware

Old
Sales
Latest
Sales
Gain/
Loss
%
Increase
Reverse Proof (S)
69,474
69,492
18
0.03%
25-coin roll set (P)
8,761
8,769
8
0.09%
25-coin roll set (D)
8,112
8,114
2
0.02%
100-coin bag (P)
3,087
3,087
–
–
100-coin bag (D)
3,265
3,265
–
–

2018 American Innovation Dollars

Old
Sales
Latest
Sales
Gain/
Loss
%
Increase
Reverse Proof (S)*
74,720
74,720
–
–
Proof Coin (S)
250,921
250,953
32
0.01%
25-coin roll set (P)
21,857
21,875
18
0.08%
25-coin roll set (D)
24,776
24,790
14
0.06%
100-coin bag (P)*
2,935
2,935
–
–
100-coin bag (D)*
2,954
2,954
–
–

George H.W. Bush Coin & Chronicles Set

Old
Sales
Latest
Sales
Gain/
Loss
%
Increase
$1 Coin & Set
11,019
11,033
14
0.13%

2020 Bush Presidential $1 Coin & First Spouse Medal Set

Old
Sales
Latest
Sales
Gain/
Loss
%
Increase
$1 Coin & Set
9,876
9,876
–
–

2020 George H.W. Bush Presidential $1 Coins

Old
Sales
Latest
Sales
Gain/
Loss
%
Increase
25-coin roll (P)
24,416
24,439
23
0.09%
25-coin roll (D)
21,171
21,191
20
0.09%
100-coin bag (P)
2,695
2,695
–
–
100-coin bag (D)
2,098
2,098
–
–
250-coin bag (P)
2,552
2,559
7
0.27%
250-coin bag (D)
4,093
4,099
6
0.15%

Native American Dollar Rolls

Old
Sales
Latest
Sales
Gain/
Loss
%
Increase
2023-P Native American $1 25 Coin Roll
12,042
12,108
66
0.55%
2023-D Native American $1 25 Coin Roll
11,491
11,535
44
0.38%
2023-P Native American $1 100-Coin Bag
1,562
1,579
17
1.09%
2023-D Native American $1 100-Coin Bag
1,541
1,552
11
0.71%
2023-P Native American $1 250-Coin Box
926
936
10
1.08%
2023-D Native American $1 250-Coin Box
1,073
1,082
9
0.84%
2022-P Native American $1 25 Coin Roll
13,995
13,995
–
–
2022-D Native American $1 25 Coin Roll
13,912
13,912
–
–
2022-P Native American $1 100-Coin Bag
1,699
1,699
–
–
2022-D Native American $1 100-Coin Bag
1,613
1,613
–
–
2022-P Native American $1 250-Coin Box
1,698
1,698
–
–
2022-D Native American $1 250-Coin Box
1,699
1,699
–
–

Kennedy Half Dollar Rolls

Old
Sales
Latest
Sales
Gain/
Loss
%
Increase
2022-dated 200-coin bag (P&D)
10,998
10,998
–
–
2022-dated 2-roll set (P&D)
21,925
21,925
–
–
2021-dated 200-coin bag (P&D)
9,968
9,968
–
–
2021-dated 2-roll set (P&D)
21,990
21,990
–
–
2020-dated 200-coin bag (P&D)
11,776
11,776
–
–
2020-dated 2-roll set (P&D)
24,312
24,312
–
–
2019-dated 200-coin bag (P&D)*
11,534
11,534
–
–
2019-dated 2-roll set (P&D)*
24,132
24,132
–
–

2023 Edith Kanakaʻole Quarters

Old
Sales
Latest
Sales
Gain/
Loss
%
Increase
Three-Roll Set
12,570
12,568
-2
-0.02%
100-Coin Bag (P)
4,175
6,211
2,036
48.77%
100-Coin Bag (D)
2,108
4,224
2,116
100.38%
Two-Roll Set
4,508
4,581
73
1.62%

2023 Bessie Coleman Quarters

Old
Sales
Latest
Sales
Gain/
Loss
%
Increase
Three-Roll Set
12,502
12,502
–
–
100-Coin Bag (P)
5,003
5,018
15
0.30%
100-Coin Bag (D)
4,551
4,556
5
0.11%
Two-Roll Set
5,111
5,119
8
0.16%

2022 Anna May Wong Quarters

Old
Sales
Latest
Sales
Gain/
Loss
%
Increase
Three-Roll Set
7,617
7,617
–
–
100-Coin Bag (P)
1,860
1,860
–
–
100-Coin Bag (D)
1,858
1,858
–
–
Two-Roll Set
5,936
5,936
–
–

2022 Nina Otero-Warren Quarters

Old
Sales
Latest
Sales
Gain/
Loss
%
Increase
Three-Roll Set
7,639
7,639
–
–
100-Coin Bag (P)
1,852
1,852
–
–
100-Coin Bag (D)
1,853
1,853
–
–
Two-Roll Set
5,879
5,879
–
–

2022 Wilma Mankiller Quarters

Old
Sales
Latest
Sales
Gain/
Loss
%
Increase
Three-Roll Set
7,616
7,616
–
–
100-Coin Bag (P)
1,848
1,848
–
–
100-Coin Bag (D)
1,822
1,822
–
–
Two-Roll Set
5,909
5,909
–
–

2022 Dr. Sally Ride Quarters

Old
Sales
Latest
Sales
Gain/
Loss
%
Increase
Three-Roll Set
7,603
7,603
–
–
100-Coin Bag (P)
1,853
1,853
–
–
100-Coin Bag (D)
1,852
1,852
–
–
Two-Roll Set
5,924
5,924
–
–

2022 Maya Angelou Quarters

Old
Sales
Latest
Sales
Gain/
Loss
%
Increase
Three-Roll Set
7,588
7,588
–
–
100-Coin Bag (P)
1,858
1,858
–
–
100-Coin Bag (D)
1,861
1,861
–
–
Two-Roll Set
5,940
5,940
–
–