Celebrating an influential preserver of Hawaiian culture, the United States Mint will release 2023 Edith Kanakaʻole quarters today at Noon ET. The quarter appears as the newest strike in the U.S. Mint's four-year series of American Women Quarters™.
| | |
| --- | --- |
| U.S. Mint image of a 2022 Edith Kanaka'ole quarter and P, D, and S rolls of them | U.S. Mint image of a 2022-P Edith Kanaka'ole quarter and a 100-coin bag of them |
Options include rolls and bags with quarters struck from the Philadelphia, Denver and San Francisco Mints
Edith Kanakaʻole, known by many as Aunt Edith, was born in Honomu, Hawaii in 1913. She began composing traditional Hawaiian chants in 1946, later choreographing hula to her music. A few years later she founded a Hālau to teach hula to others. Her influence did not stop there, however. Kanakaʻole was instrumental in starting the first Hawaiian language program for public schools and would eventually teach at Hawaiʻi Community College and at the University of Hawaiʻi at Hilo to help ensure the preservation of Hawaiian culture.
This quarter "is an unbelievable honor for our family, for our body of work at the Edith Kanaka'ole Foundation in carrying on her legacy and her teachings, for our home and for our people," said Kanakaʻole's granddaughter and Executive Director of the Edith Kanaka'ole Foundation Huihui Kanahele-Mossman, Ph.D.
New quarter products include:
Two-Roll Sets for $40 – containing one roll of 40 quarters from the Philadelphia Mint and one roll of 40 quarters from the Denver Mint
Three-Roll Sets for $60 – containing three 40 quarter rolls, with one from the Philadelphia Mint, one from the Denver Mint and one from the San Francisco Mint
100-Coin Bags for $45 – 100 quarters from either the Philadelphia or Denver Mint
Of these options, the San Francisco Mint-struck quarters are the most desired as they are produced only for numismatic purposes like for the three-roll set.
"Because of overwhelming demand, much of the production of the three-roll sets is accounted for through subscription. A limited quantity will be available for purchase on March 27 at noon EDT," the Mint said in a statement.
The Philadelphia and Denver Mints strike coins for general circulation, meaning Edith Kanakaʻole quarters from each facility will eventually end up in pocket change while those from the San Francisco Mint will not. Regular circulating "P" and "D" Kanaka'ole quarters started shipping today to Federal Reserve Banks and their coin terminals for distribution into circulation.
Edith Kanakaʻole Quarter Designs
A portrait of Edith Kanakaʻole appears on the reverse (tails side) of each new quarter dollar. The design depicts her hair and lei po'o (head lei) morphing into the elements of a Hawaiian landscape, symbolizing her importance in the preservation of Hawaiian landscape and culture.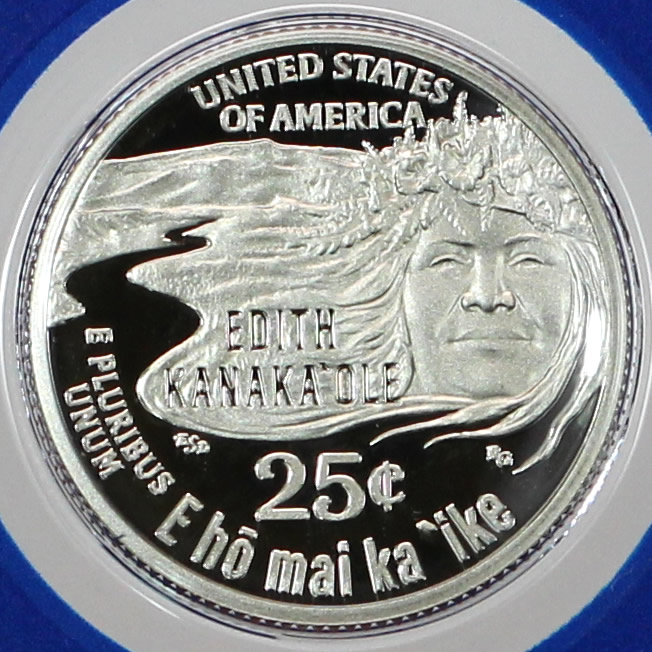 The inscription "E hō mai ka 'ike" translates as "granting the wisdom," and is a reference to the intertwined role hula and chants play in this preservation. Additional inscriptions include "UNITED STATES OF AMERICA," "E PLURIBUS UNUM," "25¢," and "EDITH KANAKAʻOLE."
The reverse was designed by Artistic Infusion Program Designer Emily Damstra. Sculpting was completed by United States Mint Medallic Artist Renata Gordon.
All coins of the American Women Quarters program bear the same obverse (heads side) portrait of George Washington. The effigy to the first President of the United States was designed by artist Laura Gardin Fraser to mark Washington's 200th birthday in 1932.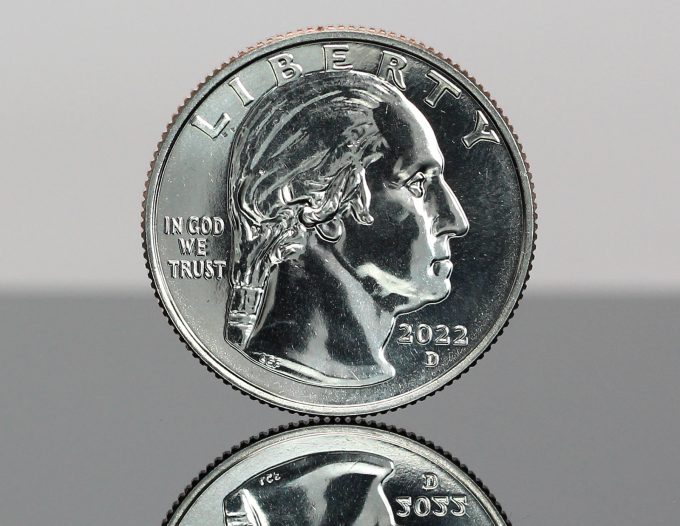 Inscriptions on the obverse include "LIBERTY," "IN GOD WE TRUST" and "2023."
Quarter Specifications
Denomination:
Quarter
Finish:
Uncirculated
Composition:
8.33% nickel, balance copper
Weight:
5.670 grams
Diameter:
0.955 inch (24.26 mm)
Edge:
Reeded
Mint and Mint Mark:
Philadelphia – P
Denver – D
San Francisco – S
Privy Mark:
None
Ordering
Edith Kanakaʻole quarters may be ordered by visiting the U.S. Mint's online catalog quarter products.
Initial household order limits have been established at 3 per roll option and 10 per bag option. Product limits are in place of 9,140 two-roll sets, 12,620 three-roll sets and 7,860 per bag.
U.S. Mint's Women Quarters Program
Public Law 116-330 authorized the American Women Quarters series which debuted in 2022 with strikes honoring Maya Angelou, Dr. Sally Ride, Wilma Mankiller, Nina Otero-Warren, and Anna May Wong. The first of the five quarters for 2023 depict Bessie Coleman. Forthcoming 2023 quarters honor:
Eleanor Roosevelt – first lady, author, and civil liberties advocate
Jovita Idar – Mexican-American journalist, activist, teacher, and suffragist
Maria Tallchief – America's first prima ballerina
A proof set of 2023 quarters launched March 21. Other types of sets with the quarters in proof, in uncirculated, in silver, and in special holiday ornaments will follow in intervals throughout the year.