The United States Mint has scheduled the release of the bronze version of the Coast Guard Silver Medal on May 11. This medal is a companion of the Armed Forces Silver Medal Series, which honors the six branches of the U.S. Armed Forces: the Air Force, Army, Coast Guard, Marine Corps, Navy, and Space Force.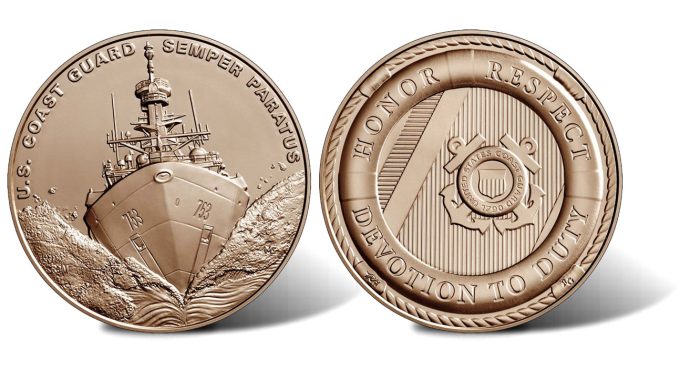 The series' silver medals come in sizes of 2.5 ounces and 1 ounce, with each at different stages of release. The Air Force medal is the only one that has been completed at the time of this writing, with both silver editions and the bronze version released, while none of the Space Force medals have been issued yet.
Designs appearing on the three types of medals for a branch are shared.
Created by Richard Masters and sculpted by Michael Gaudioso, the medal's obverse (heads side) depicts a Coast Guard national security cutter at full throttle, speeding head-on toward the viewer. The hull number on the cutter indicates it is the Hamilton, named after Alexander Hamilton, who was instrumental in the creation of the service. Inscriptions include "U.S. COAST GUARD" and the Coast Guard motto "SEMPER PARATUS" (Always Ready).
Created by Thomas Hipschen and sculpted by Renata Gordon, the medal's reverse (tails side) depicts two iconic symbols of the Coast Guard, a life preserver ring and the racing stripe mark. The mark is found on almost all Coast Guard craft. Also featured is the Coast Guard emblem along with the inscriptions of "HONOR," "RESPECT," and "DEVOTION TO DUTY" — the Coast Guard's core values.
The Coast Guard Bronze Medal is composed of 95% copper and 5% zinc, with a diameter of 1.5 inches. It will be available for $20, and it has no mintage or order limits. The 2.5-ounce silver edition launched in August 2021 for $160 and sold all 10,000 possible units. Released in September 2022, the companion 1-ounce silver medal has no mintage limit. It is priced at $75, and a total of 15,348 units have been sold as of April 9.
For more information about availability, visit the U.S. Mint's online catalog of Military Medals.