The United States Mint this week unveiled design information and images for its 99.9% fine U.S. Coast Guard 2.5 Ounce Silver Medal which will feature a diameter of 2 inches.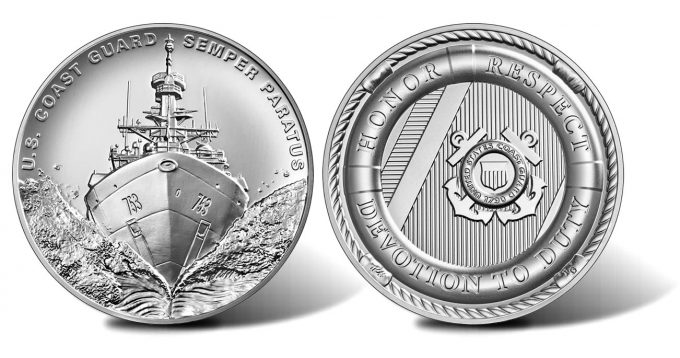 Scheduled to launch Aug. 16, the product is the second of five from the U.S. Mint's Armed Forces Silver Medal Program. The first medal honors the Air Force. It will be available July 13. Forthcoming medals will celebrate the Navy, Marine Corps and Army. The Mint will also later issue bronze versions as well as smaller 1-ounce silver editions.
Medal Designs
The selected obverse (heads side) and reverse (tails side) designs were recommended by the CCAC and CFA after reviewing 18 candidate designs.
Created by Richard Masters and sculpted by Michael Gaudioso, the medal's obverse design depicts a Coast Guard national security cutter at full throttle, speeding head-on toward the viewer.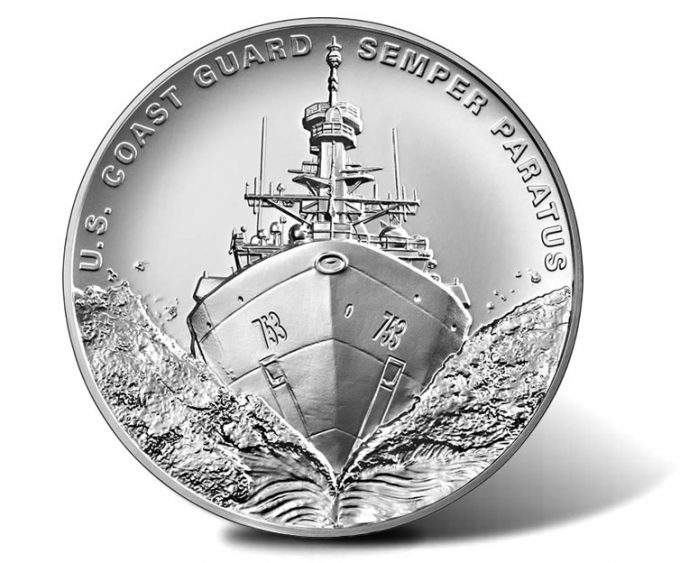 Inscribed around the upper border are "U.S. COAST GUARD" and the Coast Guard motto "SEMPER PARATUS" (always ready). The hull number identifies the cutter Hamilton, named for Alexander Hamilton.
Created by Thomas Hipschen and sculpted by Renata Gordon, the medal's reverse design depicts two iconic symbols of the Coast Guard — a life preserver ring and the racing stripe mark, which is found on almost all Coast Guard craft.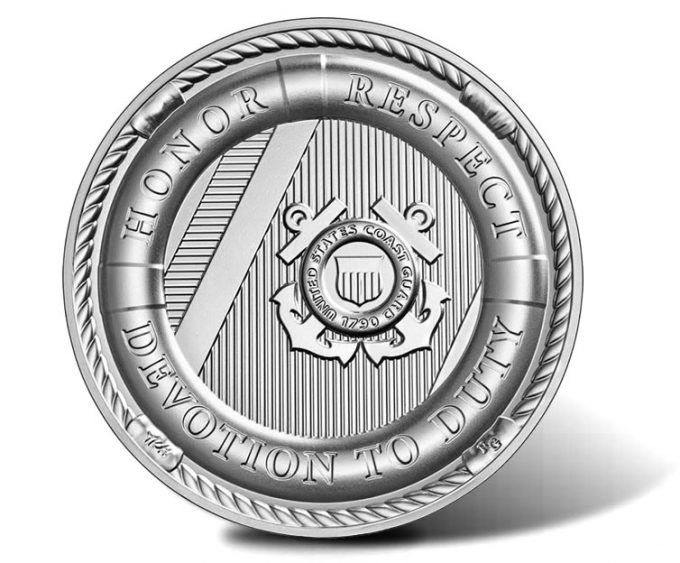 The racing stripes are depicted with a heraldic hatching tradition to indicate color, with horizontal lines indicating the color blue and vertical lines indicating red. The Coast Guard emblem, which is part of the racing stripe mark, is also in the center. Inscribed into the life preserver ring are the Coast Guard's core values "HONOR," "RESPECT," and "DEVOTION TO DUTY."
No more than 10,000 will be minted and initial orders will be limited to 1 medal per household.
Priced at $160, the product will be available Aug. 16 from the Mint's online catalog of silver medals.