Last week, the United States Mint introduced one new numismatic product: their proof set of clad 2023 American Women quarter dollars. Not surprisingly, it was the U.S. Mint's top weekly seller.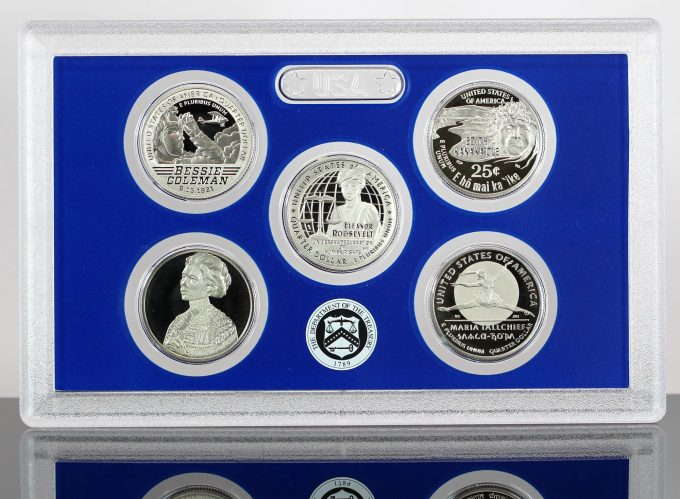 Released on March 21, with quarters honoring Bessie Coleman, Edith Kanakaʻole, Eleanor Roosevelt, Jovita Idar, and Maria Tallchief, the Mint's set scored six-day starting sales of 40,360.
Last year's set, which introduced the product line of proof quarters featuring women, debuted with sales of 42,368. The set, however, was essentially sold out from the get-go, with subscriptions claiming the Mint's inventory.
Sales of American Eagles Decline
Like in the previous week, overall sales of the 2023-W Proof American Silver Eagle saw more reductions than gains. Specifically, totals include:
a decline of 372 coins to 341,198 coins for the standalone option (product code 23EA),
no gains and still 71,080 coins (1,777 units) for the 40-coin bulk option (23EA040), and
a drop of 1,443 coins to 26,882 coins as a part of the Congratulations Set (product code 23RF).
Altogether, sales of the 2023-W Proof Silver Eagle combine to 439,100 coins, for a week-over-week reduction of 1,815. In the prior week, sales of the coin fell by 4,372.
Other American Eagle products also experienced loses, including the 2022- and 2023-dated proof American Platinum Eagle (down 19 and 52, respectively), and the 2022-W Uncirculated Silver Eagle (down 32).
U.S. Mint Top Sellers
Here's the listing of the U.S. Mint's most popular numismatic products for the week ending March 26:
2023 American Women Quarters Proof Set (+40,360)
2022 Mint Set (+561 to 226,428)
2022-P American Liberty Silver Medal (+320 to 66,739)
2022 Limited Edition Silver Proof Set (+210 to 43,588)
2022 Silver Proof Set (+206 to 239,686)
2021 Mint Set (+167 to 220,977)
2022 American Innovation Dollar Proof Set (+146 to 74,276)
2018-W $10 American Liberty Gold Coin (+143 to 55,025)
2023-P Native American $1 25 Coin Roll (+135 to 11,318)
2022-W Reverse Proof American Palladium Eagle (+133 to 7,215)
In its latest report, the U.S. Mint published sales data for 298 numismatic products. Forty-three outperformed their prior weekly gains against 71 previously. Not counting the new proof set, no product increased by more than 1,000 units compared to 2 previously.
Additionally, there were 8 products with negative weekly sales, compared to 1 in the previous report. The reduction in sales ranged from 1 to 1,443, with the latter corresponding to the 2023 Congratulations Set previously mentioned.
US Mint Sales: Numismatic Products
Below are tables showing the latest available sales for U.S. Mint numismatic products. The sales period covers from March 20 to 26. Products with an asterisk (*) are no longer available or had no reported sales.
Armed Forces Silver Medals

Old
Sales
Latest
Sales
Gain/
Loss
%
Increase
U.S. Army 2.5 Ounce Silver Medal
9,794
9,788
-6
-0.06%
U.S. Marine Corps 2.5 Ounce Silver Medal
9,567
9,567
–
–
U.S. Navy 2.5 Ounce Silver Medal
9,978
9,978
–
–
U.S. Coast Guard 2.5 Ounce Silver Medal
9,922
9,922
–
–
U.S. Air Force 2.5 Ounce Silver Medal
9,953
9,953
–
–
U.S. Coast Guard 1 Ounce Silver Medal
15,205
15,243
38
0.25%
U.S. Air Force 1 Ounce Silver Medal
16,226
16,276
50
0.31%

American Liberty Products

Old
Sales
Latest
Sales
Gain/
Loss
%
Increase
2022-P American Liberty Silver Medal
66,419
66,739
320
0.48%
2021-W $100 American Liberty Gold Coin
12,470
12,470
–
–
2019-W $100 American Liberty Gold Coin
24,609
24,609
–
–
2019-P American Liberty Silver Medal
44,928
44,928
–
–
2018-W $10 American Liberty Gold Coin
54,882
55,025
143
0.26%
2017 American Liberty Silver Four-Medal Set*
32,647
32,647
–
–
2017-S Enhanced Uncirculated Coin Set*
210,419
210,419
–
–
2017-W $100 American Liberty Gold Coin
38,403
38,428
25
0.07%
2017-P Proof American Liberty Silver Medal*
55,187
55,187
–
–

Clad Proof Sets

Old
Sales
Latest
Sales
Gain/
Loss
%
Increase
2022 Proof Set
399,366
399,387
21
0.01%
2021 Proof Set
511,265
511,268
3
0.00%
2020 Proof Set*
464,658
464,658
–
–
2019 Proof Set*
601,327
601,327
–
–
2018 Proof Set*
517,081
517,081
–
–
2017 Proof Set*
568,678
568,678
–
–
2022 American Innovation Dollars Proof Set
74,130
74,276
146
0.20%
2021 American Innovation Dollars Proof Set
83,185
83,232
47
0.06%
2020 American Innovation Dollars Proof Set
107,052
107,052
–
–
2019 American Innovation Dollars Proof Set
145,087
145,159
72
0.05%
2023 American Women Quarters Proof Set
–
40,360
–
–
2022 American Women Quarters Proof Set*
42,616
42,616
–
–
2020 America the Beautiful Quarters Proof Set*
64,242
64,242
–
–
2019 America the Beautiful Quarters Proof Set
82,289
82,329
40
0.05%
2018 America the Beautiful Quarters Proof Set*
86,697
86,697
–
–

Silver Proof Sets

Old
Sales
Latest
Sales
Gain/
Loss
%
Increase
2022 Silver Proof Set
239,480
239,686
206
0.09%
2021 Silver Proof Set
299,381
299,449
68
0.02%
2020 Silver Proof Set*
313,183
313,183
–
–
2019 Silver Proof Set*
412,708
412,708
–
–
2018 Silver Proof Set*
332,274
332,274
–
–
2018 Silver Reverse Proof Set*
199,116
199,116
–
–
2022 American Women Quarters Silver Proof Set
57,635
57,636
1
0.00%
2020 America the Beautiful Quarters Silver Proof Set*
64,012
64,012
–
–
2019 America the Beautiful Quarters Silver Proof Set*
78,585
78,585
–
–
2018 America the Beautiful Quarters Silver Proof Set*
79,301
79,301
–
–
2023 Congratulations Gift Set
28,265
26,822
-1,443
-5.11%
2022 Congratulations Gift Set
29,710
29,710
–
–
2021 Congratulations Gift Set*
39,997
39,997
–
–
2020 Congratulations Gift Set*
24,468
24,468
–
–
2019 Congratulations Gift Set*
31,638
31,638
–
–
2022 Limited Edition Silver Proof Set
43,378
43,588
210
0.48%
2021 Limited Edition Silver Proof Set
48,712
48,712
–
–
2020 Limited Edition Silver Proof Set*
50,061
50,061
–
–

US Mint Uncirculated Sets

Old
Sales
Latest
Sales
Gain/
Loss
%
Increase
2022 Uncirculated Mint Set
225,867
226,428
561
0.25%
2021 Uncirculated Mint Set
220,810
220,977
167
0.08%
2020 Uncirculated Mint Set*
211,787
211,787
–
–
2019 Uncirculated Mint Set*
346,117
346,117
–
–
2018 Uncirculated Mint Set*
257,536
257,536
–
–
2017 Uncirculated Mint Set*
286,813
286,813
–
–

Kids Coin Sets

Old
Sales
Latest
Sales
Gain/
Loss
%
Increase
2019 Youth Coin and Currency Set
23,984
24,061
77
0.32%
2019 Explore and Discover Coin Set
41,192
41,223
31
0.08%
2019 Rocketship*
49,921
49,921
–
–
2014 Coin Discovery Set*
13,151
13,151
–
–

Ornaments

Old
Sales
Latest
Sales
Gain/
Loss
%
Increase
2022 U.S. Mint Ornament
5,325
5,326
1
0.02%
2022 Mighty Minters Ornament
3,863
3,865
2
0.05%
2022 Maya Angelou Ornament
2,819
2,828
9
0.32%
2022 Dr. Sally Ride Ornament
2,951
2,958
7
0.24%
2022 Wilma Mankiller Ornament
2,058
2,062
4
0.19%
2022 Nina Otero-Warren Ornament
1,708
1,709
1
0.06%
2022 Anna May Wong Ornament
2,978
2,980
2
0.07%
2021 Mighty Minters Ornament
4,821
4,821
–
–
2021 U.S. Mint Ornament
7,751
7,751
–
–
2020 Mighty Minters Ornament
4,452
4,452
–
–
2020 U.S. Mint Ornament
6,473
6,473
–
–
2019 Mighty Minters Ornament
6,978
6,978
–
–
2019 U.S. Mint Ornament
11,652
11,652
–
–

Proof & Reverse Proof Silver Eagles

Old
Sales
Latest
Sales
Gain/
Loss
%
Increase
2022-S Proof Silver Eagle
199,431
199,431
–
–
2022-S Proof Silver Eagle (Bulk – 40 Coins)
2,925
2,925
–
–
2023-W Proof Silver Eagle
341,570
341,198
-372
-0.11%
2023-W Proof Silver Eagle (Bulk – 40 Coins)
1,777
1,777
–
–
2022-W Proof Silver Eagle
496,990
496,990
–
–
2022-W Proof Silver Eagle (Bulk – 40 Coins)
4,106
4,106
–
–
2021 Reverse Proof American Silver Eagle Two-Coin Set*
124,822
124,822
–
–
2021-S Proof Silver Eagle, Type 2*
199,564
199,566
2
0.00%
2021-S Proof Silver Eagle, Type 2 (Bulk – 40 Coins)*
652
652
–
–
2021-W Proof Silver Eagle, Type 2*
300,085
300,091
6
0.00%
2021-W Proof Silver Eagle, Type 2 (Bulk – 40 Coins)*
2,142
2,142
–
–
2021-W Proof Silver Eagle, Type 1*
299,830
299,830
–
–
2021-W Proof Silver Eagle, Type 1 (Bulk – 40 Coins)*
686
686
–
–

Uncirculated Silver Eagles

Old
Sales
Latest
Sales
Gain/
Loss
%
Increase
2022
159,564
159,532
-32
-0.02%
2022 Bulk 40
987
987
–
–
2021*
174,466
174,467
1
0.00%
2021 Bulk 40*
324
324
–
–

2022 Proof American Eagle Gold Coins

Old
Sales
Latest
Sales
Gain/
Loss
%
Increase
1 oz
5,902
5,902
–
–
1/2 oz
1,970
1,970
–
–
1/4 oz
4,463
4,463
–
–
1/10 oz
13,802
13,802
–
–
4-Coin Set
9,896
9,896
–
–

2021 Proof American Eagle Gold Coins

Old
Sales
Latest
Sales
Gain/
Loss
%
Increase
1/10 oz Two-Coin Proof Set*
4,985
4,985
–
–
1 oz (Type 2)*
5,583
5,583
–
–
1/2 oz (Type 2)*
1,989
1,989
–
–
1/4 oz (Type 2)*
3,340
3,340
–
–
1/10 oz (Type 2)
9,871
9,871
–
–
4-Coin Set (Type 2)*
10,191
10,191
–
–
1 oz (Type 1)*
4,448
4,448
–
–
1/2 oz (Type 1)*
1,589
1,589
–
–
1/4 oz (Type 1)*
2,689
2,689
–
–
1/10 oz (Type 1)*
7,975
7,975
–
–
4-Coin Set (Type 1)*
8,176
8,176
–
–

Uncirculated American Eagle Gold Coins

Old
Sales
Latest
Sales
Gain/
Loss
%
Increase
2022
8,736
8,797
61
0.70%
2021*
8,914
8,914
–
–
2020*
6,284
6,284
–
–
2019*
5,851
5,851
–
–
2018*
8,518
8,518
–
–
2017*
5,800
5,800
–
–

Proof American Buffalo Gold Coins

Old
Sales
Latest
Sales
Gain/
Loss
%
Increase
2022 Proof Gold Buffalo
15,942
15,943
1
0.01%
2021 Proof Gold Buffalo
16,958
16,958
–
–
2020 Proof Gold Buffalo*
11,887
11,887
–
–
2019 Proof Gold Buffalo*
14,844
14,844
–
–
2018 Proof Gold Buffalo*
15,756
15,756
–
–
2017 Proof Gold Buffalo*
15,810
15,810
–
–

Proof American Platinum Eagle

Old
Sales
Latest
Sales
Gain/
Loss
%
Increase
2023
6,894
6,842
-52
-0.75%
2022
9,836
9,817
-19
-0.19%
2021
9,880
9,880
–
–
2020
9,732
9,771
39
0.40%
2019
11,268
11,268
–
–
2018
15,881
15,885
4
0.03%
2017*
8,890
8,890
–
–

American Palladium Eagle

Old
Sales
Latest
Sales
Gain/
Loss
%
Increase
2022-W Reverse Proof
7,082
7,215
133
1.88%
2021-W Proof
5,169
5,169
–
–
2020-W Uncirculated
9,740
9,740
–
–
2019-W Reverse Proof
18,772
18,772
–
–
2018-W Proof*
14,986
14,986
–
–

Presidential Silver Medals

Old
Sales
Latest
Sales
Gain/
Loss
%
Increase
2023 James Buchanan Presidential Silver Medal
11,225
11,265
40
0.36%
2021 Franklin Pierce Presidential Silver Medal
12,075
12,083
8
0.07%
2022 Millard Fillmore Presidential Silver Medal
12,295
12,300
5
0.04%
2022 Zachary Taylor Presidential Silver Medal
12,725
12,731
6
0.05%
2022 James Knox Polk Presidential Silver Medal
12,950
12,954
4
0.03%
2021 John Tyler Presidential Silver Medal
13,377
13,384
7
0.05%
2021 William Henry Harrison Presidential Silver Medal
13,312
13,317
5
0.04%
2021 Martin Van Buren Presidential Silver Medal
13,476
13,481
5
0.04%
2020 Andrew Jackson Presidential Silver Medal
16,283
16,298
15
0.09%
2019 John Quincy Adams Presidential Silver Medal
14,459
14,466
7
0.05%
2019 James Monroe Presidential Silver Medal
14,967
14,975
8
0.05%
2019 James Madison Presidential Silver Medal
16,426
16,433
7
0.04%
2019 Thomas Jefferson Presidential Silver Medal
23,369
23,378
9
0.04%
2018 George Washington Presidential Silver Medal
33,746
33,779
33
0.10%
2018 John Adams Presidential Silver Medal
23,153
23,162
9
0.04%

American Innovation Reverse Proof Sets

Old
Sales
Latest
Sales
Gain/
Loss
%
Increase
2022
46,944
47,047
103
0.22%
2021
49,294
49,295
1
0.00%

2023 American Innovation Dollars – Ohio

Old
Sales
Latest
Sales
Gain/
Loss
%
Increase
25-coin roll set (P)
7,896
7,909
13
0.16%
25-coin roll set (D)
6,893
6,899
6
0.09%
100-coin bag (P)
2,343
2,367
24
1.02%
100-coin bag (D)
2,152
2,187
35
1.63%

2022 American Innovation Dollars – Tennessee

Old
Sales
Latest
Sales
Gain/
Loss
%
Increase
25-coin roll set (P)
7,008
7,008
–
–
25-coin roll set (D)
7,004
7,004
–
–
100-coin bag (P)
2,770
2,770
–
–
100-coin bag (D)
2,770
2,770
–
–

2022 American Innovation Dollars – Kentucky

Old
Sales
Latest
Sales
Gain/
Loss
%
Increase
25-coin roll set (P)
6,998
6,998
–
–
25-coin roll set (D)
6,969
6,969
–
–
100-coin bag (P)
2,767
2,767
–
–
100-coin bag (D)
2,778
2,778
–
–

2022 American Innovation Dollars – Vermont

Old
Sales
Latest
Sales
Gain/
Loss
%
Increase
25-coin roll set (P)
7,023
7,023
–
–
25-coin roll set (D)
6,987
6,987
–
–
100-coin bag (P)
2,784
2,784
–
–
100-coin bag (D)
2,774
2,774
–
–

2022 American Innovation Dollars – Rhode Island

Old
Sales
Latest
Sales
Gain/
Loss
%
Increase
25-coin roll set (P)
7,010
7,010
–
–
25-coin roll set (D)
7,007
7,007
–
–
100-coin bag (P)
2,784
2,784
–
–
100-coin bag (D)
2,776
2,776
–
–

2021 American Innovation Dollars – North Carolina

Old
Sales
Latest
Sales
Gain/
Loss
%
Increase
25-coin roll set (P)
6,985
6,985
–
–
25-coin roll set (D)
6,999
6,999
–
–
100-coin bag (P)
2,785
2,785
–
–
100-coin bag (D)
2,787
2,787
–
–

2021 American Innovation Dollars – New York

Old
Sales
Latest
Sales
Gain/
Loss
%
Increase
25-coin roll set (P)
6,986
6,986
–
–
25-coin roll set (D)
6,989
6,989
–
–
100-coin bag (P)
2,766
2,766
–
–
100-coin bag (D)
2,764
2,764
–
–

2021 American Innovation Dollars – Virginia

Old
Sales
Latest
Sales
Gain/
Loss
%
Increase
25-coin roll set (P)
6,984
6,984
–
–
25-coin roll set (D)
6,969
6,969
–
–
100-coin bag (P)
2,795
2,795
–
–
100-coin bag (D)
2,778
2,778
–
–

2021 American Innovation Dollars – New Hampshire

Old
Sales
Latest
Sales
Gain/
Loss
%
Increase
25-coin roll set (P)
6,997
6,997
–
–
25-coin roll set (D)
7,004
7,004
–
–
100-coin bag (P)
2,789
2,789
–
–
100-coin bag (D)
2,787
2,787
–
–

2020 American Innovation Dollars – South Carolina

Old
Sales
Latest
Sales
Gain/
Loss
%
Increase
Reverse Proof (S)
40,245
40,282
37
0.09%
25-coin roll set (P)
6,378
6,378
–
–
25-coin roll set (D)
6,399
6,399
–
–
100-coin bag (P)
2,734
2,734
–
–
100-coin bag (D)
2,378
2,378
–
–

2020 American Innovation Dollars – Maryland

Old
Sales
Latest
Sales
Gain/
Loss
%
Increase
Reverse Proof (S)
49,654
49,654
–
–
25-coin roll set (P)
6,493
6,493
–
–
25-coin roll set (D)
6,471
6,471
–
–
100-coin bag (P)
2,725
2,725
–
–
100-coin bag (D)
2,737
2,737
–
–

2020 American Innovation Dollars – Massachusetts

Old
Sales
Latest
Sales
Gain/
Loss
%
Increase
Reverse Proof (S)
47,101
47,146
45
0.10%
25-coin roll set (P)
6,486
6,486
–
–
25-coin roll set (D)
6,481
6,481
–
–
100-coin bag (P)
2,746
2,746
–
–
100-coin bag (D)
2,744
2,744
–
–

2020 American Innovation Dollars – Connecticut

Old
Sales
Latest
Sales
Gain/
Loss
%
Increase
Reverse Proof (S)
46,021
46,049
28
0.06%
25-coin roll set (P)
6,496
6,496
–
–
25-coin roll set (D)
6,425
6,425
–
–
100-coin bag (P)
2,736
2,736
–
–
100-coin bag (D)
2,747
2,747
–
–

2019 American Innovation Dollars – Georgia

Old
Sales
Latest
Sales
Gain/
Loss
%
Increase
Reverse Proof (S)
46,184
46,208
24
0.05%
25-coin roll set (P)
7,679
7,691
12
0.16%
25-coin roll set (D)
7,179
7,191
12
0.17%
100-coin bag (P)
3,255
3,257
2
0.06%
100-coin bag (D)
3,144
3,148
4
0.13%

2019 American Innovation Dollars – New Jersey

Old
Sales
Latest
Sales
Gain/
Loss
%
Increase
Reverse Proof (S)
49,494
49,566
72
0.15%
25-coin roll set (P)
8,536
8,550
14
0.16%
25-coin roll set (D)
7,653
7,664
11
0.14%
100-coin bag (P)
3,695
3,700
5
0.14%
100-coin bag (D)
3,333
3,341
8
0.24%

2019 American Innovation Dollars – Pennsylvania

Old
Sales
Latest
Sales
Gain/
Loss
%
Increase
Reverse Proof (S)
54,012
54,039
27
0.05%
25-coin roll set (P)
9,725
9,742
17
0.17%
25-coin roll set (D)
8,105
8,117
12
0.15%
100-coin bag (P)
3,285
3,300
15
0.46%
100-coin bag (D)
2,869
2,871
2
0.07%

2019 American Innovation Dollars – Delaware

Old
Sales
Latest
Sales
Gain/
Loss
%
Increase
Reverse Proof (S)
69,306
69,330
24
0.03%
25-coin roll set (P)
8,697
8,709
12
0.14%
25-coin roll set (D)
8,062
8,070
8
0.10%
100-coin bag (P)
3,040
3,044
4
0.13%
100-coin bag (D)
3,233
3,238
5
0.15%

2018 American Innovation Dollars

Old
Sales
Latest
Sales
Gain/
Loss
%
Increase
Reverse Proof (S)*
74,720
74,720
–
–
Proof Coin (S)
250,514
250,591
77
0.03%
25-coin roll set (P)
21,638
21,682
44
0.20%
25-coin roll set (D)
24,615
24,656
41
0.17%
100-coin bag (P)*
2,935
2,935
–
–
100-coin bag (D)*
2,954
2,954
–
–

George H.W. Bush Coin & Chronicles Set

Old
Sales
Latest
Sales
Gain/
Loss
%
Increase
$1 Coin & Set
10,935
10,947
12
0.11%

2020 Bush Presidential $1 Coin & First Spouse Medal Set

Old
Sales
Latest
Sales
Gain/
Loss
%
Increase
$1 Coin & Set
9,876
9,876
–
–

2020 George H.W. Bush Presidential $1 Coins

Old
Sales
Latest
Sales
Gain/
Loss
%
Increase
25-coin roll (P)
24,140
24,186
46
0.19%
25-coin roll (D)
20,971
21,012
41
0.20%
100-coin bag (P)
2,695
2,695
–
–
100-coin bag (D)
2,098
2,098
–
–
250-coin bag (P)
2,501
2,509
8
0.32%
250-coin bag (D)
4,033
4,044
11
0.27%

Native American Dollar Rolls

Old
Sales
Latest
Sales
Gain/
Loss
%
Increase
2023-P Native American $1 25 Coin Roll
11,183
11,318
135
1.21%
2023-D Native American $1 25 Coin Roll
10,833
10,939
106
0.98%
2023-P Native American $1 100-Coin Bag
1,401
1,433
32
2.28%
2023-D Native American $1 100-Coin Bag
1,395
1,420
25
1.79%
2023-P Native American $1 250-Coin Box
796
817
21
2.64%
2023-D Native American $1 250-Coin Box
931
956
25
2.69%
2022-P Native American $1 25 Coin Roll
13,929
13,929
–
–
2022-D Native American $1 25 Coin Roll
13,903
13,903
–
–
2022-P Native American $1 100-Coin Bag
1,695
1,695
–
–
2022-D Native American $1 100-Coin Bag
1,610
1,610
–
–
2022-P Native American $1 250-Coin Box
1,698
1,698
–
–
2022-D Native American $1 250-Coin Box
1,699
1,699
–
–
2021-P Native American $1 25 Coin Roll
15,975
15,975
–
–
2021-D Native American $1 25 Coin Roll
14,967
14,967
–
–
2021-P Native American $1 100-Coin Bag
1,704
1,704
–
–
2021-D Native American $1 100-Coin Bag
1,618
1,618
–
–
2021-P Native American $1 250-Coin Box
1,789
1,789
–
–
2021-D Native American $1 250-Coin Box
1,795
1,795
–
–

Kennedy Half Dollar Rolls

Old
Sales
Latest
Sales
Gain/
Loss
%
Increase
2022-dated 200-coin bag (P&D)
10,997
10,997
–
–
2022-dated 2-roll set (P&D)
21,882
21,882
–
–
2021-dated 200-coin bag (P&D)
9,968
9,968
–
–
2021-dated 2-roll set (P&D)
21,953
21,953
–
–
2020-dated 200-coin bag (P&D)
11,776
11,776
–
–
2020-dated 2-roll set (P&D)
24,312
24,312
–
–
2019-dated 200-coin bag (P&D)*
11,534
11,534
–
–
2019-dated 2-roll set (P&D)*
24,132
24,132
–
–

2023 Bessie Coleman Quarters

Old
Sales
Latest
Sales
Gain/
Loss
%
Increase
Three-Roll Set
12,498
12,438
-60
-0.48%
100-Coin Bag (P)
4,806
4,851
45
0.94%
100-Coin Bag (D)
4,443
4,459
16
0.36%
Two-Roll Set
4,777
4,836
59
1.24%

2022 Anna May Wong Quarters

Old
Sales
Latest
Sales
Gain/
Loss
%
Increase
Three-Roll Set
7,577
7,617
40
0.53%
100-Coin Bag (P)
1,840
1,860
20
1.09%
100-Coin Bag (D)
1,840
1,855
15
0.82%
Two-Roll Set
5,906
5,936
30
0.51%

2022 Nina Otero-Warren Quarters

Old
Sales
Latest
Sales
Gain/
Loss
%
Increase
Three-Roll Set
7,639
7,639
–
–
100-Coin Bag (P)
1,850
1,852
2
0.11%
100-Coin Bag (D)
1,851
1,853
2
0.11%
Two-Roll Set
5,877
5,878
1
0.02%

2022 Wilma Mankiller Quarters

Old
Sales
Latest
Sales
Gain/
Loss
%
Increase
Three-Roll Set
7,617
7,616
-1
-0.01%
100-Coin Bag (P)
1,847
1,848
1
0.05%
100-Coin Bag (D)
1,822
1,822
–
–
Two-Roll Set
5,909
5,909
–
–

2022 Dr. Sally Ride Quarters

Old
Sales
Latest
Sales
Gain/
Loss
%
Increase
Three-Roll Set
7,603
7,603
–
–
100-Coin Bag (P)
1,853
1,853
–
–
100-Coin Bag (D)
1,854
1,854
–
–
Two-Roll Set
5,924
5,924
–
–

2022 Maya Angelou Quarters

Old
Sales
Latest
Sales
Gain/
Loss
%
Increase
Three-Roll Set
7,588
7,588
–
–
100-Coin Bag (P)
1,858
1,858
–
–
100-Coin Bag (D)
1,861
1,861
–
–
Two-Roll Set
5,937
5,937
–
–