On Monday, March 27, the United States Mint will begin shipping 2023 Edith Kanakaʻole quarters to Federal Reserve Banks and their coin terminals for distribution into circulation. The coin is the seventh release from the U.S. Mint's American Women Quarters™ Program.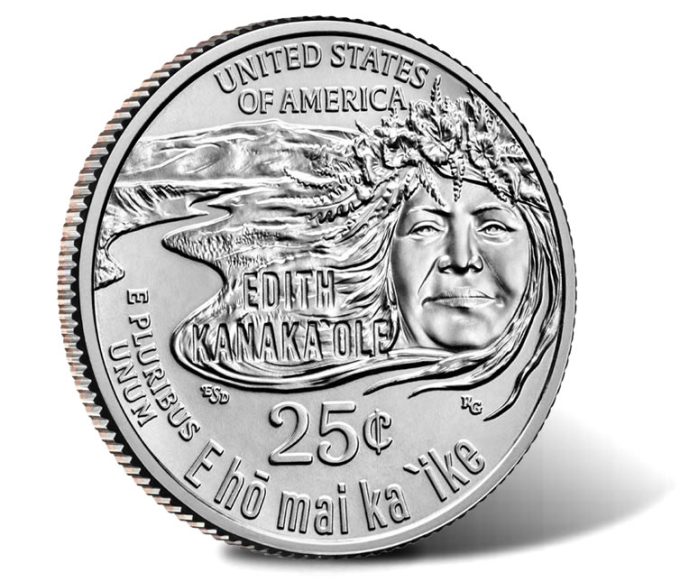 Earlier 2022-dated quarters from the four-year series honor Maya Angelou, Dr. Sally Ride, Wilma Mankiller, Nina Otero-Warren and Anna May Wong. Quarters for 2023 celebrate Bessie Coleman, Edith Kanakaʻole, Eleanor Roosevelt, Jovita Idar and Maria Tallchief. (The Bessie Coleman quarter entered circulation on Jan. 3.)
Edith Kanakaʻole "was a renowned practitioner of, and an authority on, modern Hawaiian culture and language," said Mint Director Ventris C. Gibson. She "believed that the oli, or Hawaiian chants, formed the basis of Hawaiian values and history. She learned this art form and performed all the major styles of delivery."
Created by U.S. Mint Artistic Infusion Program (AIP) Designer Emily Damstra and sculpted by U.S. Mint Medallic Artist Renata Gordon, the new quarter's reverse (tails side) depicts Kanakaʻole's hair and lei po'o (head lei) morphing into the elements of a Hawaiian landscape, symbolizing her life's work of preserving the natural land and traditional Hawaiian culture. The design includes the inscription "E hō mai ka 'ike," which translates as "granting the wisdom," and references the intertwined role hula and chants play in this preservation.
Obverses (heads side) for quarters in the program share a depiction of George Washington. This portrait was sculpted 90 years ago by Laura Gardin Fraser to mark Washington's 200th birthday.
Quarters for circulation are produced at U.S. Mint production facilities in Philadelphia and Denver.
Also on Monday, the U.S. Mint at https://catalog.usmint.gov/ will offer circulating Edith Kanakaʻole quarters in a two-roll set, a three-roll set, and 100-coin bags at prices ranging from $40 to $60. The three-roll set includes one roll of quarters made at the San Francisco Mint. These quarters are more unique in that, even over time, they will not be found in circulation like those minted in Philadelphia and Denver.