Today, Jan. 3, the United States Mint began shipping 2023 Bessie Coleman quarters to Federal Reserve Banks and their coin terminals for distribution into circulation. The coin marks the sixth release from the U.S. Mint's American Women Quarters™ Program.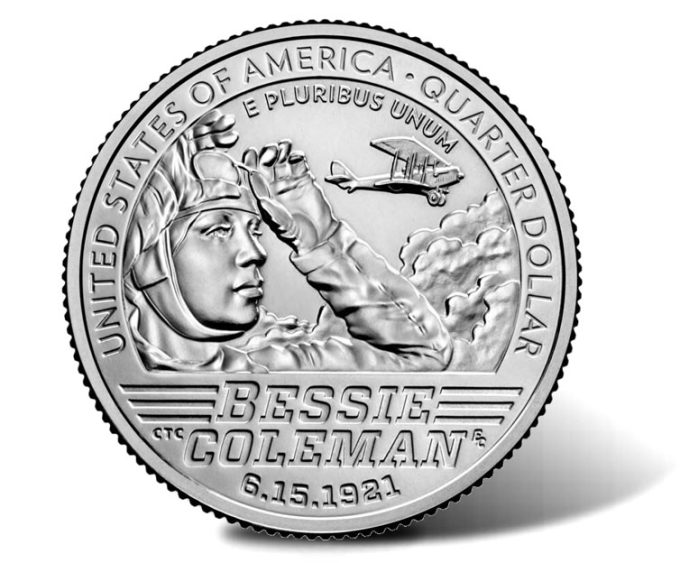 Previous issues from the Mint's four-year coin series honor Maya Angelou, Dr. Sally Ride, Wilma Mankiller, Nina Otero-Warren and Anna May Wong. These quarters were released in 2022. Quarters for 2023 celebrate Bessie Coleman, Edith Kanaka'ole, Eleanor Roosevelt, Jovita Idar and Maria Tallchief.
"The woman known as 'Brave Bessie' defied the odds and became an aviator. Her tenacious drive and fearless personality helped pave the way for future generations," said U.S. Mint Director Ventris C. Gibson.
Created by Chris Costello and sculpted by Eric David Custer, the new quarter's reverse (tails side) depicts Bessie Coleman as she suits up in preparation for flight. Her expression is reflective of her determination to take to the skies, the only place she experienced a freedom she did not have on the ground.
Obverses (heads side) for all quarters in the series share a depiction of George Washington which was sculpted 90 years ago by Laura Gardin Fraser to mark Washington's 200th birthday.
Quarters for circulation are struck at U.S. Mint production facilities in Philadelphia and Denver.
On Feb. 14, the U.S. Mint at https://catalog.usmint.gov/ will offer Bessie Coleman quarters in an uncirculated finish for coin collectors. Uncirculated quarters originate from the Philadelphia, Denver, and San Francisco Mints. They are hand-loaded into coining presses and struck on specially burnished blanks to a produce a brilliant finish. Product options will include a two-roll set, a three-roll set, and 100-coin bags at prices ranging from $36 to $54.