In what may end up being an incredibly quick sell-out, the United States Mint today at noon EDT releases its 2022 Congratulations Set. A single coin is included within it, the 2022-W Proof American Silver Eagle.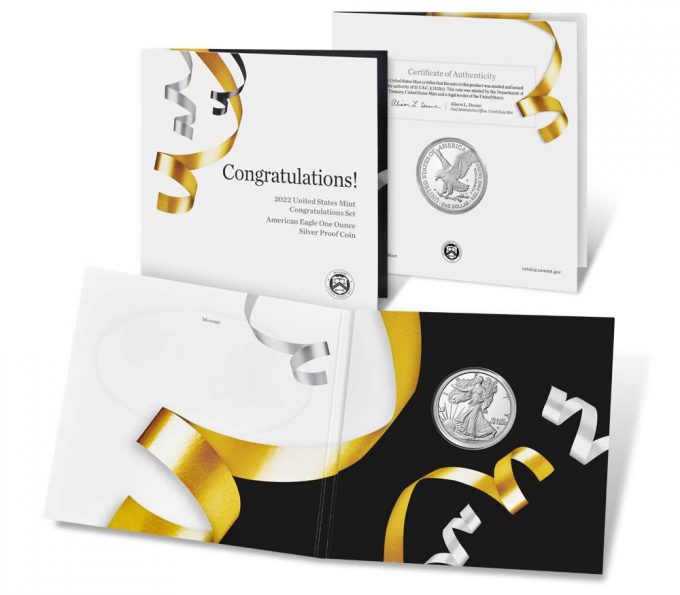 The Congratulations Set has been issued annually since 2013 and has always proven rather popular with collectors. Thousands of the set, designed as a gift-giving option for any occasion, are typically sold each year.
However, demand for the set could be stoked this year as the related single-coin 2022-W Proof American Silver Eagle sold out. It was scheduled to debut alongside the Congratulations Set but the U.S. Mint announced that their inventory was exhausted by reservations from enrollments.
Update: The Mint at noon EDT showed the single-coin 2022-W Proof American Silver Eagle available to order as well, although on "Back Order" status. Nearly 60,000 were for sale.
The Mint's enrollment program has been around for years, allowing customers the chance to sign up in advance for certain products before their releases. Those subscriptions are then automatically processed at the time of a product's official release. Never before has the Mint's entire inventory of single-sold proof coin been claimed by enrollments.
Mintage limits for the 2022-W Poof Silver Eagle include a total of 746,760 with splits of 500,000 for the single coin; 166,760 in 40-coin allotments for bulk buyers; 30,000 for the Congratulation Set; and 50,000 for the Limited Edition Silver Proof Set which goes on sale this fall.
Back to today's Congratulations Set, we find a single 2022-W Proof Silver Eagle encapsulated and attached to a presentation folder. Both sides of the coin are viewable with the folder which also offers space for writing a personalized message. An outer sleeve protects the contents.
This set is the first of its lineage to include the updated Silver Eagle designs with enhanced obverse (heads side) and new reverse (tails side) imagery. These updates debuted in 2021, however, last year's Congratulations Set still contained the original Type 1 Silver Eagle designs.
For the coin's obverse, the U.S. Mint enhanced the classic Walking Liberty design by Adolph A. Weinman using historical assets to reflect the artist's original intent more closely. On the design is Liberty in full stride, enveloped in folds of the flag, with her right hand extended and branches of laurel and oak in her left. Inscriptions are "LIBERTY," "2022," and "IN GOD WE TRUST."
The all-new reverse (first seen last year on the Type 2 Silver Eagles), portrays an eagle as it approaches a landing, carrying an oak branch, as if to add it to a nest. United States Mint Artistic Infusion Program Designer Emily Damstra created the design and it was sculpted by United States Mint Medallic Artist Michael Gaudioso. Inscriptions around it include "UNITED STATES OF AMERICA," "E PLURIBUS UNUM," "1 OZ. FINE SILVER," and "ONE DOLLAR."
Also of note, the new Silver Eagles contain the added security feature – a reeded edge variation.
Specifications of American Silver Eagles
| | |
| --- | --- |
| Denomination: | $1 |
| Composition: | 99.9% Silver |
| Weight: | 1.000 troy oz. (31.103 grams) |
| Diameter: | 1.598 inches (40.60 mm) |
| Edge: | Reeded |
| Mint and Mint Mark: | West Point-W |
Price and Ordering
Priced at $75, order the 2022 Congratulations Set from the Mint's page dedicated to the product, found here. As mentioned, no more than 30,000 will be sold. In addition, an initial household order limit of three applies.
Recent sales of past year's set reached totals of: 2021 at 39, 997; 2020 at 24,443, and 2019 at 31,638.
For the record, the sold-out individual proof Silver Eagle had a price point of $73. Its U.S. Mint product page is located here.