Today, Feb. 23, the United States Mint released their 2023-W First Amendment to the United States Constitution Platinum Proof Coin — Freedom of the Press.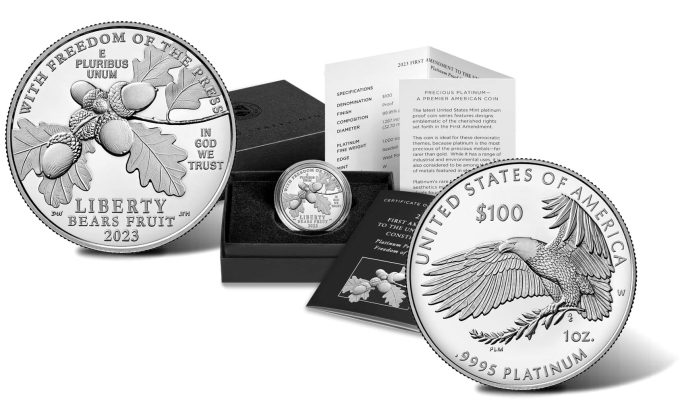 This West Point Mint struck $100 proof American Platinum Eagle has a composition of 1 ounce of 99.95% platinum. It marks the third issue from a five year design series dedicated to one of the five freedoms enumerated in the First Amendment to the United States Constitution.
"This series uses the lifecycle of the oak tree from seedling to a mighty oak as a metaphor for our country's growth as a Nation that values freedom," the Mint explained in an earlier release. "Liberty grows to a thing of strength and beauty from a seed — our Bill of Rights. Each of the freedoms enumerated in the First Amendment contributes to the growth and development of the Nation."
Released and upcoming designs from the series include:
2023 Freedom of the Press (this release)
2024 Freedom to Peaceably Assemble
2025 Freedom to Petition the Government for a Redress of Grievances
Proof American Platinum Eagles first appeared in 1997 and have seen multiple theme and design changes throughout their history, including:
Portrait of Liberty (1997)
Vistas of Liberty (1998 to 2002)
Foundations of Democracy (2006 to 2008)
Preamble to the Constitution (2009 to 2014)
Torches of Liberty (2015 and 2016)
a return to the Portrait of Liberty design in 2017 to mark the 20th anniversary of the program
Preamble to the Declaration of Independence Series (2018 to 2020).
2023 Freedom of the Press Platinum Eagle Obverse Design
Designed by Artistic Infusion Program Designer Donna Weaver and sculpted by United States Mint Chief Engraver Joseph Menna, appearing on the coin's obverse (heads side) is an image depicting a mature oak tree with acorns. Inscriptions above and below the design read: "WITH FREEDOM OF THE PRESS LIBERTY BEARS FRUIT."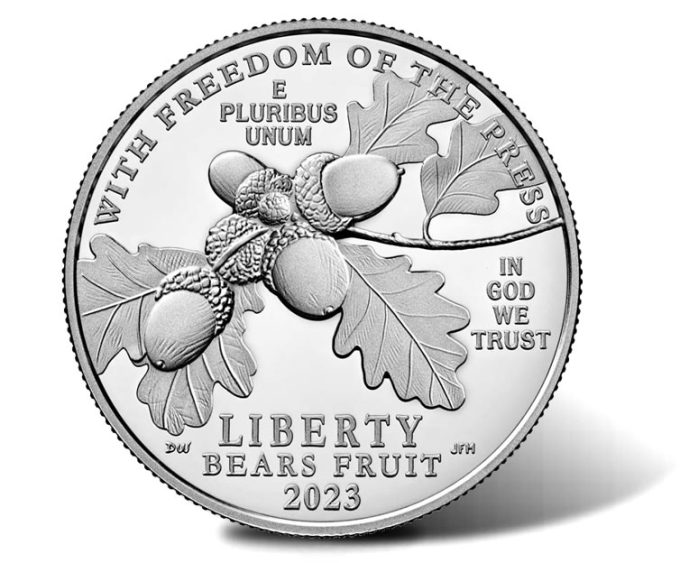 Additional inscriptions include "IN GOD WE TRUST," "E PLURIBUS UNUM," and "2023."
Common Reverse Design
The reverse (tails side) design is the same for all coins of the First Amendment to the U.S. Constitution series. It depicts an eagle in flight, an olive branch in its talons.
Inscriptions read: "UNITED STATES OF AMERICA," "$100," "1 OZ.," and ".9995 PLATINUM." In addition, the added 'W' mintmark indicates the coin's production at the U.S. Mint's facility in West Point, New York.
Artistic Infusion Program Designer Patricia Lucas-Morris created the reverse design and it was sculpted by Medallic Artist Don Everhart.
Coin Specifications of Proof American Platinum Eagles
Denomination:
$100
Finish:
Proof
Composition:
99.95% Platinum
Diameter:
1.287 inches
(32.70 mm)
Weight:
1.0005 troy oz.
(31.120 grams)
Edge:
Reeded
Mint and Mint Mark:
West Point – W
Ordering, Mintage Limit and Pricing
The 2023-W First Amendment to the United States Constitution Platinum Proof Coin — Freedom of the Press may be ordered directly from the Mint's catalog of platinum coins.
Initial pricing is $1,545, which is based on the Mint's precious metal product pricing and LBMA platinum averaging within $950 to $999.99 per ounce.
No household order limits apply. Maximum mintage for the coin has been established at 12,000 — a decrease of 3,000 from last year's issue which remains available. Each coin from this design series has logged sales so far of under 10,000 units.