Today, Oct. 26, the United States Mint releases its premium 2022 Limited Edition Silver Proof Set. One of the year's most anticipated annual products for collectors, the set is priced at $201.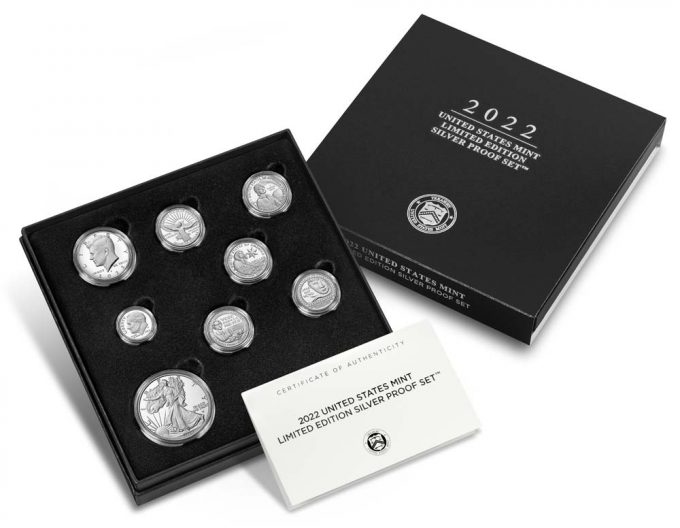 Limited to 50,000, this collection includes eight different coins all struck at the U.S. Mint facility in San Francisco from 99.9% pure silver for a total of 2.473 troy ounces.
"This limited edition set is a must-have for any collector or to mark that special occasion," promotes the U.S. Mint's product page for the set. "There's something for everyone in this sparkling set coming in at almost 2.5 troy ounces of 99.9% fine silver."
All coins feature the U.S. Mint's proof finish noted for its mirror-like backgrounds and frosted foregrounds. Each polished blank planchet is struck multiple times using specially designed dies to create the collector grade finish.
Found within the set are the following eight silver coins:
2022-S American Eagle One Ounce Silver Proof Coin
2022-S Kennedy Half Dollar
2022-S Maya Angelou Quarter
2022-S Dr. Sally Ride Quarter
2022-S Wilma Mankiller Quarter
2022-S Nina Otero-Warren Quarter
2022-S Anna May Wong Quarter
2022-S Roosevelt Dime
The set's quarters feature one-year-only designs as they are a part of the U.S. Mint's American Women Quarters™ Program — a four-year series that celebrates trailblazing women with five unique coin designs annually.
Coins of the set are encased in presentation lenses to showcase and preserve their finish. The set is also accompanied by a certificate of authenticity.
Limited Edition Silver Proof Set Coin Specifications
Denomination:
Dime
Quarter (each)
Half dollar
Dollar (each)
Composition:
99.9% silver, balance copper
99.9% silver, balance copper
99.9% silver, balance copper
99.9% silver, balance copper
Weight:
2.537 grams/
0.079 troy oz.
6.343 grams/
0.199 troy oz.
12.685 grams/
0.399 troy oz.
1.000 troy oz.
Diameter:
0.705 inch
(17.91 mm)
0.955 inch
(24.26 mm)
1.205 inches (30.61 mm)
1.598 inches (40.60 mm)
Edge:
Reeded
Reeded
Reeded
Reeded
Mint and Mint Mark:
San Francisco – S
San Francisco – S
San Francisco – S
San Francisco – S
Ordering
The 2022 Limited Edition Silver Proof Set may be ordered beginning at Noon EDT via the Mint's products page dedicated to annual sets.
Orders are limited to one per household for the first 24 hours of sales.