Get ready… Today, the United States Mint will release the 2017 Limited Edition Silver Proof Set.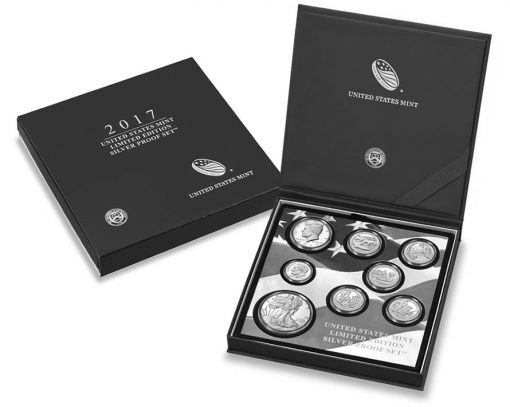 Available beginning at noon ET for $139.95, the set includes eight silver coins from the San Francisco Mint. Intense interest for just one of them will likely lead to a quick sell-out.
The product limit for this set is capped at 50,000. Anticipating broad demand, the U.S. Mint is restricting the number of sets to two per household.
Held in the set's attractive packaging are the following 90% silver coins:
2017-S Kennedy Silver Half-Dollar
2017-S Effigy Mounds National Monument Silver Quarter (Iowa)
2017-S Frederick Douglass National Historic Site Silver Quarter (District of Columbia)
2017-S Ozark National Scenic Riverways Silver Quarter (Missouri)
2017-S Ellis Island Silver Quarter (New Jersey)
2017-S George Rogers Clark National Historical Park Silver Quarter (Indiana)
2017-S Roosevelt Dime
In addition, the limited edition set holds a 1-ounce .999 fine 2017-S Proof American Silver Eagle. This is the coin that collectors want the most. It has only been featured in one other release, the 2017 Congratulations Set which debuted April 4 and sold out in minutes.
The Congratulations Set had a limit of 75,000. Adding that to this set's 50,000 limit brings the 2017-S Proof Silver Eagle's potential mintage to just 125,000 coins. That makes it a key issue in the American Silver Eagle series. The only proof with a lower mintage (at 30,102) is the highly coveted 1995-W which sells for several thousand dollars.
Ordering
Order the 2017 Limited Edition Silver Proof Set directly from the United States Mint via this link to the set's product page, or call 1-800-USA-MINT (872-6468).