Following a one-year gap in availability, the United States Mint resumes an annual offering with the release of the 2016 Limited Edition Silver Proof Set. It goes on sale beginning today at noon (ET).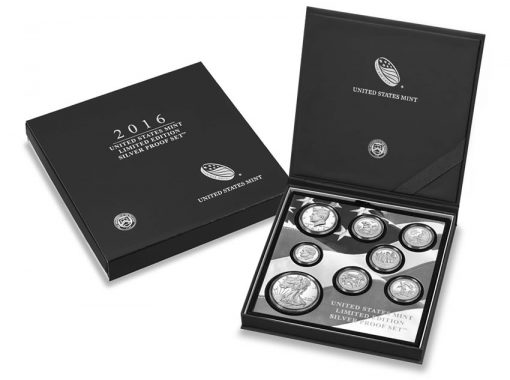 Limited to 50,000 and priced at $139.95, the set has eight silver coins. Seven are in 90% silver and come from the San Francisco Mint and one is in .999 fine silver and comes from the West Point Mint. All are in collector proof quality, featuring frosted designs and mirror-like backgrounds.
The set includes the following coins:
2016-W 30th Anniversary American Eagle Proof Silver Coin (.999 fine silver)
2016-S Kennedy Half Dollar (90% silver)
2016-S Shawnee National Forest Quarter (90% silver)
2016-S Cumberland Gap National Historical Park Quarter (90% silver)
2016-S Harpers Ferry National Historical Park Quarter (90% silver)
2016-S Theodore Roosevelt National Park Quarter (90% silver)
2016-S Fort Moultrie (Fort Sumter National Monument) Quarter (90% silver)
2016-S Roosevelt Dime (90% silver)
Six of them have designs or features unique to 2016. This includes the special American Silver Eagle with its incused "30th ANNIVERSARY" edge and the five quarters with their one-year only national park or site designs.
Sales of Past Sets
Limited Edition Silver Proof Sets debuted in 2012. Sales for that year ran at 44,952. In 2013, approximately 47,971 sold. Year 2014 saw a significant delay in the set's release due to packaging issues but it still logged sales of 42,614.
Packaging issues surfaced once again in 2015. Delays pushed the set's scheduled launch date late into the year. Then its release was cancelled after the December 2015 enactment of the FAST Act, which required anniversary lettering on all numismatic Silver Eagles sold in 2016.
Coins Available in Other Products
As described a few years ago, this set is one of the U.S. Mint's premier products with extra attention and expense given to its packaging. But coins of the set are not exclusive to it. The proof Silver Eagle debuted by itself on Sept. 16 for $53.95, and it will also be within the 2016 Congratulations Set, which goes on sale Nov. 29 for $54.95.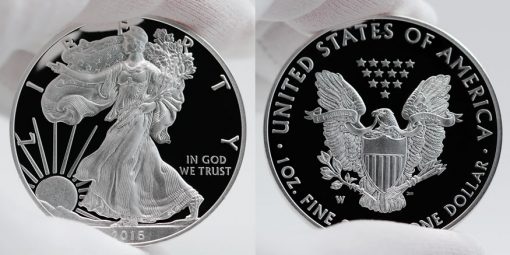 The other seven coins are included as part of the larger 2016 Silver Proof Set that was made available on April 18 for $52.95.
Also, as shown above, the same five 2016 quarters are in the 2016 America the Beautiful Quarters Silver Proof Set issued on Mar. 7 for $31.95.
Silver Weight
The set's eight coins have a combined silver weight of 2.338 ounces troy ounces. Based on Thursday's LBMA silver price of $16.31 per ounce, they have a melt value of about $38.13.
Ordering
Buy 2016 Limited Edition Silver Proof Sets directly from the United States Mint via this link to the set's product page, or call 1-800-USA-MINT (872-6468).