Rolls and bags containing the United States Mint's latest American Innovation Dollar launch today. Representing ingenuity from the state of Tennessee, the dollar is the last issue for the series this year with each struck in uncirculated quality. Minted for collectors, uncirculated coins are produced with more care than regular coins made for circulation.
| | |
| --- | --- |
| U.S. Mint image showing a roll of 2022-P American Innovation Dollars for Tennessee | U.S. Mint image showing a bag of 2022-D American Innovation Dollars for Tennessee |
Many of the Tennessee dollars have already been sold through the U.S. Mint's enrollment program. Those remaining go on sale beginning at Noon ET for $34.50 per roll and $117.50 per bag.
Each showcases a reverse (tails side) design emblematic of the formation of the Tennessee Valley Authority (TVA). Congress authorized the TVA in 1933 to ensure electricity was available at reasonable rates to rural areas including farms of the region.
"The Tennessee Valley Authority's innovation has sparked growth and economic development across our rural communities," said Tennessee Governor Bill Lee. "I thank the U.S. Mint for highlighting the efforts of Tennessee trailblazers and look forward to the coin's release."
The Mint's American Innovation® $1 Coin Program was introduced in 2018 with a single dollar. Following that, the series has seen four $1 coins annually each acknowledging American innovation from a different state. The program will conclude in 2032 when ingenuity from each state, the District of Columbia and the five U.S. territories has been recognized.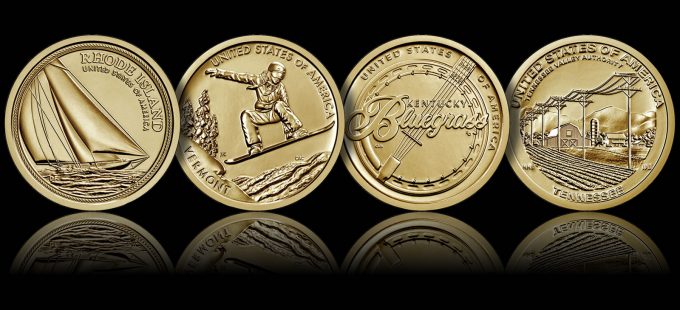 2022 American Innovation $1 Coins includes the following releases with reverse designs depicting:
Designs for the Tennessee Innovation $1 Coins
Appearing on the reverse of each new dollar is a Tennessee farm with newly installed power lines lining the road. Inscriptions around the coin read "UNITED STATES OF AMERICA," "TENNESSEE VALLEY AUTHORITY," and "TENNESSEE."
This design was created by U.S. Mint Artistic Infusion Program Artist Matt Swaim. Engraving of the image was completed by U.S. Mint Chief Engraver Joseph Menna.
Obverse (head side) designs for all series coins share a depiction of the Statue of Liberty in profile. Inscriptions include "IN GOD WE TRUST" and "$1" along with a privy mark of a stylized gear, representing industry and innovation.
Edge-incused inscriptions show "2022," the mint mark, and "E PLURIBUS UNUM."
Ordering
American Innovation Products are available by visiting the U.S. Mint's online store for American Innovation products.