Rolls and bags holding the United States Mint's newest American Innovation® $1 Coin launched today at prices ranging from $34.50 to $117.50. Celebrating innovation from the state of Kentucky, most of the dollars had already been taken by enrollments so only a few of them were available when released.
| | |
| --- | --- |
| U.S. Mint image showing a roll of 2022-P American Innovation Dollars for Kentucky | U.S. Mint image showing a bag of 2022-D American Innovation Dollars for Kentucky |
Products include 25-coin rolls and 100-coin bags containing Kentucky dollars in an uncirculated finish for collectors.
The U.S. Mint's American Innovation® $1 Coin Program dates to 2018 with a single inaugural release. It has since seen four issues every year. 2022 dollars honor innovations in the states of Rhode Island, Vermont, Kentucky and Tennessee. Rhode Island dollars debuted in February and Vermont dollars followed in April. Tennessee dollars will be released Aug. 30.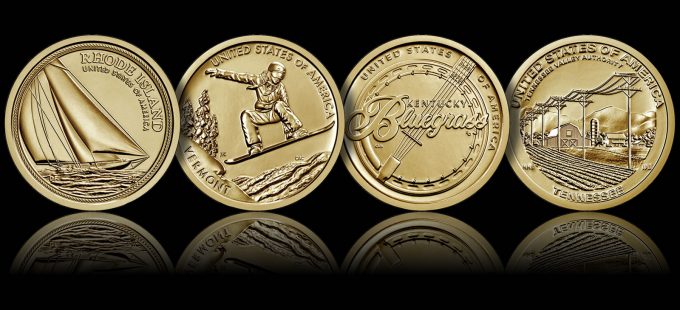 Designs for the Kentucky Innovation Dollars
Serving as the home of bluegrass music, the reverse (tails side) design of the Kentucky dollar depicts the image of a banjo. The design was created by Christina Hess and sculpted by Renata Gordon. Inscriptions include "UNITED STATES OF AMERICA," "BLUEGRASS," and "KENTUCKY."
A likeness of the Statue of Liberty is carried on the obverse (heads side) of all the American Innovation® $1 Coins. The depiction was designed by Justin Kunz and sculpted by Phebe Hemphill.
Obverse inscriptions read "IN GOD WE TRUST" and "$1." A stylized gear privy mark is also shown on the obverse representing industry and innovation.
The year of minting, mint mark, and "E PLURIBUS UNUM" are incused on the edge of the coins.
Ordering
For these and future issues, visit the U.S. Mint's online store for American Innovation products.