The United States Mint today at noon ET releases the Vermont American Innovation dollar, the second of four program strikes to appear this year as a part of their American Innovation® $1 Coin Program. Products include 25-coin rolls and 100-coin bags containing Vermont dollars in an uncirculated finish for collectors.
| | |
| --- | --- |
| U.S. Mint image showing a roll of 2022-P American Innovation Dollars for Vermont | U.S. Mint image showing a bag of 2022-D American Innovation Dollars for Vermont |
Introduced in 2018 under Public Law 115-197, the Innovation series when completed in 2032 will have seen fifty-seven unique designs to include one for each state, the District of Columbia and the five U.S. territories. Each design will celebrate American innovation and ingenuity. 2022 dollars honor innovations in Rhode Island (released earlier this year), Vermont (release today), Kentucky, and Tennessee.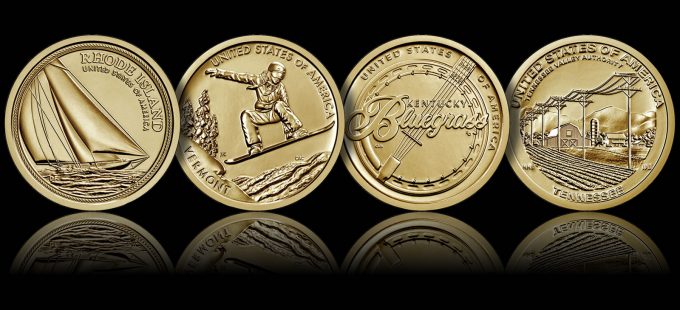 Designs for the Vermont Innovation Dollars
Vermont dollars showcase a reverse (tails side) celebrating the extreme sport of snowboarding. Created by Justin Kunz and sculpted by Craig Campbell, the design features a young female snowboarder in the air performing a trick called a "melon grab." The scene contrasts against a mountainous, Vermontian skyline.
Inscriptions around the design include "UNITED STATES OF AMERICA" and "VERMONT."
Appearing on the dollar's obverse (heads side) is a representation of the Statue of Liberty. The likeness of the statue was also created by Kunz, while it was sculpted by Phebe Hemphill. This design is common across all dollars in the series. Inscriptions include "IN GOD WE TRUST" and "$1."
Excluding the introductory 2018 dollar, obverses also carry a privy mark of a stylized gear which represents industry and innovation. The gear's depiction has changed annually, as highlighted by the following images.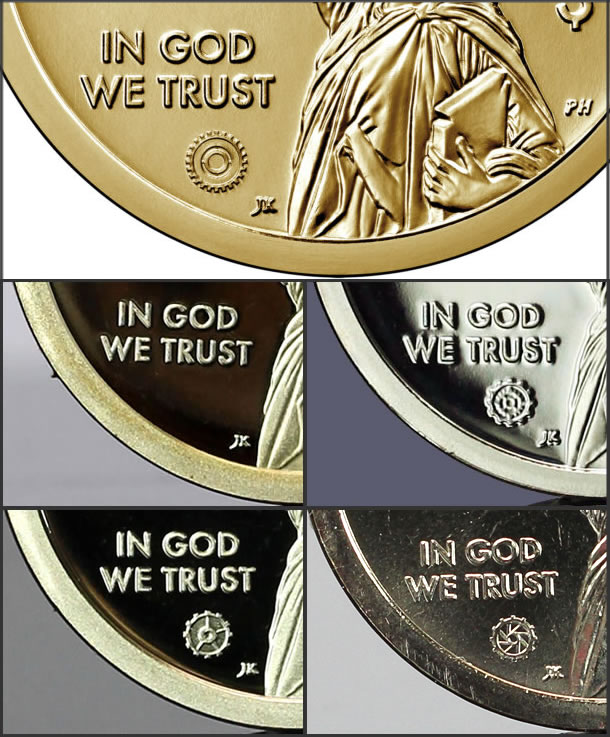 Lastly, dollar coin edges are incused with their year of minting, a mint mark, and "E PLURIBUS UNUM."
Prices and Ordering
Production options include dollars produced at U.S. Mint facilities in Denver or Philadelphia with 25-coin rolls $34.50 apiece and 100-coin bags $117.50 each.
That said, few, if any, may be available to buy at noon ET as the Mint earlier indicated that their dollar inventories had all been reserved through enrollments.
Check for availability of the dollars using the U.S. Mint's online store for American Innovation products.