Honoring American innovation and invention in four different states, the United States Mint today released their 2022 American Innovation $1 Coin Proof Set™. Proof coins feature frosted foregrounds and mirror-like backgrounds. They are the U.S. Mint's highest quality finish.
Included dollars offer reverse (tails side) designs depicting American creativeness from the states of Rhode Island, Vermont, Kentucky and Tennessee. Each was produced at the U.S. Mint's facility in San Francisco.
These $1 coins represent the fifth year of the Mint's program which debuted in 2018. That year saw a single inaugural release with George Washington's signature on the reverse emblematic of his signing of the first U.S. patent. Since then, four new dollar coins have been issued annually. The program will continue through 2032 at which time American ingenuity will have been represented from each state, the District of Columbia and the five U.S. territories.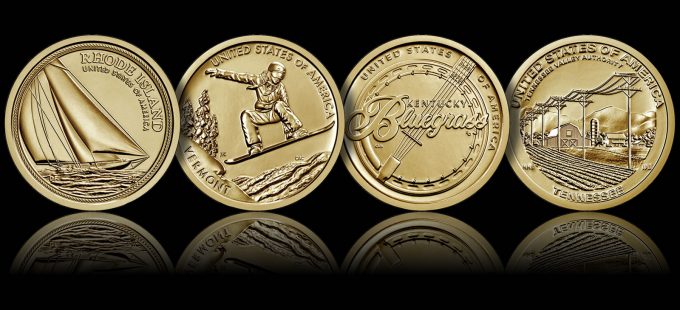 For 2022, the four dollars as part of the program and in this proof set include:
2022-S Rhode Island $1 Coin – Nathanael Herreshoff's Reliance Yacht
2022-S Vermont $1 Coin – Snowboarding
2022-S Kentucky $1 Coin – Bluegrass music
2022-S Tennessee $1 Coin – Rural electrification by the Tennessee Valley Authority
All four coins appear together in one protective lens. (See more images of the dollars.)
Innovation $1 Coin Specifications
| | |
| --- | --- |
| Denomination: | $1 coin |
| Finish: | Proof |
| Composition: | 6% zinc, 3.5% manganese, 2% nickel, balance copper |
| Weight: | 8.100 grams |
| Diameter: | 1.043 inches (26.49 mm) |
| Edge: | Lettered |
| Mint and Mint Mark: | San Francisco – S |
| Privy Mark: | Gear |
Individual circulation quality American Innovation $1 Coins are also issued throughout the year by the U.S. Mint in bags and rolls. Rhode Island $1 coins launched on Feb. 23 and the Vermont $1 coins followed on April 26. Kentucky $1 coins will be issued on June 28 and Tennessee $1 coins debut at a yet-to-be-announced date (sometime this summer).
Ordering, Price and Limits for the Proof Set
The 2022 American Innovation $1 Coin Proof Set is available directly from the U.S. Mint via its online store for American Innovation products for $24. This is the same price point as last year's version.
No mintage, household or order limits have been published by the Mint for the release.