Collectors will need to act fast and likely have some luck in getting the newest United States Mint American Silver Eagle which is guaranteed to become a new key issue.
The 2019-S Enhanced Reverse Proof American Silver Eagle goes on sale today, Nov. 14, beginning at Noon ET. Production of the San Francisco Mint strike is limited to only 30,000 pieces, garnering its status as the lowest minted Silver Eagle to date.
Priced at $65.95, orders for the 1-ounce silver coin will be restricted to one per household. This limited release procedure should help some in obtaining one of the coveted coins, at least in the initial stages of availability, and if the Mint's ordering systems handle the strain.
In addition to its very limited mintage, the coin has two other features that boost its appeal. First, it marks only the second time the U.S. Mint has produced an enhanced reverse proof Silver Eagle. The first debuted earlier this year in the joint U.S. Mint and Royal Canadian Mint Pride of Two Nations Set. That set held an edition from the West Point Mint and all 110,000 sold.
The second item adding interest is that each coin will include a serial-numbered Certificate of Authenticity — a first for the United States Mint. Grading services are acknowledging the importance of this feature with encapsulation options for the COA. It should be noted, however, that the number on each certificate does not reflect the order in which the coin was minted.
Turning back to the coin itself, collectors will find its finish quite unique.
"This enhanced reverse proof coin has the same frosted background as a reverse proof coin, but what sets it apart are the multiple polished and frosted finishes applied to different isolated design elements," describes the U.S. Mint. "The selective polishing and frosting dramatically enhances the visual impact of the design."
Other design elements remain the same as previous incarnations.
The obverse bears Adolph A. Weinman's full-length figure of Liberty in full stride. Liberty is enveloped in folds of the flag with her right hand reaching ahead and branches of laurel and oak in her left.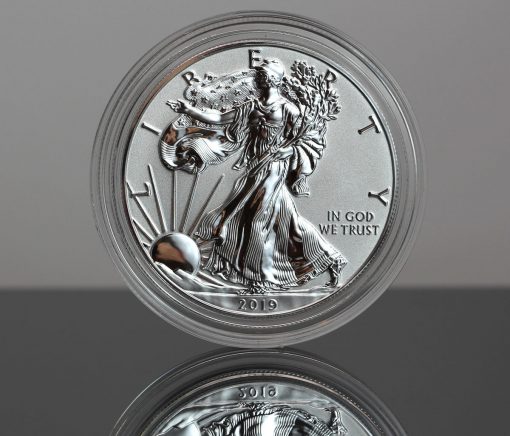 Around the image are inscriptions of LIBERTY, IN GOD WE TRUST and 2019.
John Mercanti's heraldic Eagle with shield design adorns the reverse (tails side). Inscriptions include UNITED STATES OF AMERICA, 1 OZ. FINE SILVER, ONE DOLLAR and E PLURIBUS UNUM on a ribbon held in the eagle's beak. Additionally, the San Francisco mintmark of 'S' is found to the lower left of the eagle.
Specifications for the reeded edge coin include a composition of 99.9% silver, a diameter of 1.598 inches (40.60 mm) and a weight of 1.000 troy oz. (31.103 grams).
Ordering
Those interested in purchasing one of the coins and feeling lucky enough to try can do so when its released at Noon ET by visiting the U.S. Mint's online store of silver coins.
Phone orders may also be attempted by calling 1-800-USA-MINT (872-6468). Hearing- and speech-impaired customers with TTY equipment may order by calling 1-888-321-MINT (6468).
Plans also call for the coin to be available at the Mint's sales centers in Washington, D.C.; Philadelphia; and Denver.
Update: Late Friday afternoon, the U.S. Mint released the following statements to CoinNews:

"Yesterday, the Mint catalog website had more than 150,000 unique visitors and 1.6 million page views in the first hour of sales of the American Eagle 2019 One Ounce Silver Enhanced Reverse Proof Coin (19XE). For context, the catalog website's previous highest traffic and page views were for the Apollo 11 product launch, when we had 124,000 visitors in one day and 863,000 page views in one hour. We are pleased with the numismatic community's response to this product. The volume of traffic did briefly slow down our site response. However, after the first two minutes we were able to process over 1800 orders per minute on average. Completed orders were processed until all inventory was sold. Additionally, we identified approximately 5% of traffic as coming from bots, including 3% of traffic from a single IP address, of which zero orders were processed."

"At the moment of launch, there were 99,000 people online and 4700 callers waiting to purchase the American Eagle 2019 One Ounce Silver Enhanced Reverse Proof Coin (19XE). Completed orders were processed until all inventory was sold. We are constantly seeking feedback from our customers, and rest assured your voice is being heard."