Five new products debut at noon ET from the United States Mint as part of its line-up of 2022-W Proof American Gold Eagles. They include individual 1 oz., 1/2 oz., 1/4 oz. and 1/10 oz coins as well as a four-coin set which contains one of each.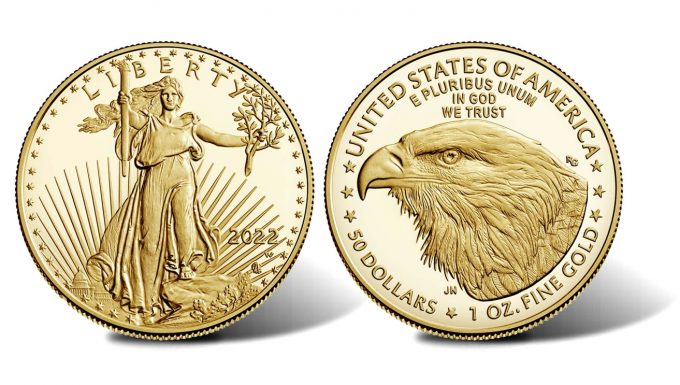 Composed in 22-karat gold, every one of them is produced at the West Point Mint as a proof quality numismatic version of the U.S. Mint's American Gold Eagle bullion coins. Proofs are the highest quality coins struck by the Mint. They feature frosted designs and mirror-like backgrounds.
Each proof Gold Eagle carries new designs introduced last year as part of the U.S. Mint's 35th anniversary refresh of the series. For those following the program, 2021 saw two design versions of the coins, the original or classic (Type 1) and its successor (Type 2). Type 2's offer a refreshed obverse (heads side) and an all-new reverse (tails side). 2022 American Gold Eagles continue the type 2 imagery.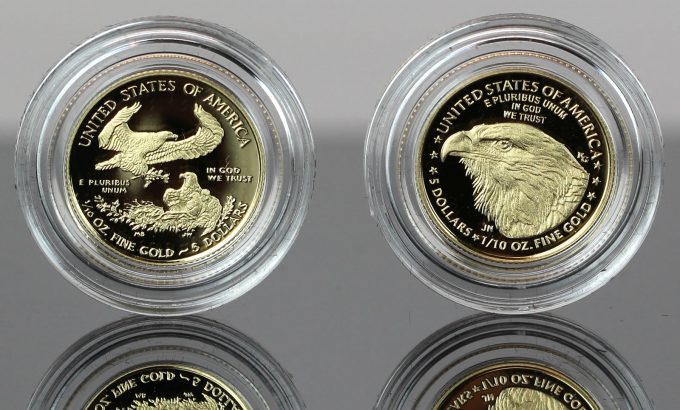 Designs and Specifications
Obverses still feature Augustus Saint-Gaudens' full-length figure of Liberty with flowing hair, holding a torch in her right hand and an olive branch in her left. The image has appeared on Gold Eagles since their 1986 debut but was first seen on 1907-1933 $20 Gold Coins. As part of its refresh last year, the U.S. Mint returned to its original historical assets to render a closer reflection of Saint-Gaudens' original vision and detail.
Obverse inscriptions include "LIBERTY" and "2022." In addition, the mintmark of "W" appears on the obverse indicating each coin's production at the West Point Mint.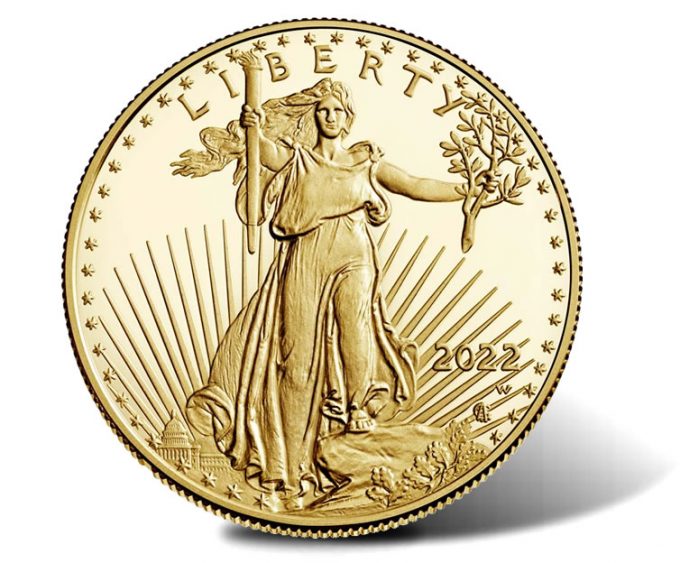 Reverses offer the new portrait of an eagle, as created by U.S. Mint Artistic Infusion Program (AIP) designer Jennie Norris and sculpted by Mint Medallic Artist Renata Gordon.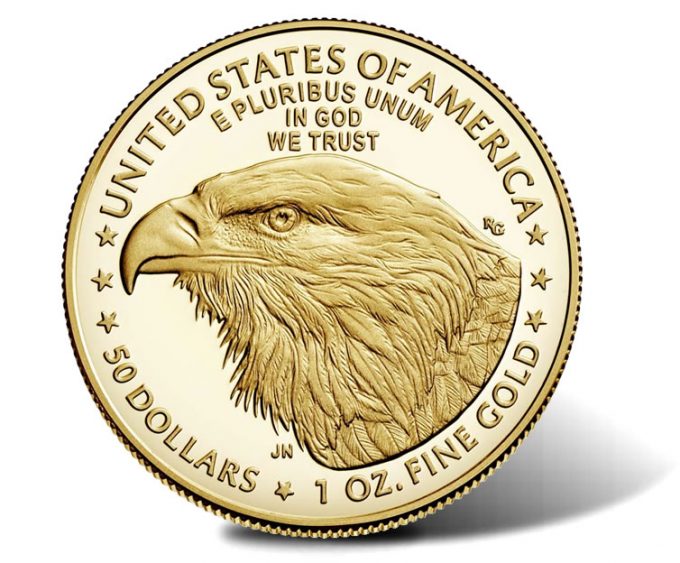 Reverse inscriptions include "UNITED STATES OF AMERICA," "E PLURIBUS UNUM," "IN GOD WE TRUST," the artists' initials, the coin's legal tender face value, and the coin's precious metal weight.
American Eagle Gold Coin Specifications
$50
$25
$10
$5
Composition
22 Karat Gold (91.67% Gold
3.0% Silver
Balance Copper)
Weight
1.0909 troy oz.
(33.931 grams)
0.5455 troy oz.
(16.966 grams)
0.2727 troy oz.
(8.483 grams)
.1091 troy oz.
(3.393 grams)
Diameter
1.287 inches
(32.70 mm)
1.063 inches
(27.00 mm)
0.866 inch
(22.00 mm)
0.650 inch
(16.50 mm)
Edge
Reeded Edge Variation
Reeded Edge
Thickness
0.113 inch
(2.87 mm)
0.085 inch
(2.15 mm)
0.070 inch
(1.78 mm)
0.049 inch
(1.26 mm)
As shown, the 1-ounce coin features anti-counterfeit variable reeding on the edge. The fractional sizes do not.
Limits, Prices and Ordering
2022-W Proof American Gold Eagles and the four-coin set of them are available from the U.S. Mint's online page of gold coins, located here.
Each option has the listed product, mintage limit and price as shown below:
| Product Option | Product Limit | Mintage Limit | Price* |
| --- | --- | --- | --- |
| 2022 $50 American Eagle Gold Proof Coin (1 oz.) | 6,000 | 16,000 | $2,850.00 |
| 2022 $25 American Eagle Gold Proof Coin (1/2 oz.) | 2,000 | 12,000 | $1,450.00 |
| 2022 $10 American Eagle Gold Proof Coin (1/4 oz.) | 4,500 | 14,500 | $752.50 |
| 2022 $5 American Eagle Gold Proof Coin (1/10 oz.) | 14,000 | 24,000 | $330.00 |
| 2022 American Eagle Gold Proof Coins (Four-Coin Set) | 10,000 | N/A | $5,332.50 |
Prices can adjust weekly based on the Mint's precious metals coin pricing matrix. As of Thursday morning, the Mint's published gold coin prices are based on an average of LBMA gold that is within $1,950.00 to $1,999.99 an ounce. LBMA gold prices have been under $1,950 an ounce for a couple days in a row now.
In addition, an initial household order limit of one per product has been established by the U.S. Mint for the first 24 hours from the on-sale time