The United States is still storing an extraordinary amount of $1 coins, according to Federal Reserve data updated mid-August. The data shows Reserve Bank inventories of dollars at 1.011 billion coins through the second quarter of 2021.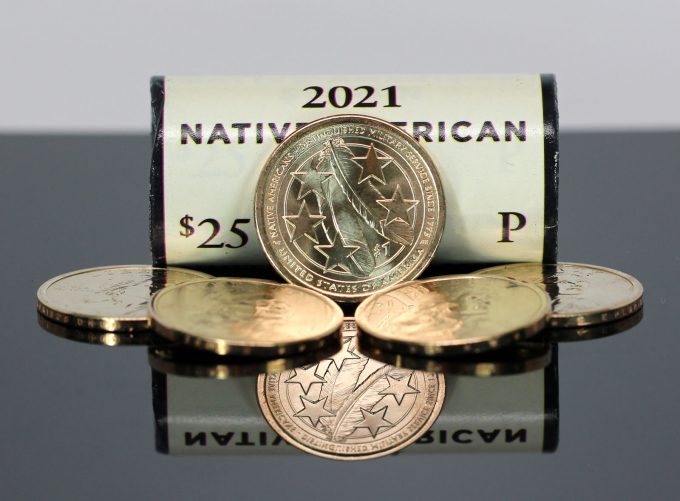 The level has dipped over time — dropping by 53 million coins over the past year, as an example. Vaulted dollars peaked in Sept. 30, 2012, to 1.440 billion coins.
Demand for dollar coins hasn't been robust, obviously, although it does change a bit year to year. Since peaking they have trended lower by about 4 million coins per month, indicating that there are enough dollars stored away to last more than two decades.
"Assuming current levels of demand continue, Reserve Bank inventories will decrease slowly over time. We estimate that Reserve Banks hold sufficient $1 coin inventory to meet demand for nearly 21 years," the Fed told Congress in its most recent annual report about dollar inventories.
Most of the dollars held in vaults are Presidential $1 coins. As directed by Public Law 109-145, the United States Mint beginning in 2007 produced them in commemoration of former American presidents.
The public prefers paper money over clad dollars, and inventories of $1 coins ramped up by as much as 298 million a year. The trajectory had Fed officials talking about adding storage facilities.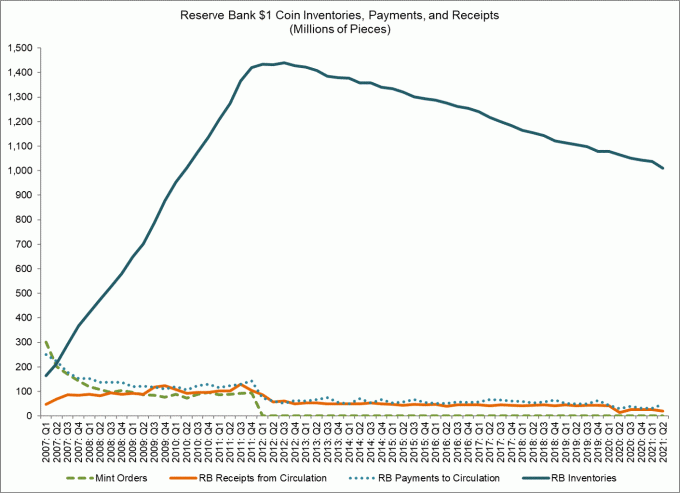 The build-up was eventually checked after Treasury Secretary Timothy F. Geithner halted $1 coin production for commerce in December 2011 when the stockpile had reached 1.42 billion coins.
Today, the United States Mint continues to manufacture clad $1 coins but only for collectible products that are sold to the public. These include one a year bearing a design honoring the important contributions made by Indian tribes and individual Native Americans and four a year featuring designs celebrating American innovation.
As a comparison to the most Fed ordered U.S. denomination for circulation, the U.S Mint produced over 3.7 billion cents in the first half of this year alone.