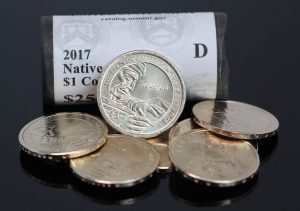 Federal Reserve inventories of $1 coins are retreating, but only slightly. Fed data shows their supply at 1.241 billion coins through the first quarter of 2017, after peaking to 1.44 billion coins in the third quarter of 2012.
Dollar inventories have steadily fallen since that peak, trending lower by about 4 million coins per month — a pace that would take more than a quarter of a century for the Fed's supply to dry up.
Only a change in law is likely to draw more dollars into circulation sooner, like the COINS Act introduced in late March by Sen. John McCain and Sen. Enzi. It calls for replacing $1 notes with $1 coins.
Most $1 coins in Federal Reserve inventories are Presidential dollars. As directed by Public Law 109-145, the United States Mint struck circulation $1 coins in commemoration of past American presidents. From 2007 until its conclusion in 2016, the U.S. Mint's series of Presidential $1 Coins honored former presidents by depicting their portraits on golden-colored, manganese-brass dollars. Then there are Native American $1 Coins, which the U.S. Mint produces under Public Law 110-82 at a rate of one new design each year.
The public never got behind the two programs, preferring paper money instead. Federal Reserve dollar inventories climbed as a result, jumping by as much as 298 million coins a year. The trajectory had Fed officials talking about the need for more storage facilities.
However, the inventory build-up was placed in check after Treasury Secretary Timothy F. Geithner halted $1 coin production for commerce. That order came down in December 2011, when Federal Reserve dollar inventories had already reached 1.42 billion coins.
The U.S. Mint continues to make circulating dollars but only for numismatic products. The agency's $1 coin production totals went from a combined 374.92 million in 2011 to a more modest 49.92 million in 2012. They dropped further from there. The Mint will produce less than 5 million in 2017, all Native American $1 Coins with the Presidential dollar series now completed.
As a comparison to the most ordered U.S. denomination, the Mint produced over 2.38 billion 1-cent coins for circulation in the first quarter of this year alone.