Only two of six coins remain from the U.S. Mint's collection of products which mark the 100th anniversary of the transition from Morgan dollars to Peace dollars. The four earlier centennial dollars sold out within minutes of their release.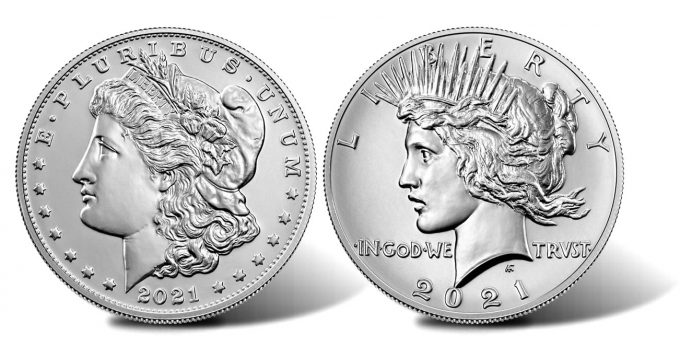 Beginning at Noon ET, the U.S. Mint will offer the 2021 Morgan Silver Dollar and the 2021 Peace Silver Dollar. Both 99.9% pure silver coins are struck at the Mint's facility in Philadelphia, but do not bear any mintmark as was common at the time of their historical counterparts.
Product limits of just 175,000 Morgans and 200,000 Peace dollars have been established, each with a household order limit of three. They are $85 apiece, which is the same price as each of the four dollars which preceded them.
Those four included the 2021 Morgan Silver Dollar with a CC (Carson City) Privy Mark and the 2021 Morgan Silver Dollar with an O (New Orleans) Privy Mark. They made their pre-order debut in May with a household order limit of ten apiece. Their launch, however, was fraught with issues as the Mint's website was slammed with traffic making it difficult and in cases impossible for customers to place an order.
Acknowledging the issue, the Mint postponed the release of several products, including the four remaining centennial strikes, to allow time for it to implement a solution. Following new safeguards, the 2021-D Morgan Silver Dollar and the 2021-S Morgan Silver Dollar opened last week for pre-orders with a lower household order limit of three each. The Mint's changes appeared to have helped, although many still experienced issues as they tried to make their purchases. Both coins lasted less than thirty minutes.
2021 Morgan and Peace Silver Dollar Designs
Like the earlier four dollars, today's coins are authorized under Public Law 116-286, the 1921 Silver Dollar Coin Anniversary Act, which requires each to feature designs similar to those on their historical predecessors. To accomplish the job, the Mint used century-plus old assets coupled with modern technology to recreate the long-favored images.
This includes the Morgan design as created by U.S. Mint Chief Engraver George T. Morgan for dollars from 1878 to 1904, and 1921. The obverse (heads side) of the Morgan offers Lady Liberty in profile with a cap, flora, and a crown incused with the word "LIBERTY," while 13 stars, "E PLURIBUS UNUM," and the date of issuance encircle her.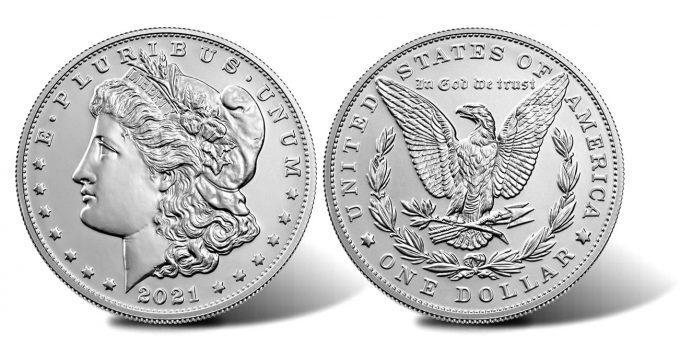 The reverse (tails side) of the Morgan dollar depicts a heraldic eagle with outstretched wings clasping arrows and an olive branch, accompanied by a wreath. Reverse inscriptions include "UNITED STATES OF AMERICA," "IN GOD WE TRUST" and "ONE DOLLAR."
Renowned Italian American Sculptor Anthony de Francisci created the designs found on the Peace Dollar which originally ran from 1921 to 1935. The obverse has Liberty in profile with a radiant crown on her head. Inscriptions include "LIBERTY," "IN GOD WE TRUST," and the year of issuance.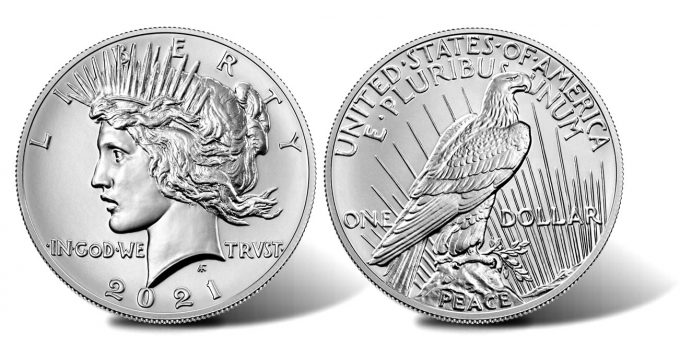 Reverses depict an eagle at rest holding an olive branch above the inscription "PEACE." Additional inscriptions include "UNITED STATES OF AMERICA," "E PLURIBUS UNUM," and "ONE DOLLAR."
Coin Specifications
| | |
| --- | --- |
| Denomination: | $1 |
| Finish: | Uncirculated |
| Composition: | 99.9% Silver |
| Silver Weight: | 0.858 troy oz. |
| Diameter: | 1.500 inches (38.10 mm) |
| Edge: | Reeded |
| Mint and Mint Mark: | Philadelphia (no mintmark) |
Pre-ordering and Shipping
Pre-order the coins directly from the U.S. Mint's online store at 2021 Morgan Dollar and 2021 Peace Dollar.
Credit card information will be verified by the Mint at the time a pre-order is made, but the actual charge will not occur until the shipment of the coins in October. This makes it very important for customers to always keep their credit card information on account with the Mint current.
Each dollar arrives within a United States Mint black box, with an outer sleeve adorned with an image of the coin obverse and accompanied by a Certificate of Authenticity.