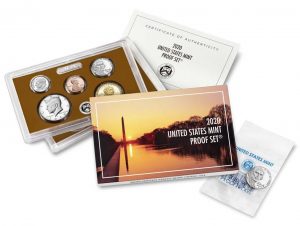 The clad 2020 Proof Set was the United States Mint's top seller for the week ending Aug. 16. This set, which includes a bonus "W" nickel, advanced by 4,218 units from a week earlier for a near six-month total of 330,567.
Still, its performance to date remains down from last year's set. The clad 2019 Proof Set, which comes with a premium 'W' cent and is still available, posted sales of 387,208 in virtually the same stretch of time. It's now sitting at a total of 583,616 after having climbed by 758 units from a week ago.
Weekly U.S. Mint Top Sellers
Here's the listing of the U.S. Mint's most popular numismatic products for the week ended Aug. 16:
2020 Proof Set (+4,218 to 330,567)
2020-W Proof Silver Eagle (+3,677 to 327,913)
2020 Silver Proof Set (+3,567 to 253,119)
2020-W Uncirculated Silver Eagle (+3,540 to 119,604)
2020 Proof Gold Eagle Four-Coin Set (+1,331 to 7,726)
2019 Proof Set (+758 to 583,616)
2020 Basketball Kids Set (+703 to 19,958)
2019 American Liberty Silver Medal (+568 to 40,674)
2019-S Reverse Proof Connecticut American Innovation Dollar (+559 to 29,617)
2020 Kennedy Two-Roll Set (+559 to 19,089)
In its latest report, the U.S. Mint published sales data for 162 numismatic products. Forty-two of them outperformed their prior weekly gains compared to 81 previously. Five products increased by more than 1,000 units compared to 8 in the last report.
In addition, 5 products saw their sales against 7 previously. One was larger than the rest — the 2020 Salt River Bay Quarters Three-Coin Set declined 137 to 11,245.
US Mint Sales: Numismatic Products
Below are tables showing the latest available sales for U.S. Mint numismatic products. The sales period covers from Aug. 10 to 16. Products with an asterisk (*) are no longer available or had no reported sales.
American Liberty Products

Old
Sales
Latest
Sales
Gain/
Loss
%
Increase
2019-W $100 American Liberty Gold Coin
9,811
9,829
18
0.18%
2019-P American Liberty Silver Medal
40,106
40,674
568
1.42%
2018-W $10 American Liberty Gold Coin
34,598
34,695
97
0.28%
2017 American Liberty Silver Four-Medal Set*
32,647
32,647
–
–
2017-S Enhanced Uncirculated Coin Set*
210,419
210,419
–
–
2017-W $100 American Liberty Gold Coin
32,141
32,160
19
0.06%
2017-P Proof American Liberty Silver Medal*
55,187
55,187
–
–

2020 Basketball Hall of Fame Commemorative Coins

Old
Sales
Latest
Sales
Gain/
Loss
%
Increase
2020-W Proof $5 Basketball Gold Coin
7,252
7,287
35
0.48%
2020-W Uncirculated $5 Basketball Gold Coin
2,968
2,992
24
0.81%
2020-P Proof Basketball Silver Dollar
61,688
61,970
282
0.46%
2020-P Uncirculated Basketball Silver Dollar
19,152
19,268
116
0.61%
2020-S Proof Basketball Half Dollar
24,647
24,755
108
0.44%
2020-D Uncirculated Basketball Half Dollar
12,600
12,665
65
0.52%
2020 Basketball Kids Set
19,255
19,958
703
3.65%

2019 American Legion Commemorative Coins

Old
Sales
Latest
Sales
Gain/
Loss
%
Increase
2019 American Legion Gold Coin and Emblem Print*
277
277
–
–
2019 American Legion Silver Dollar and Emblem Print*
1,788
1,788
–
–
2019 American Legion 50c and Emblem Print*
1,026
1,026
–
–
2019 American Legion Silver Dollar and Medal Set*
9,888
9,888
–
–
2019-W Proof $5 American Legion Gold Coin*
3,190
3,190
–
–
2019-W Uncirculated $5 American Legion Gold Coin*
2,927
2,927
–
–
2019-P Proof American Legion Silver Dollar*
44,018
44,018
–
–
2019-P Uncirculated American Legion Silver Dollar*
13,789
13,789
–
–
2019-S Proof American Legion Half Dollar*
18,811
18,811
–
–
2019-D Uncirculated American Legion Half Dollar*
11,430
11,430
–
–
2019 American Legion Three-Coin Proof Set*
7,451
7,451
–
–

2019 Apollo 11 Commemorative Coins

Old
Sales
Latest
Sales
Gain/
Loss
%
Increase
2019-W Proof $5 Gold Coin & Intaglio Print*
1,162
1,162
–
–
2019-P Proof Apollo 11 Silver Dollar & Intaglio Print*
4,980
4,980
–
–
2019-W Proof $5 Apollo 11 Gold Coin*
32,862
32,862
–
–
2019-W Uncirculated $5 Apollo 11 Gold Coin*
12,035
12,035
–
–
2019-P Proof Apollo 11 Silver Dollar*
218,995
218,995
–
–
2019-P Uncirculated Apollo 11 Silver Dollar*
59,700
59,700
–
–
2019-S Proof Apollo 11 Half Dollar*
66,822
66,822
–
–
2019-D Uncirculated Apollo 11 Half Dollar*
41,742
41,742
–
–
2019-S Proof Apollo 11 Half Dollar Set*
99,998
99,998
–
–
2019-P Proof Apollo 11 Five Ounce Silver Coin*
68,301
68,301
–
–

Clad Proof Set

Old
Sales
Latest
Sales
Gain/
Loss
%
Increase
2020 Proof Set
326,349
330,567
4,218
1.29%
2019 Proof Set
582,858
583,616
758
0.13%
2018 Proof Set*
517,081
517,081
–
–
2017 Proof Set*
568,678
568,678
–
–
2019 American Innovation Dollars Proof Set
104,370
104,899
529
0.51%

2020 America the Beautiful Quarters Proof Set

55,716
55,950
234
0.42%
2019 America the Beautiful Quarters Proof Set
73,072
73,096
24
0.03%
2018 America the Beautiful Quarters Proof Set*
86,697
86,697
–
–
2020 Happy Birthday Gift Set
13,960
14,129
169
1.21%
2019 Happy Birthday Gift Set
18,297
18,309
12
0.07%
2018 Happy Birthday Gift Set*
17,719
17,719
–
–
2020 Birth Gift Set
17,051
17,364
313
1.84%
2019 Birth Gift Set
29,440
29,478
38
0.13%
2018 Birth Gift Set
32,670
32,689
19
0.06%

Silver Proof Set

Old
Sales
Latest
Sales
Gain/
Loss
%
Increase
2020 Silver Proof Set
249,552
253,119
3,567
1.43%
2019 Silver Proof Set
407,497
408,050
553
0.14%
2018 Silver Proof Set*
332,274
332,274
–
–
2018 Silver Reverse Proof Set*
199,116
199,116
–
–
2020 America the Beautiful Quarters Silver Proof Set
58,465
58,795
330
0.56%
2019 America the Beautiful Quarters Silver Proof Set
75,585
75,941
356
0.47%
2018 America the Beautiful Quarters Silver Proof Set*
79,301
79,301
–
–
2020 Congratulations Gift Set
24,445
24,445
–
–
2019 Congratulations Gift Set
29,376
29,621
245
0.83%
2019 Limited Edition Silver Proof Set*
47,404
47,404
–
–
2018 Limited Edition Silver Proof Set*
49,479
49,479
–
–

US Mint Uncirculated Sets

Old
Sales
Latest
Sales
Gain/
Loss
%
Increase
2019 Native American $1 Coin and Currency Set
46,985
46,984
-1
0.00%
2019 Uncirculated Mint Set
334,909
335,040
131
0.04%
2018 Uncirculated Mint Set*
257,536
257,536
–
–
2017 Uncirculated Mint Set*
286,813
286,813
–
–

Kids Coin Sets

Old
Sales
Latest
Sales
Gain/
Loss
%
Increase
2019 Youth Coin and Currency Set
10,150
10,201
51
0.50%
2019 Explore and Discover Coin Set
33,620
33,664
44
0.13%
2019 Rocketship*
49,921
49,921
–
–
2014 Coin Discovery Set*
13,151
13,151
–
–

Ornaments

Old
Sales
Latest
Sales
Gain/
Loss
%
Increase
2019 Mighty Minters Ornament
4,511
4,519
8
0.18%
2019 U.S. Mint Ornament
7,885
7,889
4
0.05%

Proof Silver Eagles

Old
Sales
Latest
Sales
Gain/
Loss
%
Increase
2020-W Proof Silver Eagle
324,236
327,913
3,677
1.13%
2020-W Proof Silver Eagle (Bulk – 40 Coins)
600
600
–
–
2019-S Enhanced Reverse Proof Proof Silver Eagle*
29,795
29,902
107
0.36%
2019-S Proof Silver Eagle
146,736
146,736
–
–
2019-S Proof Silver Eagle (Bulk – 40 Coins)*
137
137
–
–
2019 Pride of Nations Two-Coin Set
99,675
99,675
–
–
2019-W Proof Silver Eagle*
345,380
345,380
–
–
2019-W Proof Silver Eagle (Bulk – 40 Coins)*
745
745
–
–
2018-S Proof Silver Eagle*
158,785
158,785
–
–
2018-W Proof Silver Eagle*
354,025
354,025
–
–
2018-W Proof Silver Eagle (Bulk Pack – 210 Coins)*
182
182
–
–

Uncirculated Silver Eagles

Old
Sales
Latest
Sales
Gain/
Loss
%
Increase
2020
116,064
119,604
3,540
3.05%
2020 Bulk 40*
15
15
–
–
2019
138,146
138,146
–
–
2019 Bulk 40*
66
66
–
–
2018*
138,947
138,947
–
–
2017*
176,739
176,739
–
–

2020 Proof American Eagle Gold Coins

Old
Sales
Latest
Sales
Gain/
Loss
%
Increase
1 oz
4,389
4,523
134
3.05%
1/2 oz
1,933
1,933
–
–
1/4 oz
2,581
2,699
118
4.57%
1/10 oz
8,854
9,181
327
3.69%
4-Coin Set
6,395
7,726
1,331
20.81%

2019 Proof American Eagle Gold Coins

Old
Sales
Latest
Sales
Gain/
Loss
%
Increase
1 oz
5,819
5,830
11
0.19%
1/2 oz*
1,876
1,876
–
–
1/4 oz*
3,035
3,035
–
–
1/10 oz*
10,231
10,231
–
–
4-Coin Set
7,549
7,552
3
0.04%

Uncirculated American Eagle Gold Coins

Old
Sales
Latest
Sales
Gain/
Loss
%
Increase
2019*
5,851
5,851
–
–
2018*
8,518
8,518
–
–
2017*
5,800
5,800
–
–

Proof American Buffalo Gold Coins

Old
Sales
Latest
Sales
Gain/
Loss
%
Increase
2020 Proof Gold Buffalo
9,969
10,087
118
1.18%
2019 Proof Gold Buffalo
14,830
14,830
–
–
2018 Proof Gold Buffalo*
15,756
15,756
–
–
2017 Proof Gold Buffalo*
15,810
15,810
–
–

Proof American Platinum Eagle

Old
Sales
Latest
Sales
Gain/
Loss
%
Increase
2020
7,296
7,333
37
0.51%
2019
10,652
10,670
18
0.17%
2018
14,309
14,322
13
0.09%
2017*
8,890
8,890
–
–

American Palladium Eagle

Old
Sales
Latest
Sales
Gain/
Loss
%
Increase
2019-W Reverse Proof
17,680
17,691
11
0.06%
2018-W Proof*
14,986
14,986
–
–

America the Beautiful 5 Oz Silver Coins

Old
Sales
Latest
Sales
Gain/
Loss
%
Increase
2020-P Weir Farm Silver Uncirculated Coin
12,399
12,579
180
1.45%

2020-P National Park of American Samoa Silver Uncirculated Coin

15,776
15,776
–
–
2019-P River of No Return Silver Uncirculated Coin
16,419
16,419
–
–
2019-P San Antonio Missions Silver Uncirculated Coin
16,039
16,204
165
1.03%
2019-P War In The Pacific Silver Uncirculated Coin
16,119
16,284
165
1.02%
2019-P American Memorial Park Silver Uncirculated Coin
16,115
16,280
165
1.02%
2019-P Lowell Five Ounce Silver Uncirculated Coin
16,480
16,650
170
1.03%
2018-P Block Island Silver Coins*
15,913
15,913
–
–
2018-P Cumberland Island Silver Coins*
16,377
16,377
–
–
2018-P Voyageurs Silver Coins*
16,839
16,839
–
–
2018-P Apostle Islands Silver Coins*
16,802
16,802
–
–
2018-P Pictured Rocks Silver Coins*
17,773
17,773
–
–
2017-P George Rogers Clark Silver Coins*
14,731
14,731
–
–
2017-P Ellis Island Silver Coins*
17,670
17,670
–
–
2017-P Ozark Riverways Silver Coins
17,694
17,694
–
–
2017-P Frederick Douglass Silver Coins*
17,678
17,678
–
–
2017-P Effigy Mounds Silver Coins*
17,251
17,251
–
–

Presidential Silver Medals

Old
Sales
Latest
Sales
Gain/
Loss
%
Increase
2020 Andrew Jackson Presidential Silver Medal
11,469
11,523
54
0.47%
2019 John Quincy Adams Presidential Silver Medal
11,376
11,398
22
0.19%
2019 James Monroe Presidential Silver Medal
11,896
11,914
18
0.15%
2019 James Madison Presidential Silver Medal
12,759
12,782
23
0.18%
2019 Thomas Jefferson Presidential Silver Medal
16,761
16,794
33
0.20%
2018 George Washington Presidential Silver Medal
25,112
25,157
45
0.18%
2018 John Adams Presidential Silver Medal
19,121
19,150
29
0.15%

2020 American Innovation Dollars – Connecticut

Old
Sales
Latest
Sales
Gain/
Loss
%
Increase
Reverse Proof (S)
29,058
29,617
559
1.92%

2019 American Innovation Dollars – Georgia

Old
Sales
Latest
Sales
Gain/
Loss
%
Increase
Reverse Proof (S)
35,623
35,766
143
0.40%
25-coin roll set (P)
5,850
5,873
23
0.39%
25-coin roll set (D)
5,594
5,613
19
0.34%
100-coin bag (P)
2,235
2,240
5
0.22%
100-coin bag (D)
2,085
2,092
7
0.34%

2019 American Innovation Dollars – New Jersey

Old
Sales
Latest
Sales
Gain/
Loss
%
Increase
Reverse Proof (S)
39,171
39,331
160
0.41%
25-coin roll set (P)
6,297
6,314
17
0.27%
25-coin roll set (D)
5,876
5,891
15
0.26%
100-coin bag (P)
2,488
2,494
6
0.24%
100-coin bag (D)
2,282
2,291
9
0.39%

2019 American Innovation Dollars – Pennsylvania

Old
Sales
Latest
Sales
Gain/
Loss
%
Increase
Reverse Proof (S)
44,333
44,437
104
0.23%
25-coin roll set (P)
6,932
6,961
29
0.42%
25-coin roll set (D)
6,194
6,207
13
0.21%
100-coin bag (P)
2,126
2,133
7
0.33%
100-coin bag (D)
2,083
2,097
14
0.67%

2019 American Innovation Dollars – Delaware

Old
Sales
Latest
Sales
Gain/
Loss
%
Increase
Reverse Proof (S)
60,117
60,237
120
0.20%
25-coin roll set (P)
6,873
6,892
19
0.28%
25-coin roll set (D)
6,484
6,498
14
0.22%
100-coin bag (P)
2,180
2,186
6
0.28%
100-coin bag (D)
2,383
2,389
6
0.25%

2018 American Innovation Dollars

Old
Sales
Latest
Sales
Gain/
Loss
%
Increase
Reverse Proof (S)*
74,720
74,720
–
–
Proof Coin (S)
216,781
216,995
214
0.10%
25-coin roll set (P)
17,597
17,629
32
0.18%
25-coin roll set (D)
16,562
16,581
19
0.11%
100-coin bag (P)*
2,935
2,935
–
–
100-coin bag (D)*
2,954
2,954
–
–

Native American Dollar Rolls

Old
Sales
Latest
Sales
Gain/
Loss
%
Increase
2020-dated 25-coin roll set (P)
12,173
12,234
61
0.50%
2020-dated 25-coin roll set (D)
11,844
11,906
62
0.52%
2020-dated 100-coin bag (P)
1,780
1,792
12
0.67%
2020-dated 100-coin bag (D)
1,890
1,906
16
0.85%
2020-dated 250-coin box (P)
1,094
1,099
5
0.46%
2020-dated 250-coin box (D)
1,224
1,230
6
0.49%
2019-dated 25-coin roll set (P)
16,339
16,371
32
0.20%
2019-dated 25-coin roll set (D)
15,678
15,708
30
0.19%
2019-dated 100-coin bag (P)
1,823
1,829
6
0.33%
2019-dated 100-coin bag (D)
1,755
1,766
11
0.63%
2019-dated 250-coin box (P)*
1,734
1,734
–
–
2019-dated 250-coin box (D)
1,949
1,949
–
–
2018-dated 25-coin roll set (P)*
17,392
17,392
–
–
2018-dated 25-coin roll set (D)*
16,555
16,555
–
–
2018-dated 100-coin bag (P)*
1,931
1,931
–
–
2018-dated 100-coin bag (D)*
1,930
1,930
–
–
2018-dated 250-coin box (P)*
1,865
1,865
–
–
2018-dated 250-coin box (D)*
1,874
1,874
–
–

Kennedy Half Dollar Rolls

Old
Sales
Latest
Sales
Gain/
Loss
%
Increase
2020-dated 200-coin bag (P&D)
4,317
4,367
50
1.16%
2020-dated 2-roll set (P&D)
18,530
19,089
559
3.02%
2019-dated 200-coin bag (P&D)
10,005
10,056
51
0.51%
2019-dated 2-roll set (P&D)
23,141
23,250
109
0.47%
2018-dated 200-coin bag (P&D)*
9,498
9,498
–
–
2018-dated 2-roll set (P&D)*
22,622
22,622
–
–

America the Beautiful Quarters Uncirculated Coin Set

Old
Sales
Latest
Sales
Gain/
Loss
%
Increase
2020 Issue
24,803
24,803
–
–
2019 Issue
28,734
28,785
51
0.18%
2018 Issue*
32,648
32,648
–
–
2017 Issue*
29,972
29,972
–
–

America the Beautiful Quarters Circulating Coin Set

Old
Sales
Latest
Sales
Gain/
Loss
%
Increase
2019 Issue
21,349
21,416
67
0.31%
2018 Issue
22,650
22,650
–
–
2017 Issue*
24,765
24,765
–
–
2016 Issue*
23,958
23,958
–
–

America the Beautiful Quarters Three-Coin Sets

Old
Sales
Latest
Sales
Gain/
Loss
%
Increase
Salt River Bay
11,382
11,245
-137
-1.20%
Weir Farm
11,520
11,600
80
0.69%
National Park of American Samoa
14,725
14,872
147
1.00%
River of No Return
13,064
13,083
19
0.15%
San Antonio Missions
15,052
15,068
16
0.11%
War in Pacific
15,240
15,240
–
–
American Memorial Park
14,547
14,563
16
0.11%
Lowell
14,695
14,709
14
0.10%
Block Island
13,778
13,791
13
0.09%
Cumberland Island
13,846
13,862
16
0.12%
Voyageurs
14,757
14,774
17
0.12%
Apostle Islands
14,817
14,828
11
0.07%
Pictured Rocks*
15,397
15,397
–
–
George Rogers Clark*
14,133
14,133
–
–
Ellis Island*
16,947
16,947
–
–
Ozark Riverways*
14,912
14,912
–
–
Frederick Douglass*
15,566
15,566
–
–
Effigy Mounds*
14,516
14,516
–
–
Fort Moultrie*
13,306
13,306
–
–
Theodore Roosevelt*
16,072
16,072
–
–
Harpers Ferry*
14,345
14,345
–
–
Cumberland Gap*
14,973
14,973
–
–
Shawnee*
15,474
15,474
–
–
Saratoga*
14,950
14,950
–
–
Bombay Hook*
13,400
13,400
–
–
Blue Ridge Parkway*
17,165
17,165
–
–
Kisatchie Set*
15,196
15,196
–
–
Homestead Set*
16,114
16,114
–
–
Everglades Set*
14,373
14,373
–
–
Great Sand Dunes Set*
14,119
14,119
–
–
Arches Three-Coin Set*
15,859
15,859
–
–
Shenandoah Three-Coin Set*
17,351
17,351
–
–
Great Smoky Mountains Set*
18,588
18,588
–
–
Mount Rushmore Quarters Set*
17,924
17,924
–
–
Fort McHenry Quarters Set*
16,345
16,345
–
–
Great Basin Quarters Set*
15,526
15,526
–
–
Perry's Victory Quarters Set*
17,643
17,643
–
–
White Mountain Quarters Set*
18,056
18,056
–
–
Denali Quarters Set*
18,193
18,193
–
–
Hawaii Volcanoes Quarters Set*
19,947
19,947
–
–
Acadia Quarters Set*
19,940
19,940
–
–
Chaco Culture Quarters Set*
20,028
20,028
–
–
El Yunque Quarters Set*
19,891
19,891
–
–
Chickasaw Quarters Set*
16,184
16,184
–
–
Vicksburg Quarters Set*
18,095
18,095
–
–
Olympic Quarters Set*
17,718
17,718
–
–
Glacier Quarters Set*
19,046
19,046
–
–
Gettysburg Quarters Set*
22,869
22,869
–
–
Mount Hood Quarters Set*
18,384
18,384
–
–
Grand Canyon Quarters Set*
22,133
22,133
–
–
Yosemite Quarters Set*
22,154
22,154
–
–
Yellowstone Quarters Set*
25,048
25,048
–
–
Hot Springs Quarters Set*
23,203
23,203
–
–

2020 Salt River Bay Quarters

Old
Sales
Latest
Sales
Gain/
Loss
%
Increase
100-Coin Bag (S)
3,156
3,225
69
2.19%
40-Coin Roll (S)
3,157
3,174
17
0.54%
Three-Roll Set
7,005
6,991
-14
-0.20%
100-Coin Bag (P)
1,836
1,862
26
1.42%
100-Coin Bag (D)
1,834
1,856
22
1.20%
Two-Roll Set
4,883
4,902
19
0.39%

2020 Weir Farm Quarters

Old
Sales
Latest
Sales
Gain/
Loss
%
Increase
100-Coin Bag (S)
3,346
3,394
48
1.43%
40-Coin Roll (S)
3,732
3,767
35
0.94%
Three-Roll Set
7,580
7,616
36
0.47%
100-Coin Bag (P)
2,353
2,379
26
1.10%
100-Coin Bag (D)
2,249
2,268
19
0.84%
Two-Roll Set
5,193
5,213
20
0.39%

2020 National Park of American Samoa Quarters

Old
Sales
Latest
Sales
Gain/
Loss
%
Increase
100-Coin Bag (S)
4,236
4,236
–
–
40-Coin Roll (S)
3,974
3,974
–
–
Three-Roll Set
8,930
8,930
–
–
100-Coin Bag (P)
2,456
2,456
–
–
100-Coin Bag (D)
2,480
2,480
–
–
Two-Roll Set
6,930
6,928
-2
-0.03%

2019 River of No Return Quarters

Old
Sales
Latest
Sales
Gain/
Loss
%
Increase
100-Coin Bag (S)
3,884
3,904
20
0.51%
40-Coin Roll (S)
3,961
3,961
–
–
Three-Roll Set
8,260
8,276
16
0.19%
100-Coin Bag (P)
2,206
2,208
2
0.09%
100-Coin Bag (D)
2,108
2,109
1
0.05%
Two-Roll Set
5,718
5,723
5
0.09%

2019 San Antonio Missions Quarters

Old
Sales
Latest
Sales
Gain/
Loss
%
Increase
100-Coin Bag (S)
4,186
4,201
15
0.36%
40-Coin Roll (S)
3,929
3,929
–
–
Three-Roll Set
8,853
8,858
5
0.06%
100-Coin Bag (P)
2,407
2,432
25
1.04%
100-Coin Bag (D)
2,281
2,311
30
1.32%
Two-Roll Set
5,982
5,985
3
0.05%

2019 War In The Pacific Quarters

Old
Sales
Latest
Sales
Gain/
Loss
%
Increase
100-Coin Bag (S)
4,203
4,203
–
–
40-Coin Roll (S)
3,838
3,838
–
–
Three-Roll Set
8,764
8,764
–
–
100-Coin Bag (P)
2,391
2,391
–
–
100-Coin Bag (D)
2,291
2,291
–
–
Two-Roll Set
6,050
6,049
-1
-0.02%

2019 American Memorial Park Quarters

Old
Sales
Latest
Sales
Gain/
Loss
%
Increase
100-Coin Bag (S)
4,114
4,114
–
–
40-Coin Roll (S)
3,859
3,859
–
–
Three-Roll Set
8,478
8,478
–
–
100-Coin Bag (P)*
2,455
2,455
–
–
100-Coin Bag (D)*
2,421
2,421
–
–
Two-Roll Set
6,059
6,059
–
–

2019 Lowell Quarters

Old
Sales
Latest
Sales
Gain/
Loss
%
Increase
100-Coin Bag (S)*
4,006
4,006
–
–
40-Coin Roll (S)*
3,801
3,801
–
–
Three-Roll Set*
8,596
8,596
–
–
100-Coin Bag (P)*
2,435
2,435
–
–
100-Coin Bag (D)*
2,325
2,325
–
–
Two-Roll Set*
6,168
6,168
–
–