New coins for collectors become available today as part of the U.S. Mint's clad 2020 Proof Set. This signature annual offering is always popular with collectors but this year we should see enhanced demand owing to the exclusive inclusion of a bonus premium coin.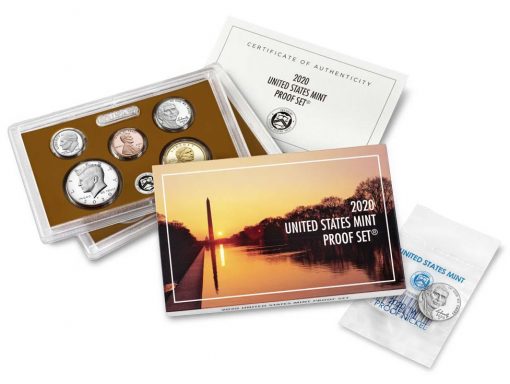 That coin, available only by purchasing the set, is a proof 2020 Jefferson nickel. It features the West Point Mint's "W" mint mark as compared to the set's 10 coins with "S" mint marks for the San Francisco Mint. It is one of only three special Jefferson nickels planned for the year.
"As a first-time exclusive for collectors who purchase the proof, silver proof, and uncirculated coin sets, we're including 2020-dated special edition Jefferson nickels minted at our West Point facility," offers the U.S. Mint in promotion of the special 2020 Jefferson nickels. "These are not offered for individual sale and are available only to those who purchase these annual sets."
Following this proof set/proof nickel release, the U.S. Mint will offer its Silver Proof Set with a reverse proof 2020-W nickel and its Uncirculated Set with a 2020-W uncirculated nickel. Buyers of last year's sets will recall those included premium "W" Lincoln cents.
As for the 2020 Proof Set itself, it contains collector grade examples of the "circulating coinage" of the nation. Proof coins are described as having sharp reliefs and mirror-like backgrounds with frosted, sculpted foregrounds. They are struck multiple times resulting in an increased level of detail using polished dies and hand-polished blanks.
The 10 coins in this year's set include:
2020-S Native American dollar (Elizabeth Peratrovich design)
2020-S Kennedy half dollar
2020-S National Park of American Samoa Quarter (AS)
2020-S Weir Farm National Historic Site Quarter (CT)
2020-S Salt River Bay National Historical Park and Ecological Preserve Quarter (VI)
2020-S Marsh-Billings-Rockefeller National Historical Park Quarter (VT)
2020-S Tallgrass Prairie National Preserve Quarter (KS)
2020-S Roosevelt Dime
2020-S Jefferson Nickel
2020-S Lincoln Cent
Of these, six feature designs only to be offered this year. They include the 2020 Native American dollar coin with its Elizabeth Peratrovich design and the five quarters issued under the U.S. Mint's America the Beautiful quarter dollar program.
Ordering and Price
Those interested in ordering this newest collectible can visit the Mint's online section of proof set products, found here, or call toll-free 1-800-USA-MINT (872-6468).
Buyers will find the coins housed in two protective lenses. One contains the quarters with the other holding the remaining five coins. The premium proof 2020-W Jefferson nickel is packaged separately in clear United States Mint plastic wrap and inserted into an envelope.
Pricing for the set is $32.00, an increase from last year's set which remains available for $27.95.
No mintage, household or order limits have been established.