Marking the second of only two releases scheduled by the United States Mint this month, today at noon EDT we see the debut of the Silver Proof Set for 2020.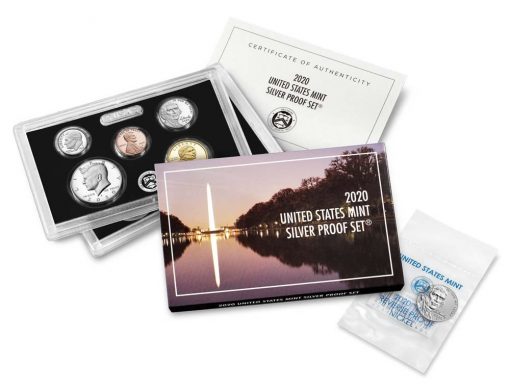 Included in this annually issued product for collectors are ten proof coins, seven of which are struck from 99.9% silver, and a special premium nickel. The ten coins are displayed in two different protective lenses and the bonus coin ships in clear plastic wrap inside an envelope.
In contrast to the set's ten coins with their proof finish and San Francisco "S" mint mark, the bonus nickel has a reverse proof finish and carries a "W" mint mark designating its production at the West Point Mint. It is the second of three premium nickels for 2020. The first one bears a standard proof finish and is included with the clad 2020 Proof Set, which launched on Feb. 27. The third premium nickel has an uncirculated finish and will ship with the 2020 Mint Set which is scheduled for release later this year.
Included Coins and Silver Weight of Proof Set
Priced at $63.25, the coins when buying the 2020 Silver Proof Set include:
2020-S National Park of American Samoa (American Samoa) Quarter
2020-S Weir Farm National Historic Site (Connecticut) Quarter
2020-S Salt River Bay National Historical Park and Ecological Preserve (U.S. Virgin Islands) Quarter
2020-S Marsh-Billings-Rockefeller National Historical Park (Vermont) Quarter
2020-S Tallgrass Prairie National Preserve (Kansas) Quarter
2020-S Native American $1 Coin
2020-S Silver Kennedy Half-Dollar
2020-S Silver Roosevelt Dime
2020-S Jefferson Nickel
2020-S Lincoln Cent
2020-W Jefferson Nickel (premium reverse proof coin packaged separately)
Three of the coins have traditional clad compositions, as does the premium reverse proof nickel. The other seven coins are in silver, weighing 6.937 grams for approximately 1.51 troy ounces of the precious metal.
Six Unique Coin Designs
Six of the coins bear one-year-only designs. They include the 2020 Native American dollar with its Elizabeth Peratrovich design and the five 2020 quarters issued under the Mint's program of America the Beautiful quarter dollars.
Proof and Reverse Proof Coins
Regular coins for circulation are made at the Philadelphia and Denver Mints.
Proof coins showcase frosted designs set against mirror-like backgrounds. They are struck multiple times resulting in an increased level of detail using polished dies and hand-polished blanks.
Reverse proof coins offer an appearance opposite of the standard proofs with mirror-like designs set against frosted backgrounds.
Popularity of Sets
Silver Proof Sets are core, flagship U.S. Mint products. Several hundred thousand of them are sold each year.
For those keeping track, 2020 marks the second year in which silver coins of this annual set are produced from 99.9% silver. Previous annual sets had silver coins struck from a composition of 90% of the metal. The increase in silver content along with the inclusion of a bonus coin has, thus far, boosted set sales.
Last year's set, which remains available for $54.95, has sales through Sunday of 393,953. The set from 2018 ended with lower sales of 332,274.
Limits, Ordering and Possible Shipping Delays
No mintage, household or product limits are in place for the collectible. That said, the immediate available inventory for the set is only 190,960. Last year's set logged 5-day starting sales of 191,670. Recognizing that its sales will soon exceed inventory, the U.S. Mint notes:
"Due to resource limitations resulting from COVID-19 the shipping of your order may be delayed."
The 2020 Silver Proof Sets is available from the Mint's webpage dedicated to proof sets, located here, or by calling 1-800-USA-MINT (872-6468).