The United States Mint has only a few products left to release this year. The agency's next collectible, the 2019-S Reverse Proof Pennsylvania American Innovation Dollar, launches at noon EST, today, Dec. 5.
The coin's unique finish features mirror-like design elements that contrast against frosted backgrounds — opposite treatments from regular proofs like those within the earlier released 2019 American Innovation Dollar Proof Set. A photo showing one of those proof sets follows.
These next two photos highlight the differences between proof and reverse proof finishes. They show the previously released 2019 Delaware American Innovation dollar in both collector qualities.
| | |
| --- | --- |
| This CoinNews photo shows a regular proof 2019-S Delaware American Innovation dollar. It's a part of the earlier released four-coin 2019 American Innovation Dollar Proof Set. This coin's finish has a frosted design that contrasts against a mirror-like background. | This CoinNews photo shows a reverse proof 2019-S Delaware American Innovation dollar. It was released earlier and sold individually. The finish on this coin is opposite of a proof, featuring a frosted background that contrasts against mirror-like design elements. |
Designs and Specifications for Pennsylvania American Innovation Dollar
Symbolizing the research in Pennsylvania to discover the polio vaccine, the dollar's reverse (tails side) depicts the poliovirus at three levels of magnification along with the silhouette of a period microscope. Inscriptions include "UNITED STATES OF AMERICA," "POLIO VACCINE," "1953," and "PENNSYLVANIA." The design is the work of artist Richard Masters. Joseph Menna completed its sculpting.
Created by Justin Kunz and sculpted by Phebe Hemphill, Innovation dollars share an obverse (heads side) design depicting the Statue of Liberty along with inscriptions of "IN GOD WE TRUST" and "$1." Those for 2019 also have a privy mark of a stylized gear (the introductory 2018-dated dollar design has no privy mark).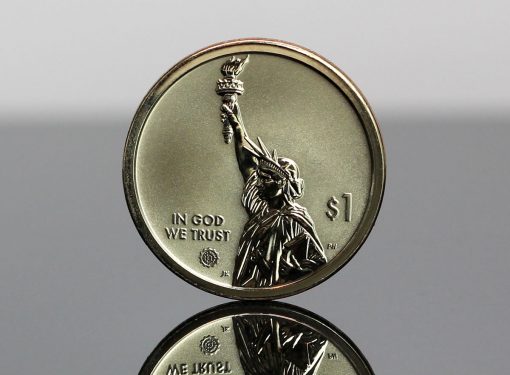 Year of issue, a mint mark and "E PLURIBUS UNUM" are edge-incused on each coin.
Specifications for each dollar are as follows:
| | |
| --- | --- |
| Denomination: | Dollar |
| Finish: | Reverse Proof |
| Composition: | 6% Zinc, 3.5% Manganese, 2% Nickel, Balance Copper |
| Weight: | 8.100 grams |
| Diameter: | 1.043 inches (26.49 mm) |
| Edge: | Lettered |
| Mint and Mint Mark: | San Francisco – S |
Ordering Pennsylvania Dollars
Priced at $9.95 with a mintage of 75,000 and an initial household order limit of 5, the 2019-S Reverse Proof Pennsylvania $1 Coin is available directly from the U.S. Mint's online catalog of American Innovation products. Orders may also be placed by calling the Mint at (800) USA MINT (872-6468).
The dollar coin ships in an informational four-panel packaging with an embedded certificate of authenticity and protective outer sleeve.
About Innovation $1 Coins
Innovation dollars are issued under the U.S. Mint's American Innovation™ $1 Coin Program. The series celebrates invention and innovation in the United States. Four different designs will be issued annually with each showcasing innovation from a different state, the District of Columbia or the five U.S. territories.
This year's designs honor innovators or innovations in Delaware, Pennsylvania, New Jersey and Georgia. American Innovation dollars for Delaware became available in uncirculated quantities in September and in reverse proof last month. New Jersey dollars in uncirculated quantities also went on sale last month. In between those releases, uncirculated quantities of Pennsylvania dollars launched in October.
The U.S. Mint closes its 2019 schedule Dec. 11 with rolls and bags of uncirculated American Innovation dollars for Georgia. Reverse proof editions of the New Jersey and Georgia dollars are respectively scheduled for release on Jan. 7 and Feb. 11.