Over a month into the new year, the United States Mint offers a collector coin from the last year with today's release of the 2019-S Reverse Proof Georgia American Innovation Dollar.
The dollar honors Trustees' Garden of Georgia, and features a reverse proof finish which is notable for having mirror-like design elements and frosted backgrounds — opposite of standard proof coins. It follows earlier and still available Georgia dollars with an uncirculated version sold in rolls and bags and a proof version sold in a four-coin proof set. A photo of one of those proof sets follows.
These next two photos highlight differences between proof and reverse proof coins. They show previously released 2019 Delaware American Innovation dollars in both collector qualities.
| | |
| --- | --- |
| This CoinNews photo shows a regular proof 2019-S Delaware American Innovation dollar. It's a part of the earlier released four-coin 2019 American Innovation Dollar Proof Set. This coin's finish has a frosted design that contrasts against a mirror-like background. | This CoinNews photo shows a reverse proof 2019-S Delaware American Innovation dollar. It was released earlier and sold individually. The finish on this coin is opposite of a proof, featuring a frosted background that contrasts against mirror-like design elements. |
Designs on Georgia American Innovation Dollar
Appearing on Georgia dollar reverses is a design emblematic of the Trustees' Garden. The garden was established in the 1730's by James Edward Oglethorpe following the founding of the Georgia Colony. It is considered the first agricultural experimental garden in America and was instrumental in the development of cotton plants and peach trees for the region.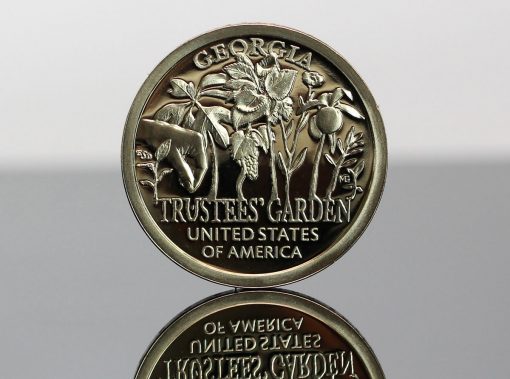 A hand planting seeds is found on the coin's design along with an orange tree seedling, sassafras, grapes, white mulberry, flax, peaches, olive, and a young shoot too small to be identified. Inscriptions read TRUSTEES' GARDEN, UNITED STATES OF AMERICA and GEORGIA. Emily Damstra created the design and Michael Gaudioso sculpted it.
Appearing on the obverse (heads side) is a common design for the Innovation dollar series. This includes the likeness of the Statue of Liberty which is joined by the inscriptions of $1 and IN GOD WE TRUST.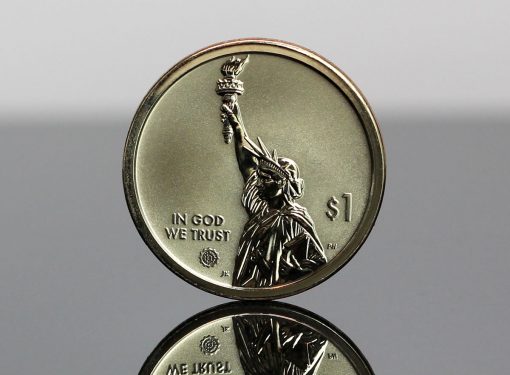 Justin Kunz created the image and Phebe Hemphill sculpted it. 2019-dated dollar obverses also have a small privy mark of a stylized gear unlike the introductory design for 2018.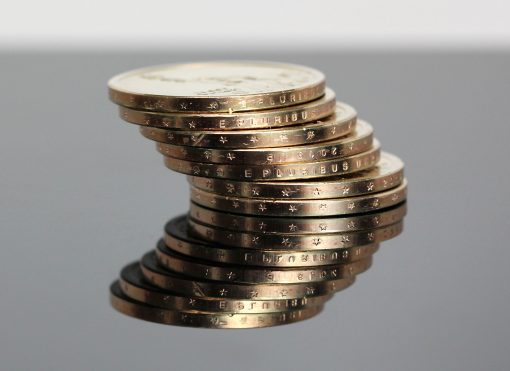 2019, the mint mark of 'S' for San Francisco, and E PLURIBUS UNUM are incused on the edge of the coin.
Specifications for the coin, as provided by the U.S. Mint, are as follows:
| | |
| --- | --- |
| Denomination: | Dollar |
| Finish: | Reverse Proof |
| Composition: | 6% Zinc, 3.5% Manganese, 2% Nickel, Balance Copper |
| Weight: | 8.100 grams |
| Diameter: | 1.043 inches (26.49 mm) |
| Edge: | Lettered |
| Mint and Mint Mark: | San Francisco – S |
Price, Ordering and Limits
The 2019-S Reverse Proof Georgia $1 Coin is available directly from the U.S. Mint for $11.95. Place orders by visiting the Mint's website page dedicated to American Innovation products or by calling 1-800-USA-MINT (872-6468).
Mintage for this product is capped at 75,000 with an initial household order limit of five.
About the Innovation $1 Coin Program
The U.S. Mint's American Innovation™ $1 Coin Program was authorized by Congress under the American Innovation $1 Coin Act. The series debuted in 2018 with a single introductory dollar celebrating President George Washington who issued the first U.S. patent. Following that single issue, four new coins are to appear annually from 2019 until 2032 honoring innovation throughout the country with one such example chosen from each state, the District of Columbia, and the five U.S. territories.
2019 Innovation dollars honor innovators or innovations in Delaware, Pennsylvania, New Jersey and Georgia. This year, the 2020 Innovation dollars will showcase designs tied with the states of Connecticut, Massachusetts, Maryland and South Carolina.