On Thursday night, Aug. 16, at the Stack's-Bowers Rarities Night Auction during the ANA's World's Fair of Money, John Brush, President of David Lawrence Rare Coins and D.L. Hansen, the owner of the Greatest U.S. Coin Collection of All-Time, acquired the famous 1894-S Dime, graded by PCGS as Proof 63 for $1,320,000.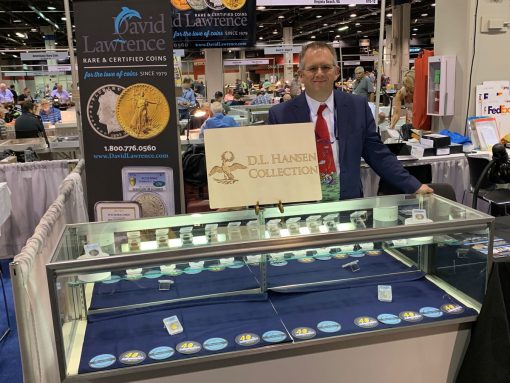 Mr. Hansen, assisted by John Brush of DLRC, has been on a mission for the past 3 years to put together the first privately held coin collection of items from 1792 to Present.
The "Eliasberg Quest" as they call it, has been an incredible challenge for the duo and this legendary rarity was another stop on the path to completion. According to the PCGS Registry Set calculations, the collection put together by Hansen has already surpassed the overall quality of the historic Louis Eliasberg collection.
David Lawrence Rare Coins, which is celebrating their 40th Anniversary in 2019, has handled several examples of the famous rarity designed by Charles Barber, but this is the first time that the Virginia Beach firm has owned this particular example.
According to Mr. Brush, "this was one of the most exciting acquisitions that we have made in the pursuit of Mr. Hansen's collection. While DLRC has long been known as the leading specialist in Barber Coinage, it was a tribute to the founder, David Lawrence Feigenbaum, that we were able to acquire yet another example of this famous numismatic rarity at such an exciting event."
Mr. Feigenbaum originally wrote a detailed pedigree on the 1894-S dime in 1990 and while his son, John ran the company, the firm handled both the Proof 64 and Proof 66 examples.
The coin, which was graded and authenticated by Professional Coin Grading Service (PCGS) as Proof 63, was last offered in a public auction In June 1998. The coin can be traced back to several famous collectors, with a pedigree of Clapp and Eliasberg, the piece was also previously owned by Dr. Jerry Buss, the now-deceased owner of the Los Angeles Lakers of the NBA.
Mr. Brush stated, "This opportunity to acquire such a legendary rarity is something that you can only dream about as a child. It's a true highlight of my numismatic career and I'm very proud to  add DLRC and D.L. Hansen to the already impressive pedigree list of this famous rarity. It's truly an honor to work with a collector and business partner such as Mr. Hansen, and this purchase was certainly another one of the highlights of my career."
Mr. Hansen, a Utah businessman and partner of DLRC, has been an active collector since childhood, but has only rekindled his passion over the last 3 years. In that small time span, he has acquired what is widely considered to be the Greatest All-Time Collection of U.S. Coins.
He commented, "This was an opportunity to buy yet another famous rarity for the growing collection. As the final piece of the Barber Coinage puzzle, we have now completed the collection of Proof and Circulation Strike sets of Barber Dimes, Quarters, and Halves. I never imagined that this incredible hobby would bring such excitement and joy, but I'm truly ecstatic to be able to be the caretaker of this famous piece of American History and to add it to the collection."
This piece marked another statement by Mr. Hansen as the collection now houses many classic rarities and Finest Known Items. The 1894-S Dime will join the 1884 and 1885 Trade Dollar Proofs, the 1804 $1 PCGS Proof 62, the 1907 Ultra High Relief $20, 1876-CC 20c PCGS MS64, the finest 1901-S Barber Quarter PCGS MS68+, as well as the most complete collection of US coins that has been privately assembled.
David Lawrence Rare Coins is an industry leader in the trading and auctioning of U.S. rare coins certified by PCGS, NGC, and CAC. DLRC holds weekly internet auctions and offers sellers the options of direct sale or consignment to auction. To work with David Lawrence or for any question as to how they can help your collection, please call 1-800-776-0560 or email coins@davidlawrence.com.