A record price for any dime was set when it took more than $2 million to acquire a rare 1894-S Barber dime, Legend Numismatics announced this week.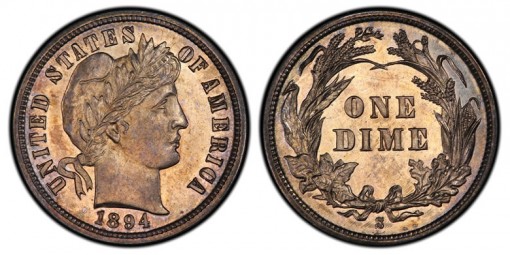 Authenticated and graded PCGS Proof 64+ (Branch Mint Proof), Legend Numismatics purchased the rarity from John Feigenbaum, president of David Lawrence Rare Coins.
"We have no problem stocking a classic rarity like this. A classic Mercedes racecar sold last week for nearly $29,000,000.00. Paintings regularly sell for $10-$30,000,000.00. So a classic major numismatic rarity like this is cheap," said Laura Sperber, president of Legend Numismatics (www.legendnumismatics.com). "In all the years Legend has bought and sold great rarities like the 94-S 10C, none have ever gone down in value. This coin was a no brainer for us to buy."
Feigenbaum acquired the 1894-S Barber dime in April by private treaty, wanting the opportunity to find a new owner.
"Laura and I have always treasured the 1894-S dime and it was logical to me that her firm would be a likely candidate to acquire this piece," said Feigenbaum. "I wish them great success with the coin."
Just 24 proof dimes were minted at San Francisco in 1894. Ten (10) are confirmed to exist, with this coin likely the third finest known. The pedigree of this 1894-S Barber dime can be traced back to John Daggett, the San Francisco Mint superintendent responsible for producing the dimes.
"The most widely accepted theory is that the Mint Superintendent, John Daggett, had high ranking visitors he wanted to impress with special coins. No one knows for sure why he picked the dime, except that he needed to balance a $2.40 deficit in the Mint ledger, so striking 24 dimes achieved dual purposes," Legend noted.
Records of producing the 24 dimes are included in the annual mint director's report. After striking them, Daggett gave them to friends and guests, as well as 3 or 4 to his daughter, Hallie Daggett.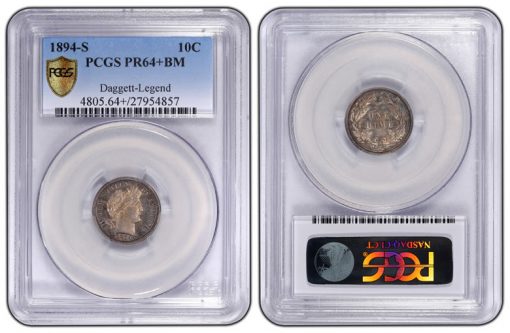 Hallie in 1950 sold this particular dime to Earl Parker, a coin dealer in California. At the time, she told Parker that she originally used one of dimes to buy an ice cream cone. That coin is known today in Good-4 as the "Ice Cream Specimen." It has not traded hands publicly since 1981.
1894-S Barber dimes have long been considered one of the top numismatic rarities. The coin is currently ranked #4 in the "100 Greatest U.S. Coins" (Third Edition, Garrett, 2008). In importance, it stands behind the famed 1913 Liberty nickel, but ahead of the coveted 1804 dollar.