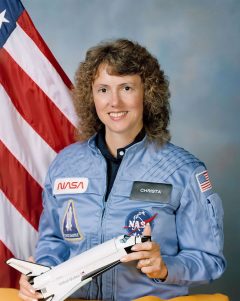 Coins honoring Christa McAuliffe are a step closer to reality with the Senate's passage Tuesday, July 9, of the Christa McAuliffe Commemorative Coin Act of 2019, S. 239.
If the bipartisan legislation becomes law, the United States Mint in 2021 will produce and sell up to 350,000 silver dollars featuring McAuliffe, the first teacher chosen to go into space. McAuliffe was among the seven crew members killed in the Space Shuttle Challenger explosion on Jan. 28, 1986.
The commemorative coins would be produced in collector qualities of proof and uncirculated and contain at least 90% silver. Their obverse (heads side) would feature an image of McAuliffe while their reverse would portray her legacy as a teacher.
A surcharge of $10 would be added to the price of each dollar with proceeds, provided the coins turn a profit, paid to "the FIRST robotics program for the purpose of engaging and inspiring young people, through mentor-based programs, to become leaders in the fields of science, technology, engineering, and mathematics."
S.239 was introduced January 28 and saw strong support with 83 senators as cosponsors.
An almost identical bill, H.R. 500, was introduced in the House on January 11. It currently has 307 cosponsors. In the one major difference from S. 239, it calls for the silver dollars to be minted and sold in 2020.
For legislation to become law, it must pass in the House and Senate and get signed by the President.