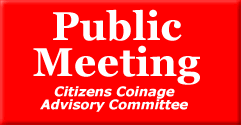 The Citizens Coinage Advisory Committee (CCAC) will meet Tuesday, March 13, to review designs for the 2019 American Legion 100th Anniversary Commemorative Coins and discuss concepts for Native American $1 Coins beyond 2020.
The CCAC is responsible for advising the Secretary of the Treasury on themes and designs pertaining to all United States coins and medals.
American Legion Coins
The American Legion (www.legion.org) was charted by Congress in 1919 as a patriotic organization for veterans. It quickly grew into one of the largest veteran's service organizations.
On Oct. 6, 2017, President Trump signed into law the American Legion 100th Anniversary Commemorative Coin Act (Public Law 115-65). It authorized 2019-dated $5 gold coins, silver dollars, and clad half-dollars in collector qualities of proof and uncirculated to recognize the Legion's centennial.
Their final designs will be selected by the Treasury Secretary after consulting with the Commission of Fine Arts and the Adjutant of The American Legion, and after having been reviewed by the CCAC.
Native American $1 Coins
Introduced in 2009 and featuring annually changing reverses, the U.S. Mint's Native American $1 Coin Program celebrates the important contributions made by Indian tribes and individual Native Americans to the history and development of the United States.
This year's design honors sports legend Jim Thorpe. The Mint at catalog.usmint.gov began selling rolls and bags of the dollar on Feb. 15.
Designs for 2019 and 2020 have already been reviewed. Next year's dollar will celebrate the important contributions Native Americans have made within the U.S. space program. The 2020 dollar recognizes the 75th anniversary of the State of Alaska's anti-discrimination law.
Concepts and themes for later year coins will be discussed on March 13.
Meeting Time, Public Attendance and Listening Options
The meeting starts at 9:00 a.m. and is scheduled to last until 3:00 p.m. (ET). It is opened to interested members of the public, and will be held at:
United States Mint Headquarters
801 9th Street, NW
Second Floor Conference Room
Washington, D.C. 20220
The conference area can accommodate up to 50 members of the public with admittance on a first-come, first-serve basis. All persons entering the U.S. Mint's headquarters must adhere to building security protocol, which includes consenting to the search of their persons and objects when they enter and leave.
Those who cannot attend in person may also dial in to listen by calling (866) 564-9287 and using Access Code: 62956028. Dial-in access is "listen only," and phones must be kept on mute to not disturb the discussion.
In addition, anyone interested in submitting ideas for the CCAC's consideration may fax them to (202) 756-6525.