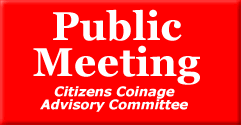 The Citizens Coinage Advisory Committee (CCAC) will hold a teleconference meeting Tuesday, Jan. 16, to consider candidate designs for one of the 2019-dated coins from the United States Mint's program of America the Beautiful Quarters®.
The CCAC is tasked with advising the Secretary of the Treasury on themes and designs pertaining to all United States coins and medals.
In September, the CCAC reviewed designs for all five 2019 quarters. Members had requested to see some variations to a preferred design for the 2019 American Memorial Park quarter for Northern Mariana Islands and they will get that opportunity on Tuesday.
Other meeting agenda items include the consideration of themes for upcoming U.S. medals and a discussion about the committee's annual report for 2017.
Meeting Time
The CCAC meeting begins at 3:00 p.m. and is scheduled to last until 4:30 p.m. (EDT). Interested members of the public may dial in to listen by calling (866) 564-9287 and using Access Code: 62956028. This teleconference is "listen only." No comments or questions will be taken during the meeting.